Ideas On How To Organize Small Spaces Easily | Roy Home Design
|
Making Comfort With Small Space Organization Ideas In Your House
Small is the new big

At first glance, this quote seems difficult to make sense. However, today, where the times have changed and lifestyles have evolved, it is not impossible that something small is considered better. A house, for example. Small houses are cheap to buy, small houses are easier to clean, small houses are more intimate. There are still many positive aspects that can be mentioned.
This article presents various inspirations of small houses that have sizes below 150 m². Through this explanation, it has been proven that so many things can be accommodated in a small space. Some use a mezzanine, some others create a multifunctional furniture design that also functions as a storage space.
You can also get some tips for organizing small spaces to function optimally. Try to look for remaining space or dead corners in your home. Perhaps, this space can be utilized into something more useful. Please read the tips.
Having a small-sized house doesn't mean sacrificing comfort factors. With careful arrangement and a little creativity … a house that makes you comfortable will be created. In a small house, it takes great thought to make your life feel comfortable.
Get small. Think Big.
Open Floor Plan In Small Space
Even though your land is small, it doesn't mean you can't build a house with lots of open areas.
Having an empty land to be built as a dwelling is fun. Like Mr. Ricky, he has a plan to build a house that he will live alone. Because living alone, the room requirements is not too much: a family room, kitchen, bathroom, and bedroom.
We will try to give a home design suggestion based on Mr. Ricky's request. The concept is simple, with a touch of natural elements. The layout of the building is divided into two floors. The ground floor is a family room that has dual functions as a dining room, kitchen, and bathroom. The top floor is used as a bedroom with a bathroom inside it.
On the ground floor, there is a difference in floor height or better known as split level. The sitting area is made higher to emphasize the different area functions. This split-level presence is reminiscent of tatami that is usually used in a Japanese house. Therefore, the furniture is also adjusted, like a low table and a floor cushion with backrest.
To give a different touch, access from the ground floor to the top floor is arranged. The stairs are made open without a roof and not directly to the bedroom, but to the upper balcony. From the balcony, there is an access to the bedroom entrance. Through the openings above this staircase, air from the outside can enter and cool the inside of the house. Coupled with a pivot-hinged window at the front of the house, so that the airflow ensued.
The floor under the stairs is covered with paving blocks. Paving blocks have a solid and porous character that can prevent muddy and slippery when it rains. The surrounding floor surface is covered with engineered parquet to emphasize the natural touch. Similarly, the stairs and the upper balcony. Engineered parquet has a high resistance to water, so it will not be damaged even if exposed to rainwater.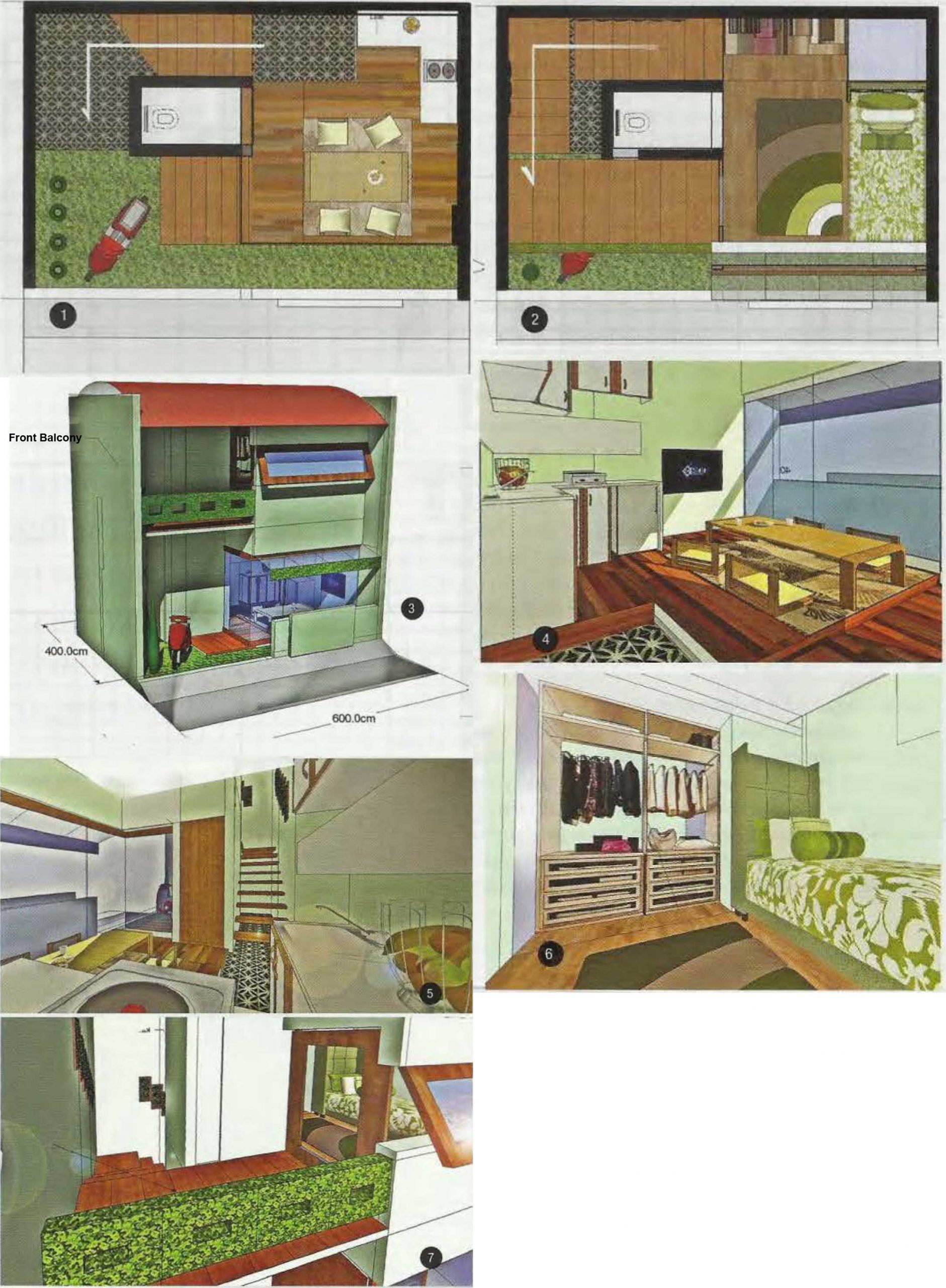 Photo Information
The first floor is optimized as a public zone. The living room uses a tatami table so it can function as a dining room as well.
The second floor is optimized as a private zone like a bedroom. The hallway to the bedroom is made open so that it also functions as a balcony.
The view of the entire building.
A family room that also functions as a dining room. The use of low furniture can give a broad impression in a room with limited space.
Kitchen area.
In the bedroom, a storage cabinet is a built-in wardrobe whose size is adjusted to the bedroom size so that there is no unused space.
Railing on the upper balcony is decorated with bushes so the balcony looks more natural.
Organize Small Space With Dramatic Atmosphere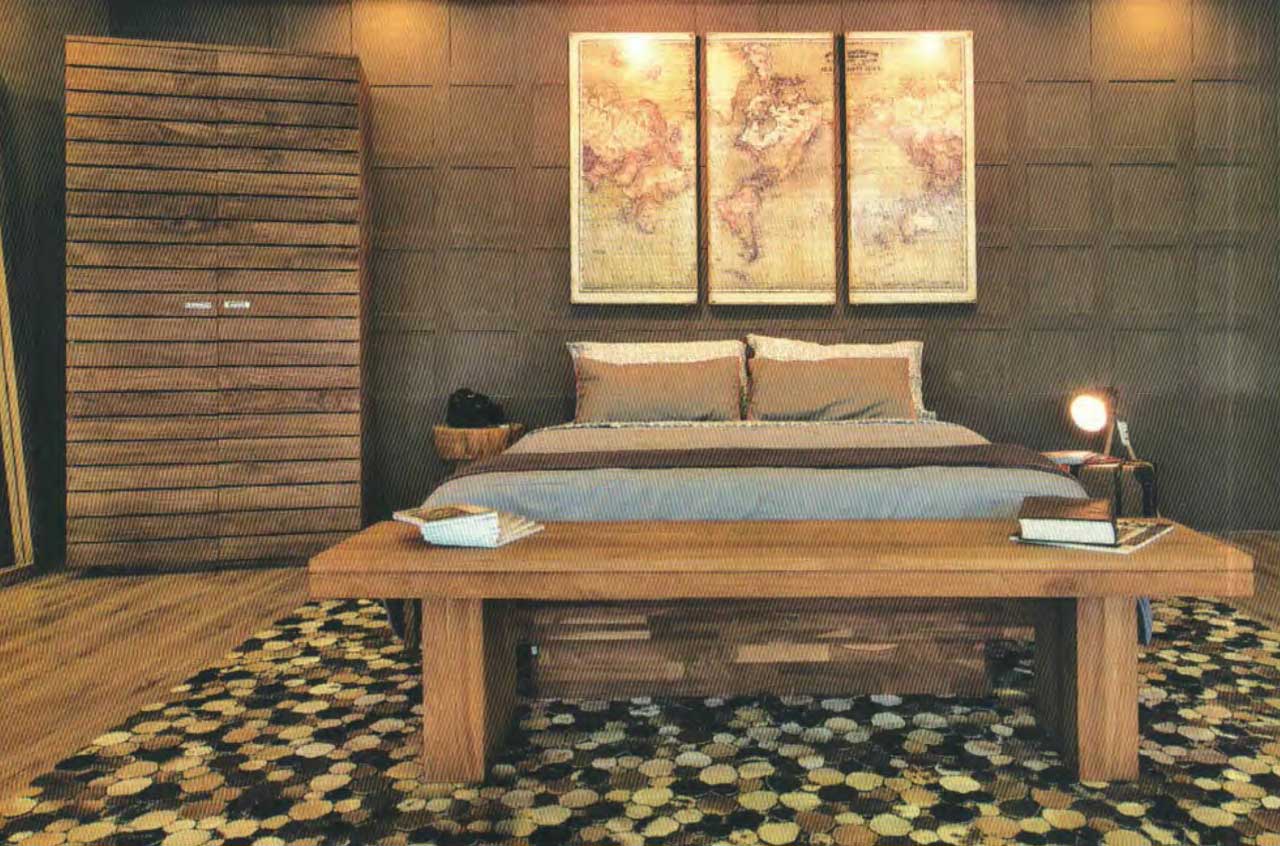 Creating a dramatic effect in a room is more freely made in large areas. A large area will facilitate us to explore. However, who said that it can't be made in a small space? By following the tricks from interior designer Humphrey Orry, interior design expert, your small space will turn out to be stunning.
Use dark colors
Dark colors are often a scourge for someone who has a small space. The reason is, this color will make the room look more narrow. In fact, with the right application, dark colors can bring dramatic effects. For example, apply to several areas on the wall, combined with bright colors.
Playing with lighting
Do not use ordinary lighting. In addition to the main lighting, use accent lights with shades of yellow.
Add a mirror
Adding a mirror is undeniable. In addition to giving a broad impression, the mirror will also reflect the light well, so that the light ambiance will look more dramatic.
High ceiling
In small spaces, the ceiling is recommended to have a high distance from the floor. This will give a broad impression. In addition, a high ceiling will make space for you to place chandeliers.
Create a focal point
Make it more dramatic, give a focal point in that space. Focal points can be a wall decoration made of natural stones or painted walls with eye-catching colors.
So, if you want to secure all these incredible images regarding Ideas On How To Organize Small Spaces Easily, click on save button to save these images to your personal PC. There're prepared for transfer, if you appreciate and wish to have it, just click save logo in the post, and it'll be directly saved in your laptop.
Thanks for visiting royhomedesign.com, content above Ideas On How To Organize Small Spaces Easily published. Most people trying to find specifics of Organize Small Spaces and definitely one of them is you, is not it?