Ideas For Decorating Small Kitchen Design On A Budget | Roy Home Design
Although small, this cooking area is still functional, complete, and stylish!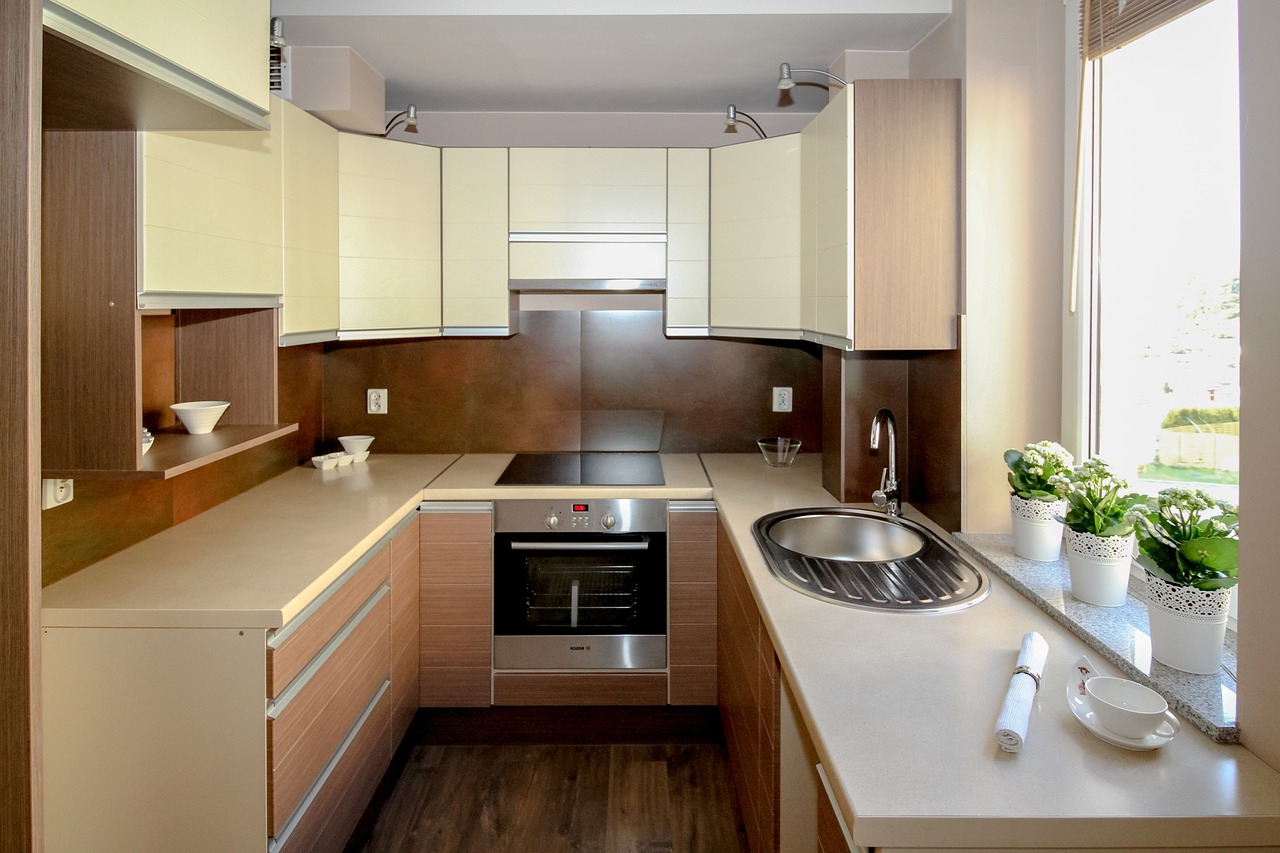 Small Kitchen Design With Sofa Upholstery Accents
The "L" shaped kitchen is located in an apartment unit (a low-cost apartment) with an area of less than 30 m². The owner, a young single man named Butt. When he has free time, he likes to cook his favorite food. "The kitchen is not just a decoration, because I really use it for cooking," explained Butt while laughing.
Although the kitchen area is very limited, only 1.1 m x 1.3 m, but it does not hamper the work process. "All equipment is stored in the cabinet, including gas cylinders, dispensers, toasters, and trash bins," said the man who works in the Information Technology field.
Also, the stove is placed vertically so that it can support the comfort factor when cooking in a narrow area. With such a position, there will be enough space for the sink.
"It's comfortable enough for a single person like me," Butt explained about his kitchen.
The kitchen is also the owner's pride area because that area is also the favorite place in this house. Its location adjacent to the living room, making the kitchen area a point of interest that can be seen from the entire room.
This modern design kitchen set also has an attractive appearance. The material is plywood with a white duco finish, and the top cabinet is coated with HPL (high pressure laminated) brown wood motif. The top cabinet is also equipped with a mirror door to add a broad impression.
What makes this kitchen more attractive is the round patterned accents that you can see on the upper cabinet doors. Uniquely, the accent was made from the unused sofa upholstery affixed to the cabinet door. Creative!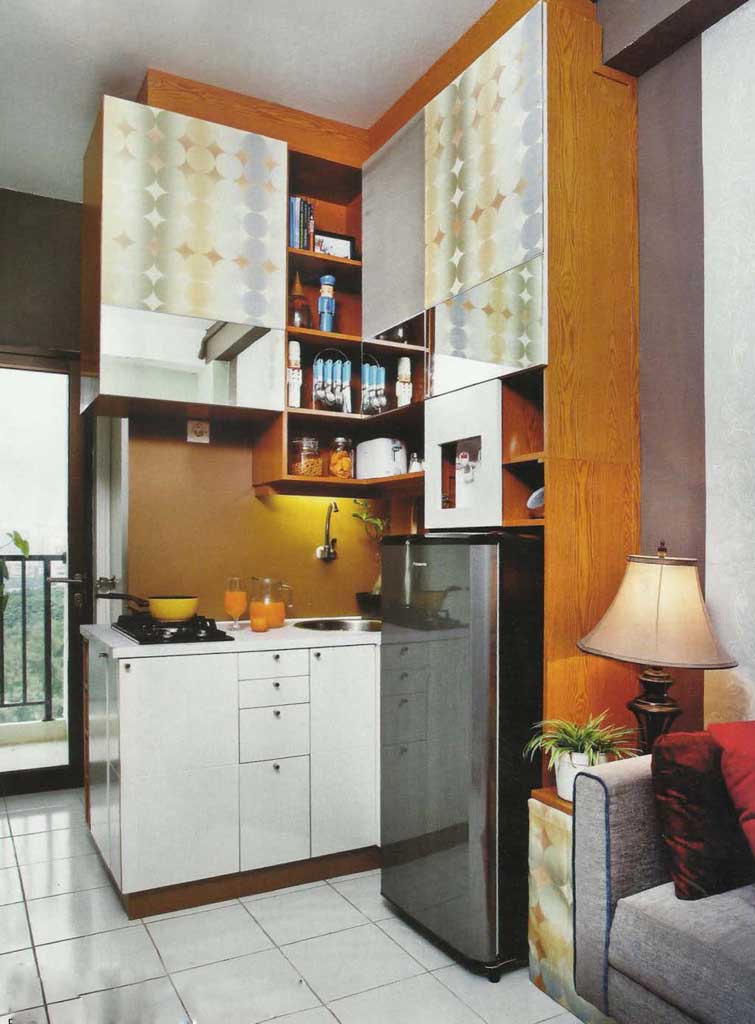 This compact design kitchen set has an area of 1.43 m². The material uses plywood with white duco finishing and brown wood pattern HPL. The backsplash is coated with plain brown HPL. A built-in gas stove is placed in a vertical position.
Here's The Creative Idea! Take Advantage Of Upholstery Fabrics
The upper cabinet gives an attractive look because some doors have a plain gray color with round patterns. Apparently, the attractive look comes from the unused sofa upholstery. Why use sofa upholstery? "Because the fabric has a hard and strong character, so it will be more resistant for long-term use," explained interior designer Stephen Ricky, who designed this kitchen.
To make it happen is quite easy. Prepare a sofa upholstery, 3 mm plywood, and glue. First, measure the plywood according to the size of the cabinet door, then coat one side of the plywood using a sofa upholstery, then glue the plywood that has been coated onto the cabinet door surface. Done!
"This application is much cheaper than using duco paint finishing or HPL layers, but the results are pretty awesome, right?" Explained Stephen. Agree!
The concept is a closed cabinet, making all goods and furniture neatly stored behind the door. Like, this trash can and water pipes. The inside of the cabinet is coated with the same HPL as the coating that covers the upper cabinet.
Has limited area, tricked by reducing the size. The normal width of the countertop is 60 cm, it has been made into 54 cm. On the countertop, a built-in gas stove is placed vertically so that there is a more flexible work area for cooking. At the bottom is a storage area for gas cylinders.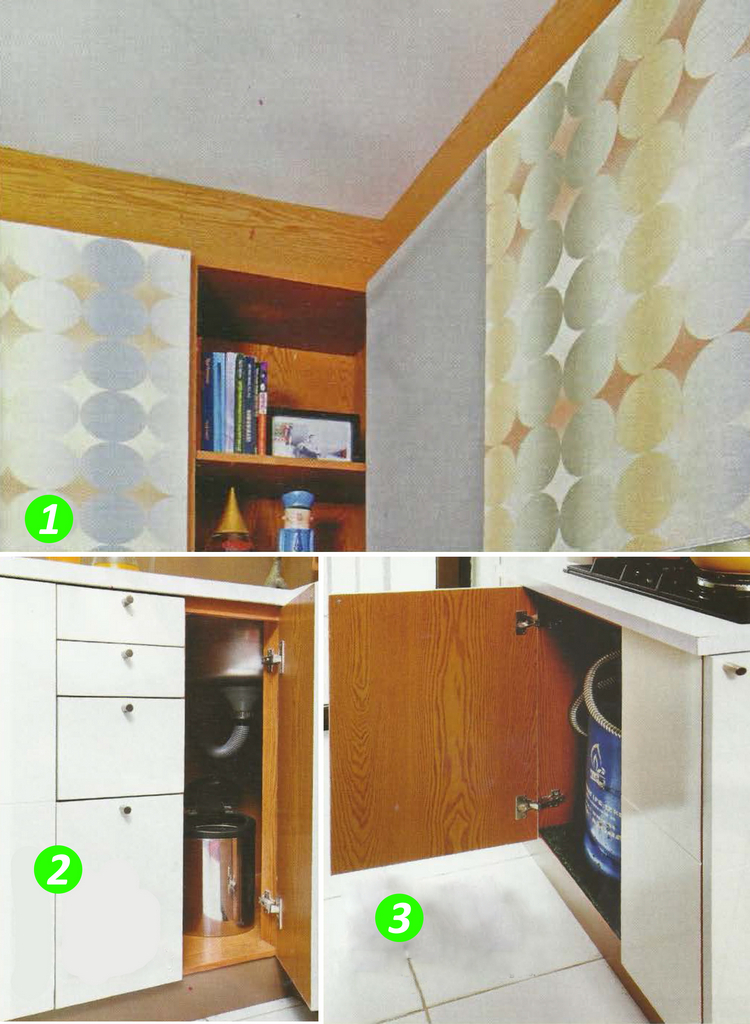 Clever in placing red color, making this tiny kitchen look sassy and chic.
Ideas For Small Kitchen In Modern Design
Do you have limited space for the kitchen area? Do not be discouraged. Look at this small kitchen. This kitchen only has a length of 2.5 m. While the width of the cabinet plus the width of the work area is only 1.5 m. However, with a total area of less than 4 m², this tiny kitchen can look attractive.
This "I line" design kitchen wisely applies white as its main color. Thus, narrow space can be disguised and can seem more spacious. The edges of the kitchen set are covered with red HPL (High-Pressure Laminated). The red-color placement, from a distance, looks like a white duco trim used on the cabinet. As a result, the appearance of this kitchen set becomes even more interesting with a touch of little peek red color.
The application of red color is also seen on the backsplash, made of 6 mm thick glass. While the countertop is covered with black granite and some cabinet areas are accented using wood coating in brown coffee color. This is a closed cabinet design so this small kitchen always looks neat. With all these combinations, like shapes, colors, and materials, the kitchen looks more compact and chic.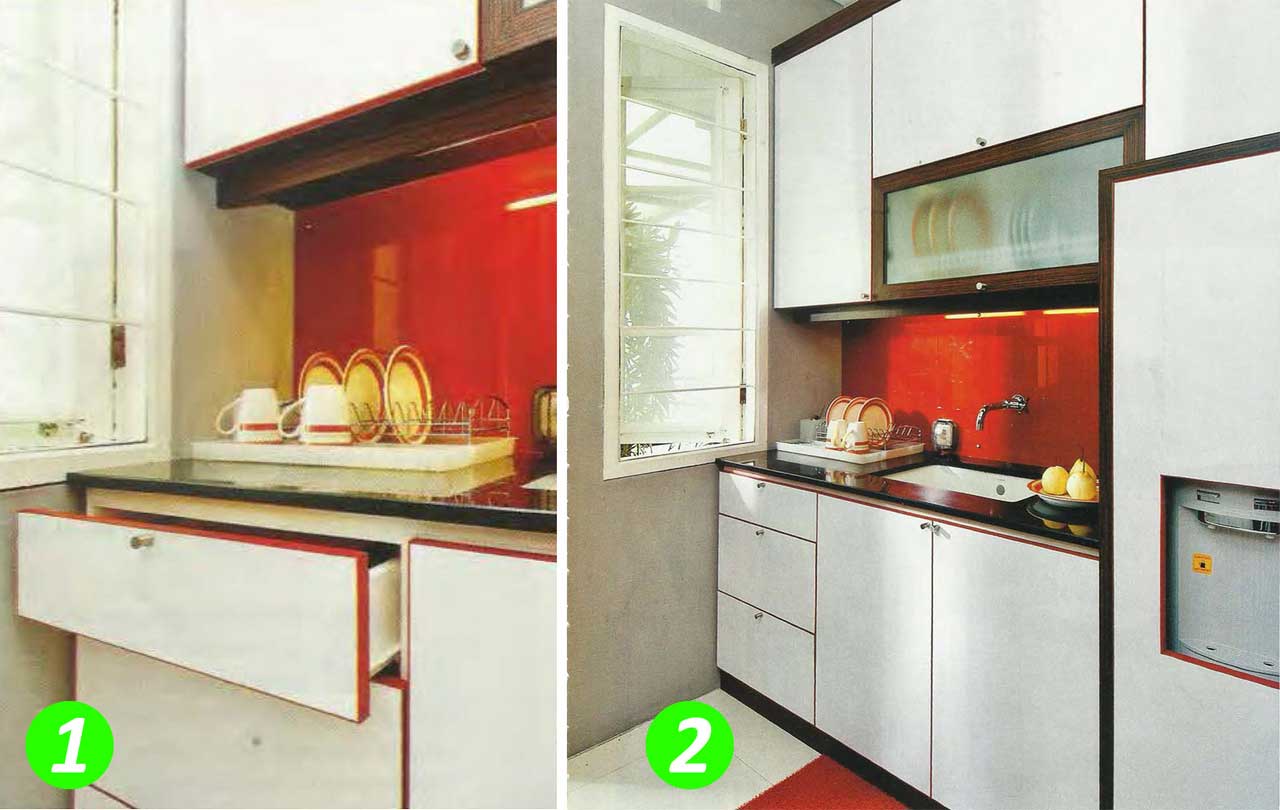 With the trick of contrast color placements on the edges of the cabinet door, a color preference can be created. The accent color is present sufficiently, with more interesting results.
A small kitchen area is not an obstacle to have a beautiful kitchen appearance. This kitchen is only 3.75 m² wide, but it looks attractive, isn't it?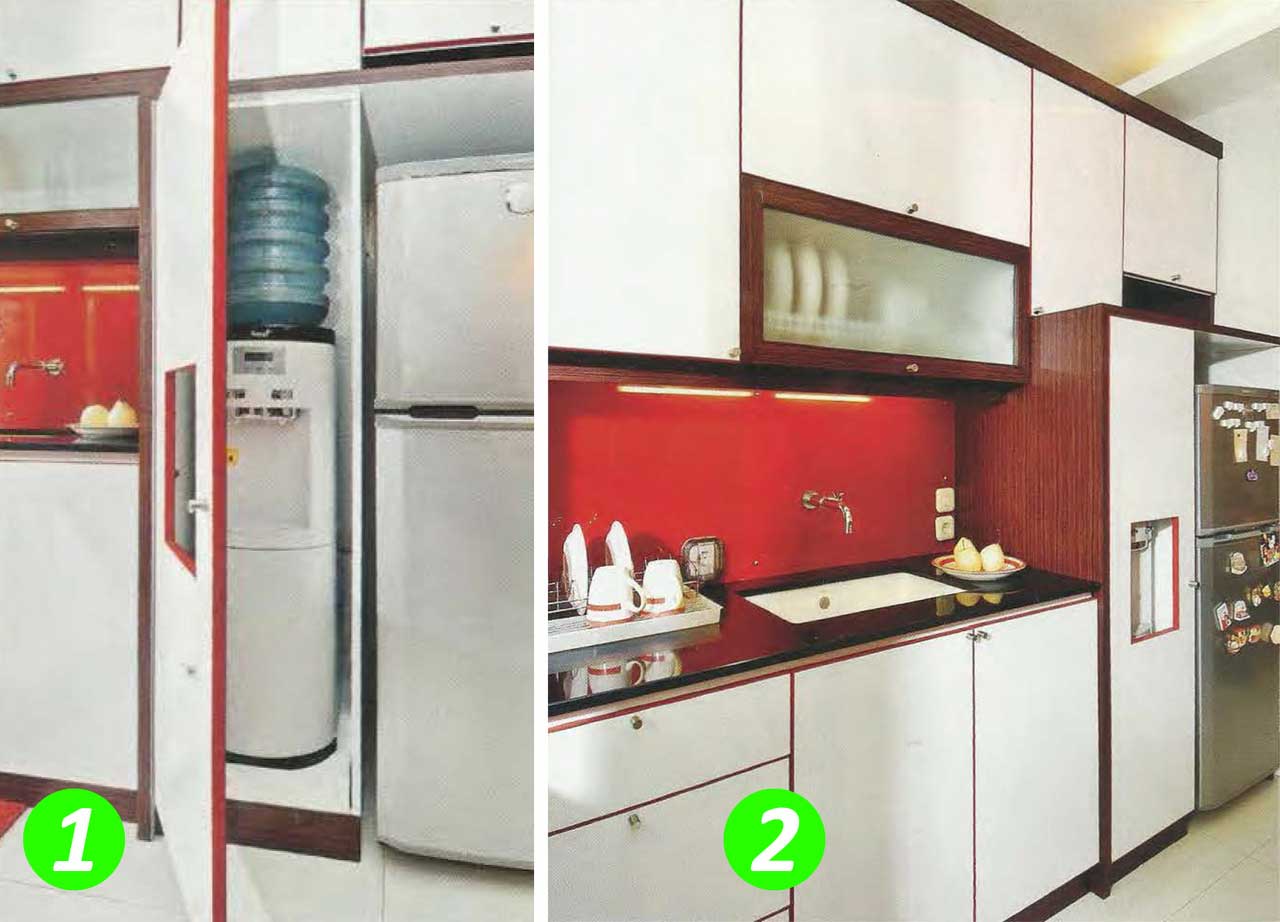 Three Right Solutions

Placing the kitchen "I Line" in a small area there are the tricks. One of them, make the kitchen connected with the window and door to the open area. In that way, the small space does not become stuffy and dark, so the kitchen is more comfortable for cooking activities.
White is the wisest choice for making small kitchens look more spacious. This color is also a friendly color with other colors, so it's "safe" if you want to combine with other colors.
This is a closed cabinet, in addition to making kitchen utensils protected from dust, also makes the kitchen more presentable. You don't have to worry too much about the arrangement of your goods to make it look perfect, because everything is stored in a closed cabinet.
With the implementation of a simple and closed design concept will make the kitchen look more neat and compact.

All the kitchen utensils are neatly stored in their place, including a water dispenser. The cabinet for the water dispenser is equipped with a square hole in the middle to make it more accessible.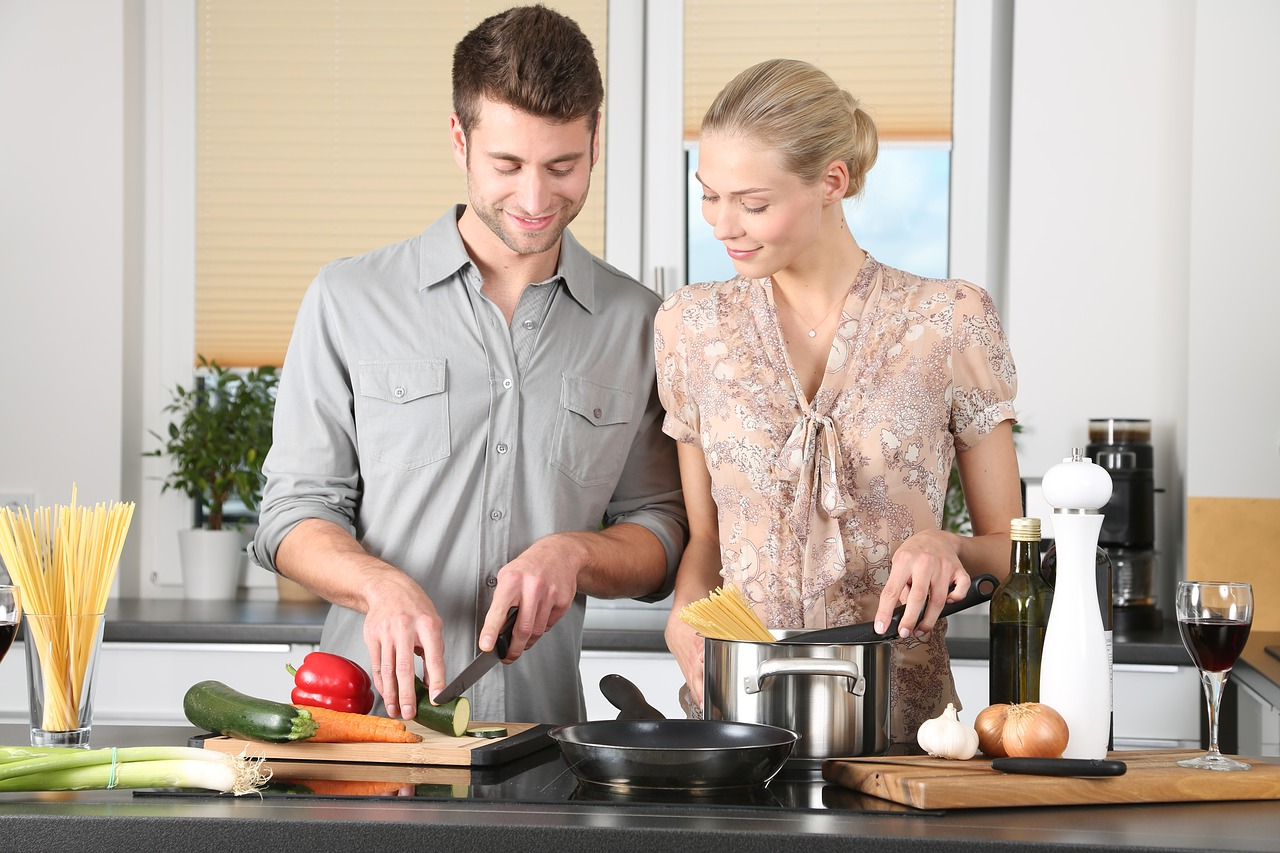 So, if you want to acquire all these awesome pictures regarding Ideas For Decorating Small Kitchen Design On A Budget, simply click save button to download these shots for your laptop. They're all set for transfer, if you'd prefer and want to take it, just click save symbol on the article, and it will be directly downloaded to your desktop computer.
Here you are at royhomedesign.com, article above Ideas For Decorating Small Kitchen Design On A Budget published. Most people searching for information about Small Kitchen Design and of course one of them is you, is not it?
Related Posts