10 Home Storage Ideas For Small Spaces You've Never Known | Roy Home Design
|
Home storage can not be considered trivial. If it is wrong in managing, then it will cause problems in the later days. Especially if you have limited space. Careful in storage management is the solution.
Clever Home Storage Solutions And How To Organize It 
The book is not wet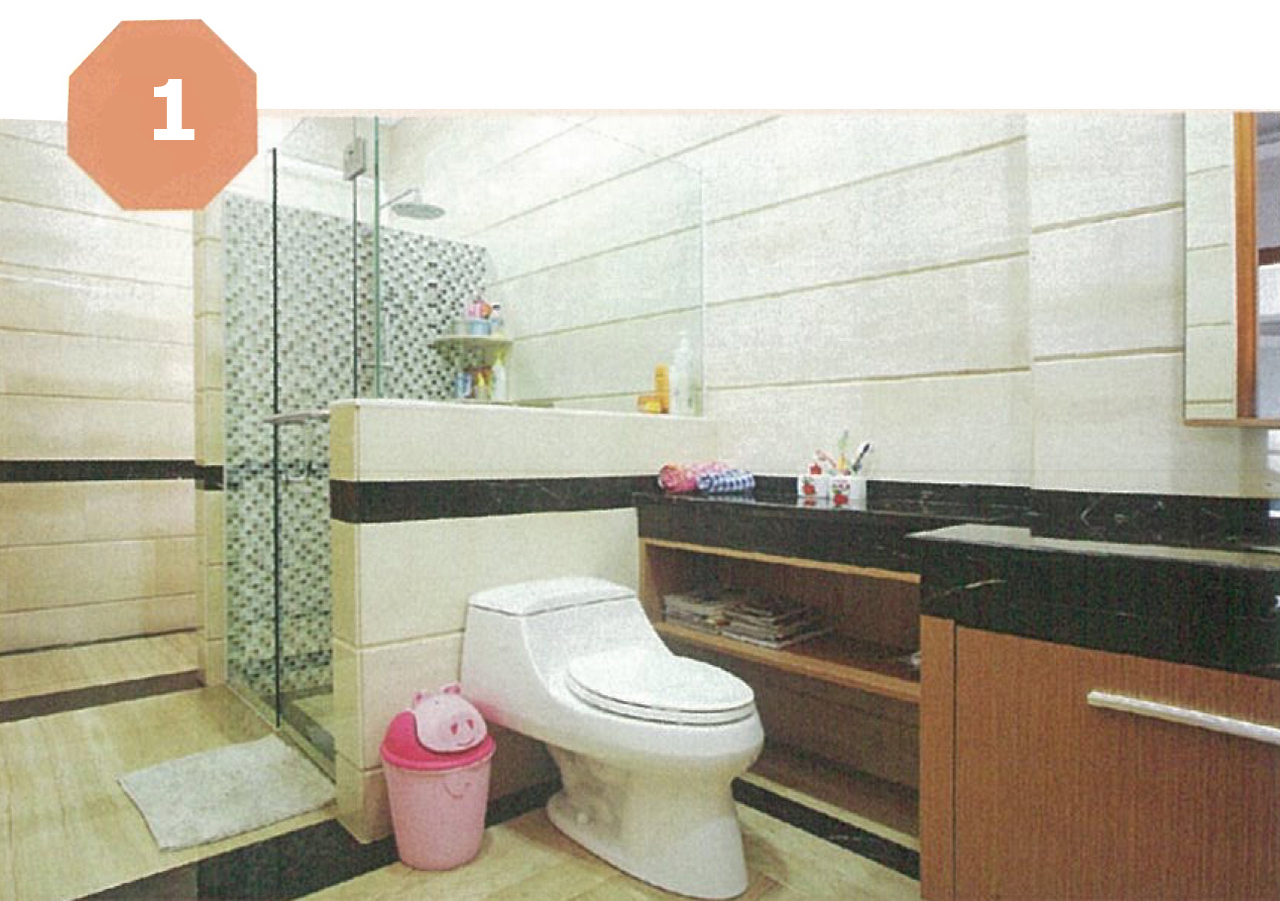 Some people like to spend their free time reading books, even while in the bathroom. In order not to get bored when doing activities in the bathroom, you can provide shelves to store magazines and books in dry areas. This shelf connects to the sink table, so it looks simple but still functional. Also, the shelf location that away from the wet area will prevent books, magazines, and newspapers from exposure to water. But, don't forget to wake up, ok!
Flexible and easy to tidy up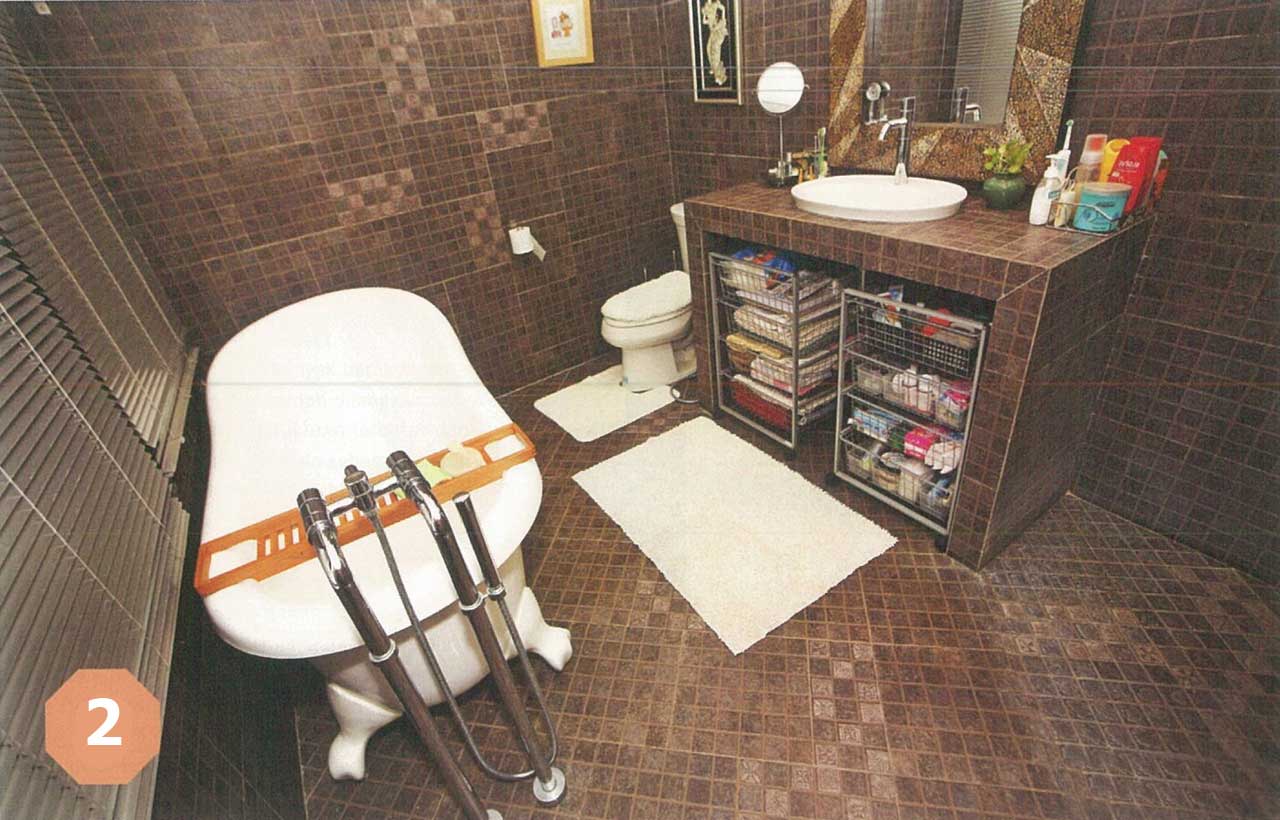 To make use of the space under the sink, most people generally make storage such as a drawer or a small cabinet. Because the area is limited and the location is under the sink table, so sometimes it is difficult when we want to tidy up the drawer contents and cabinets. On this inspiration, shelves and cabinets are replaced with flexible iron shelves.
This stacking metal shelf is measured according to the size of the space under the sink. Equipped with wheels on its legs, metal shelves will be easily pulled out to be cleaned. Having a flexible feature makes it easy to move to another area or space as you wish.
Overhead cabinet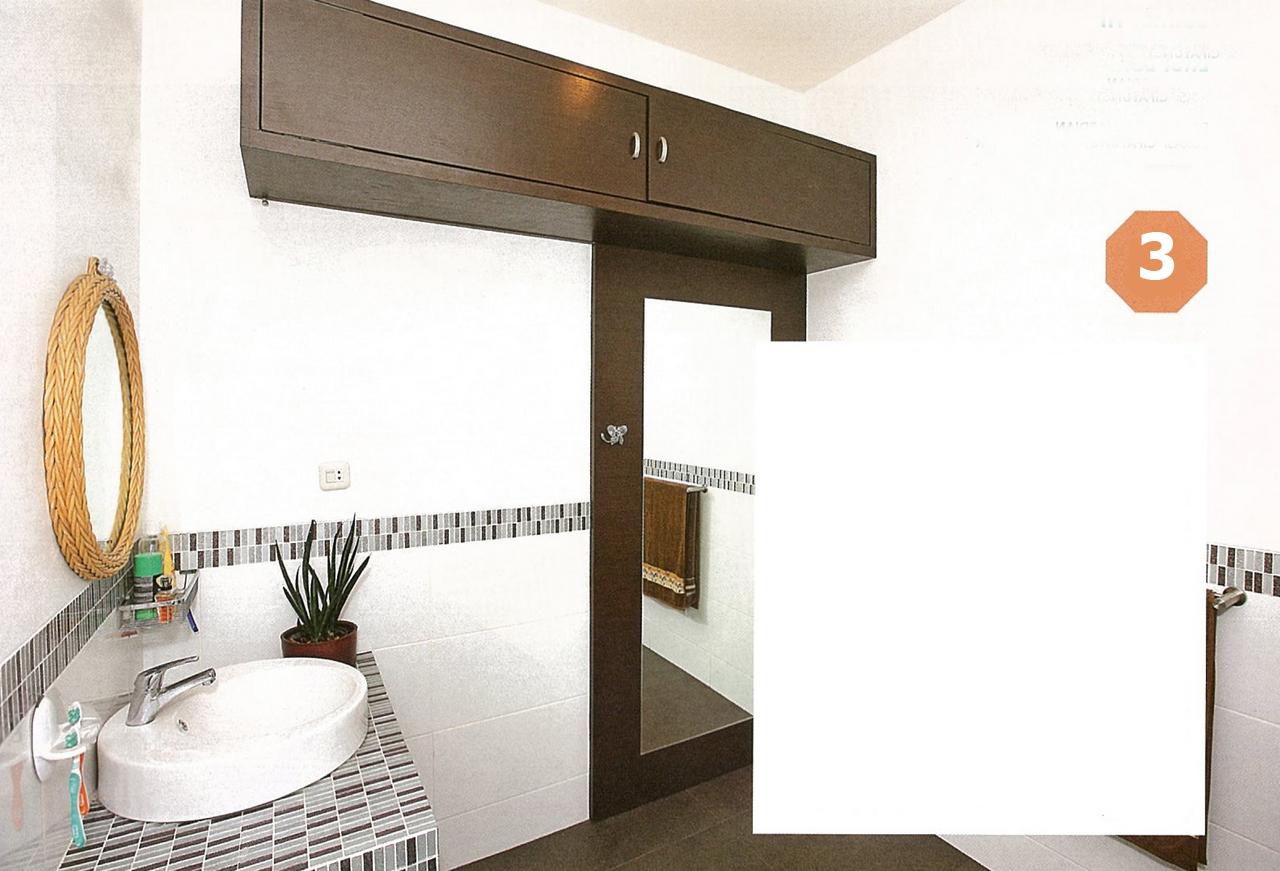 In everyday life, we do a lot of activity around the floor surface that is easy to access. However, this area is has a limited size and not all of the areas can be used as a place to store goods. If so, where else can you put the cabinet?
This inspiration will answer that question. This long and slim wooden cabinet is attached to the upper area of the bathroom wall, where that area is usually not utilized. Here, the occupants can store supplies of towels and toiletries. Thanks to this overhead cabinet floating, the bathroom floor area can be more neat and spacious. Ingenious!
Protect from wet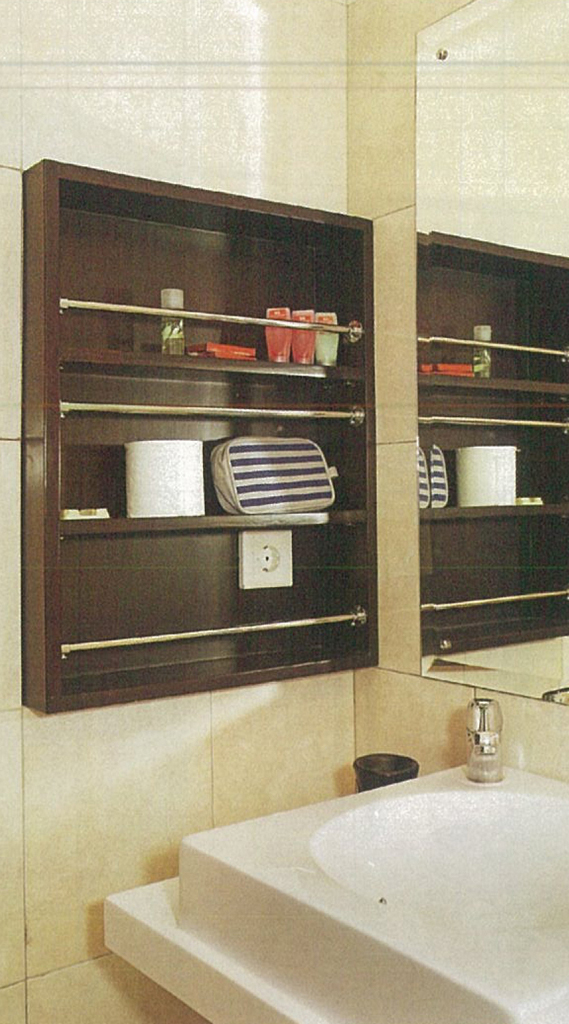 A bathroom is identical to water. However, not infrequently you also bring in personal items that are easily damaged if exposed to water. For example, electronic devices. This is where this small shelf plays his role. A simple shelf equipped with stainless steel as fences, mounted on walls and used to store various personal items in the bathroom.
Pretty with niche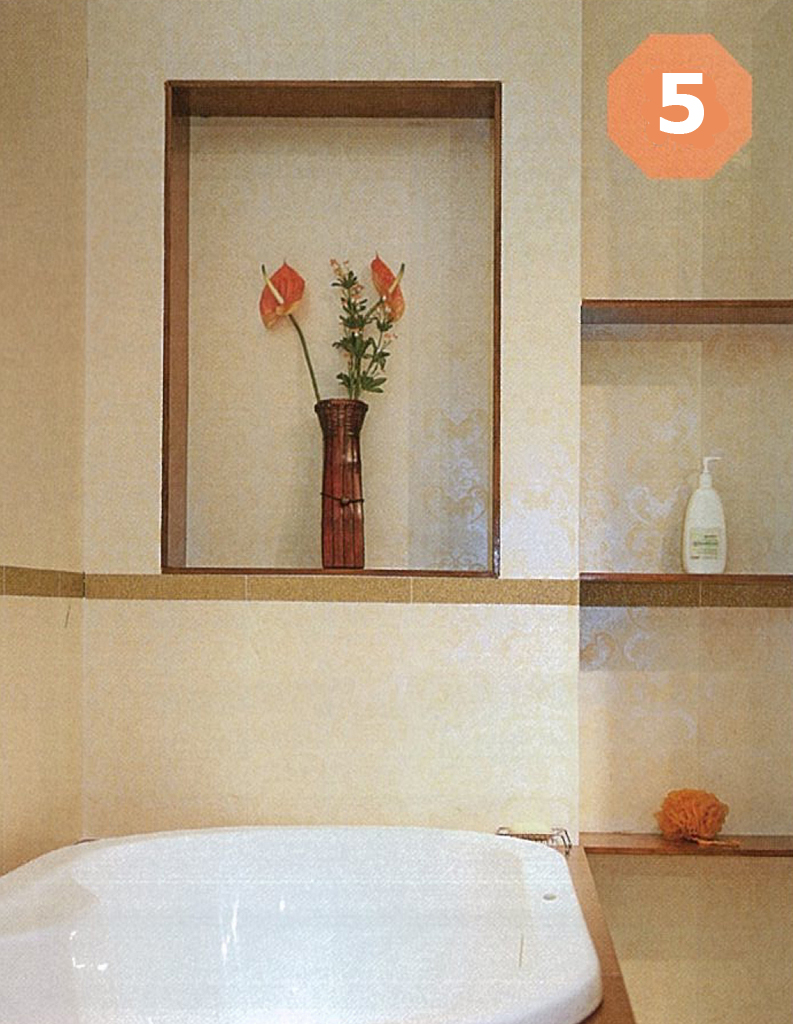 Generally, a niche on the wall is used to display accessories or store items, this method has been applied to many interior spaces, especially bathrooms. The niche term is inspired by classic European design, where it was originally a place to display statues.
In the bathroom, a niche can be used to place various display objects. Flower vases, beautiful candles, aromatherapy containers, and other display items, this method will certainly beautify the bathroom. Besides, you can also make a niche as a place to store toiletries.
Floating and luminous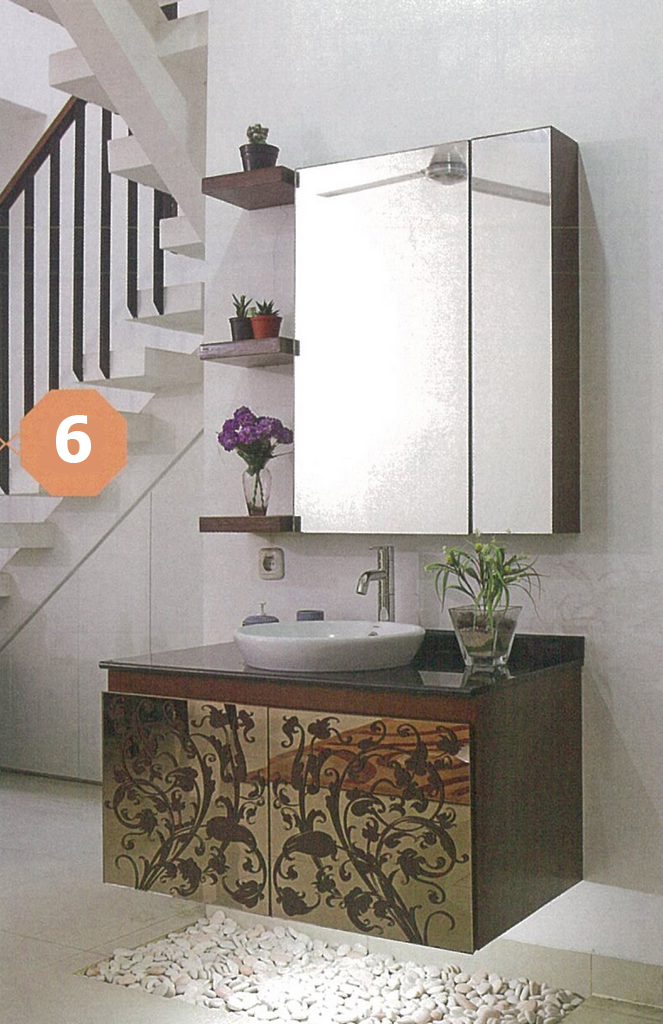 A sink table that is attached to the corner of the room was ordinary, but a floating and luminous sink table was brilliant. The small space under this table will allow your legs to stand more comfortable when using the sink so that your legs become free to move without any obstructions. The light coming out from under the table strengthens the impression of lightness.
Completing the storage function for various bathroom accessories, the mirror box can function as a cabinet to store simple and functional medicines. A clean and neat look in this sink area will be realized.
The Display Table: Personal Items Storage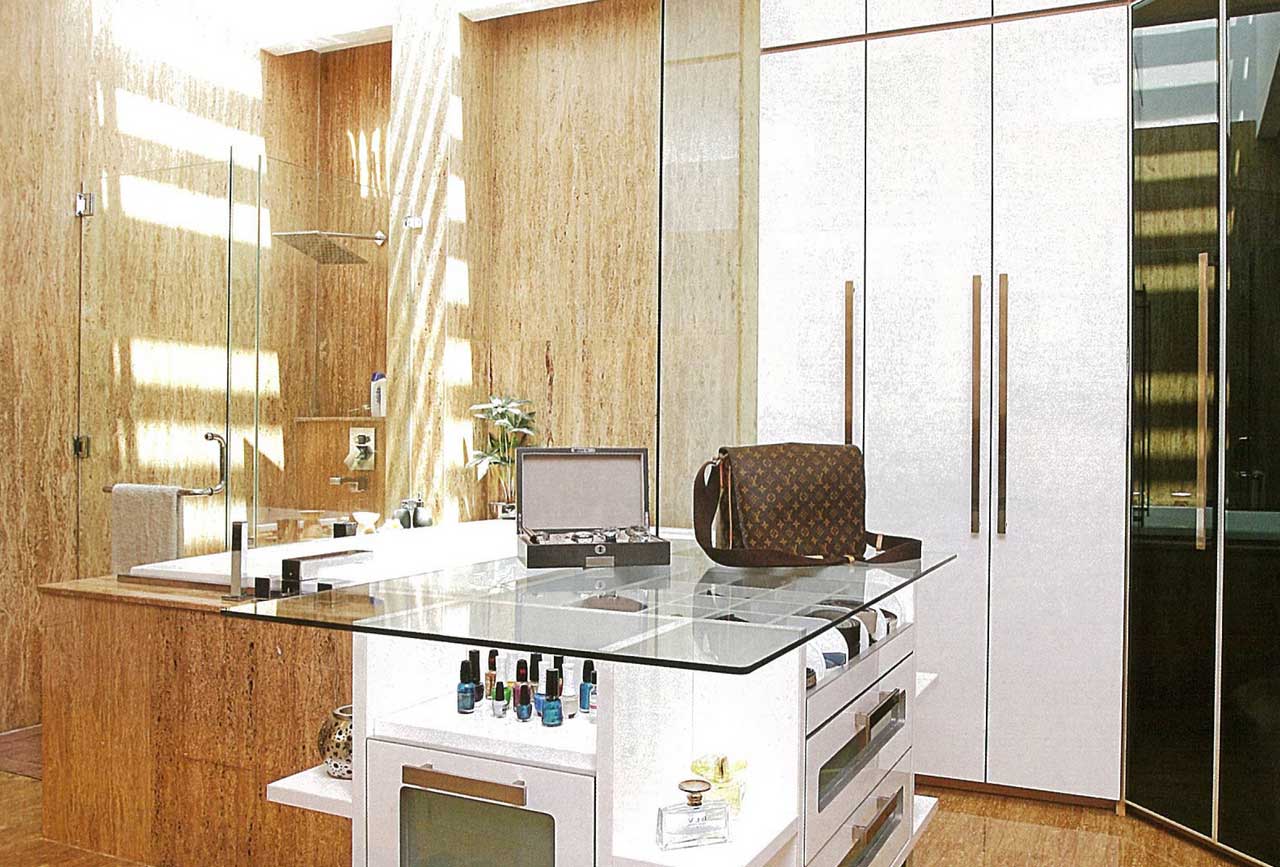 To complete the interior look, the congenial items are indispensable. The congenial items are often collected, so they can be used interchangeably. Ties, belts, perfumes, and watches for example. Over time the number will be increasing, so it needs a separate storage area.
An island table in the dressing room that merges with the bathroom is interesting to follow as an ideal storage area. The location in the middle of the room is very strategic. So, after showering, the owner can immediately dress and look charming, harmonious, and fragrant quickly because there is no need to move around to another place.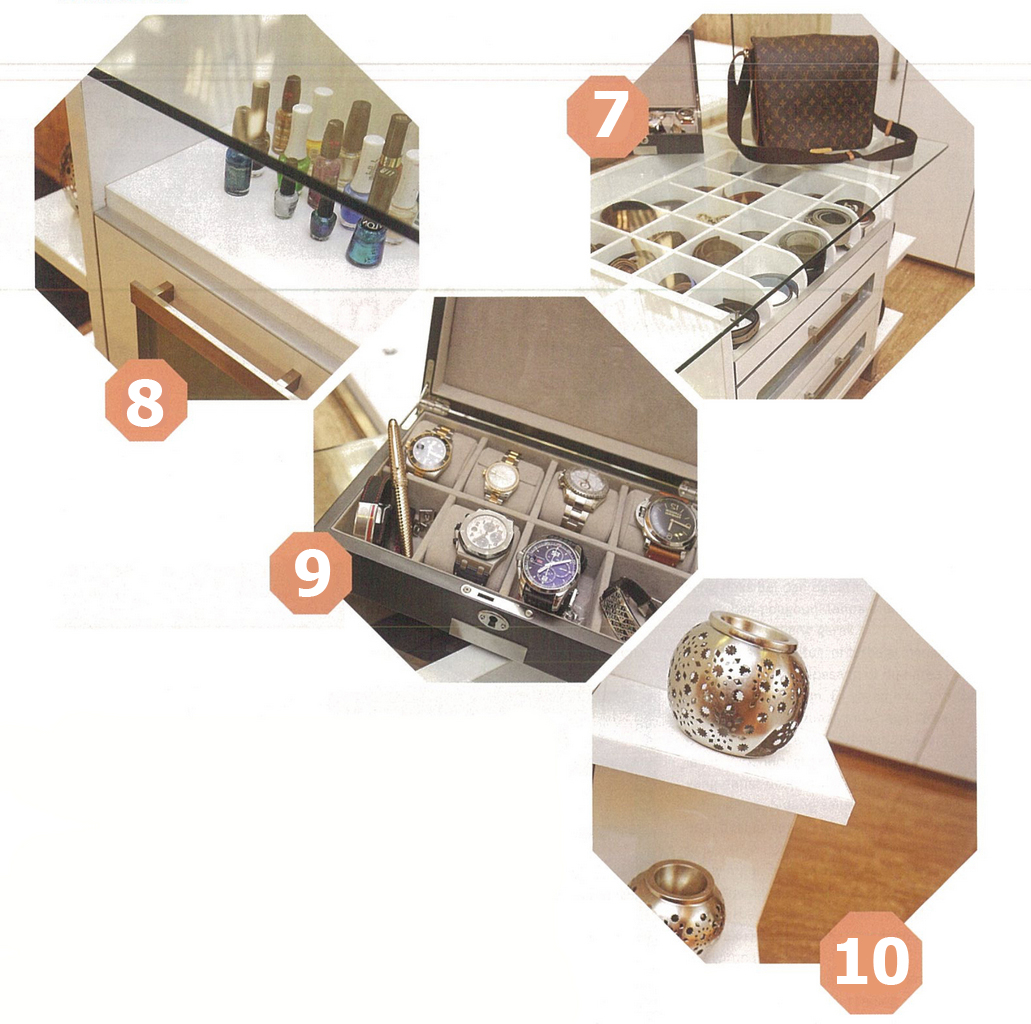 Special bulkhead drawers are used to store collections of belts. It doesn't matter if the position of the belt is at the end of the drawer because it is still easy to reach. The drawer can be pulled out and the belt can be easily taken.
Beautiful fingers and toes with colors that are in harmony with clothing will enhance your appearance. Not surprisingly, a collection of nail polish is available in various colors. A cavity under the island table is the right place to store it because it is easy to see and reach.
Aside from the appearance and how to dress, assessing one's personality can also be seen from his habits about respecting time. Timely is a reflection of discipline. For this reason, the owner of this bathroom needs to collect watches from various brands and models that suit their style and taste. The watch collection is not stored in a closed cabinet but is stored in a special box placed on an island table.
Besides being a fashion complement, the dressing room in the bathroom also needs to be decorated with trinkets. Among them is an attractive aromatherapy candle container made of stainless steel which is placed in a stacked shelf.
Maximizing Space With Folding Furniture
Folding furniture is a simple solution for a bedroom with a limited area.
Bedroom size: 300 cm x 400 cm
Case
A lot of needs vs. limited space. This is what Cindy (21) experienced when she wanted to fill her bedroom. She needs an area that can be used for sleeping, storing accessories, collection books, and clothes, also for study rooms. However, she also hopes that at another time, her bedroom can be used to host her friends who come to visit.
Design ideas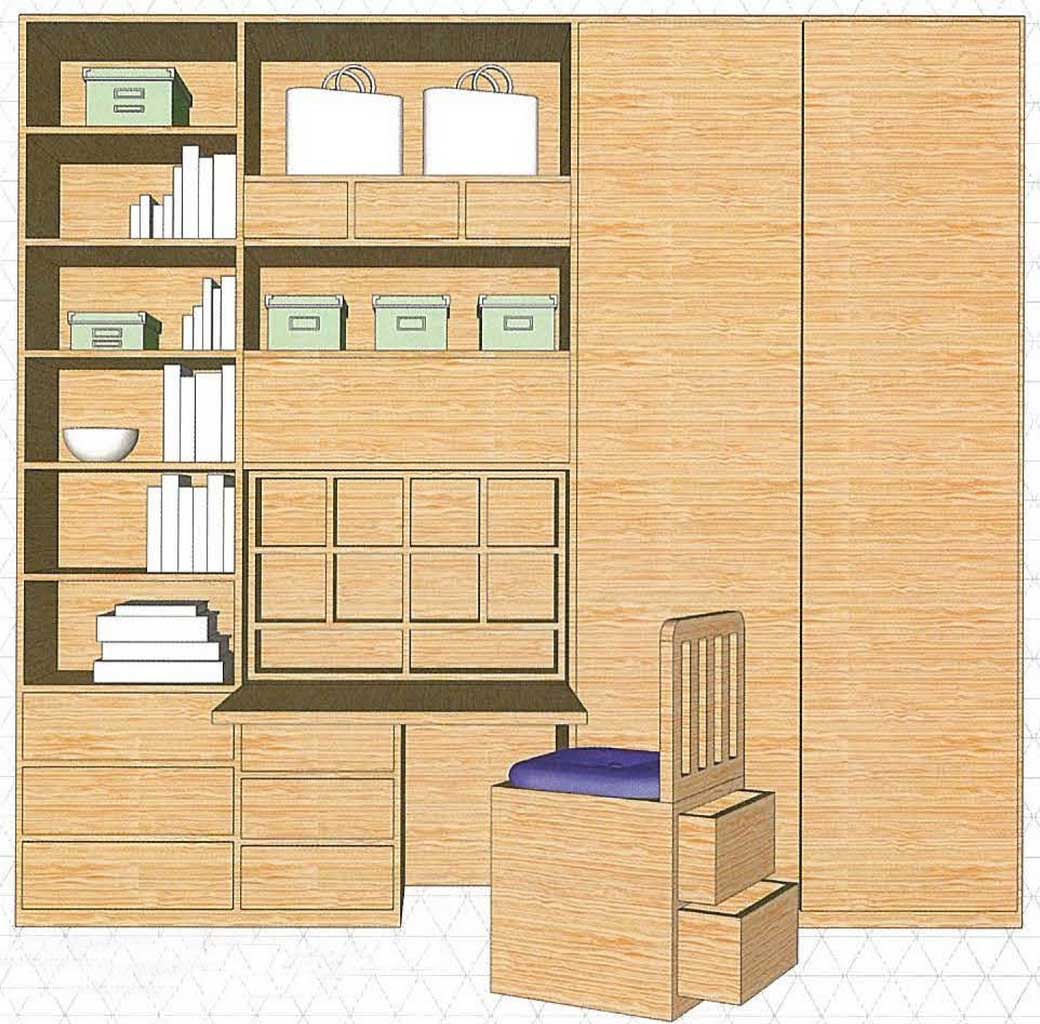 The size of the existing space can be said quite small so that all the needs of occupants will be difficult to do at once in this bedroom. For this problem, the solution is a folding furniture system that is flexible and can meet all occupants' needs without reducing the comfort of space.
This set of furniture is divided into two fields which are installed in two opposite areas. On the left-wing, this multifunctional furniture is used as a storage area. The 120 cm wardrobe is equipped with sliding doors that can be accessed from two directions. Next, a 90 cm area becomes a study room equipped with folding chairs, folding tables, and small storage for storing stationery. The top field is used to store bags and various personal accessories. While the remaining 60 cm shelf is used to store books.
On the right-wing, the same folding system is applied to the bed. The bed base and leg are put together with hinges, so they can be bent when used and straightened when stored on the wall. The right and left side of the bed can be used to store pillows, dolls, and other accessories.
In this room, the occupants can do some activities. They can use furniture alternately.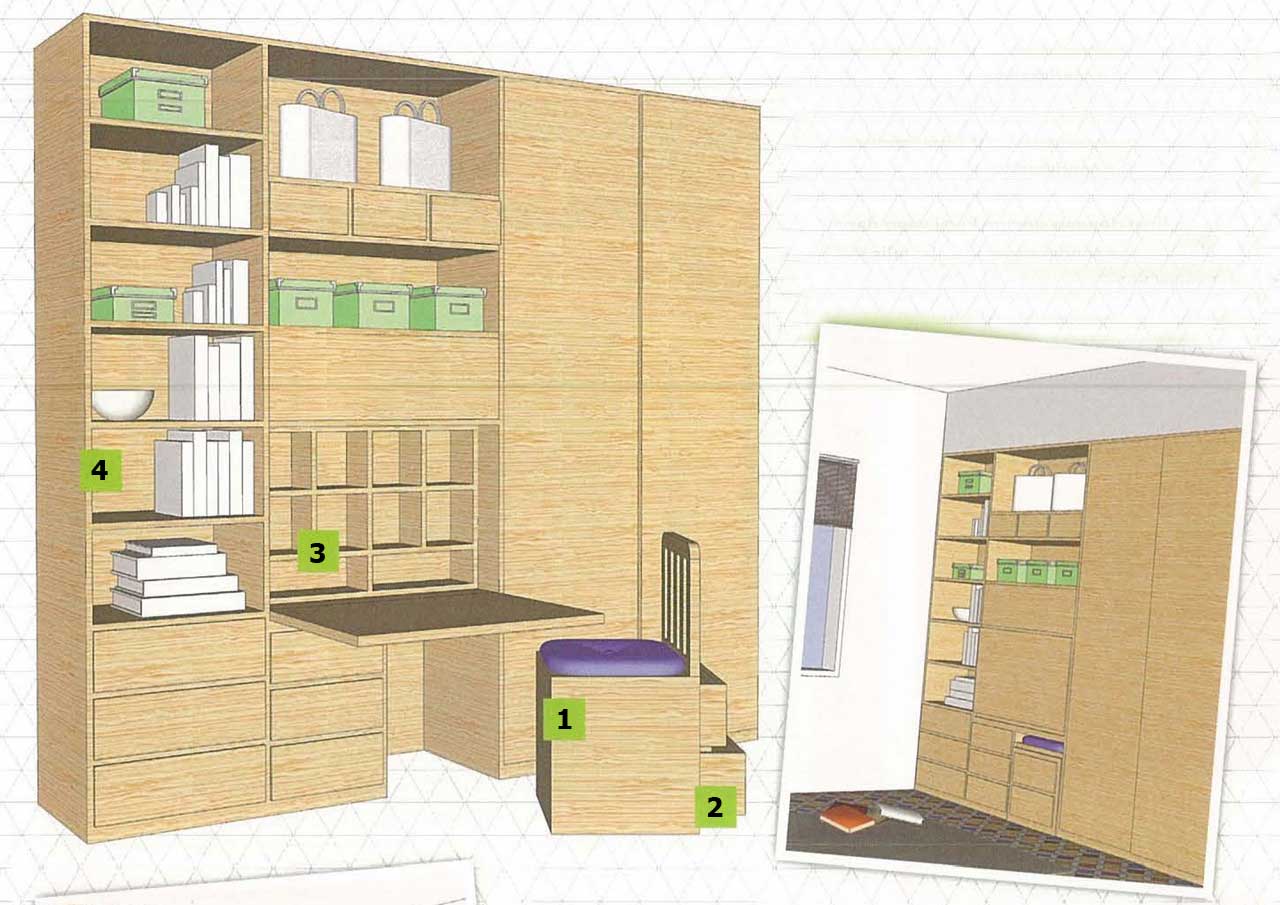 A chair with a backrest that can be folded, equipped with upholstery to make it more comfortable when sitting.
Drawer in the chair base that can be used as additional storage.
Folding table with small storage that can be used to store stationery.
Book cabinets so that collection books can be arranged neatly.
A small cabinet to store pillows when the bed is folded.
The folding bed that can be lifted and stored vertically.
Display shelves that can be used to store collection items.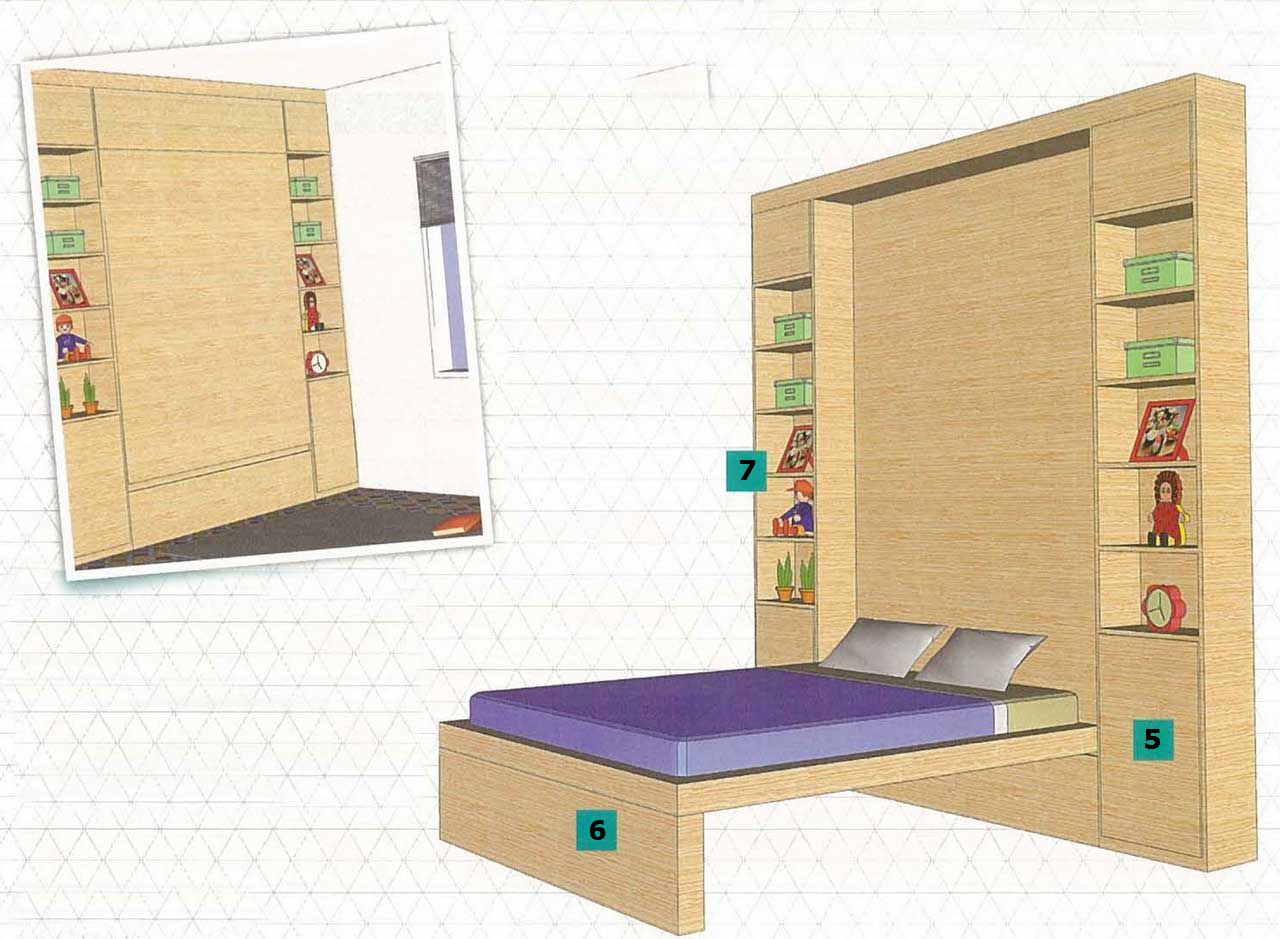 Material used
HPL-multiplex wood-patterned.
160 cm x 200 cm mattress for one person.
Colorful ceramic tile motifs.
Vertical blind on the window.
Cream-colored carpet.

So, if you wish to get the awesome images about 10 home storage ideas for small spaces you've never known, click on save link to download these pics in your PC. They're available for obtain, if you want and wish to get it, just click save badge in the web page, and it'll be directly down loaded to your laptop computer.
Here you are at Royhomedesign.com, article above 10 home storage ideas for small spaces you've never known published. Lots of people searching for information about Home storage Ideas and of course one of them is you, is not it?