5 Best Interior Ceiling Paint Colors to Make Your Room Lighter and Cozier
|
Very few individuals give much credence to the ceiling and instead spends their time debating the right paint color for the walls. There are several benefits to going beyond white and painting your ceiling in various hues, such as making your room cozier. From vibrant to darker hue, here are the five best interior ceiling paint colors for your inspiration.
Several Ceiling Color Scheme Ideas to Add Sophistication to the Area
1. Blue Shade
Blue ceilings can conjure up images of a clear blue sky. There are various shades of blue, including dark blue. Dark blue can be stifling, yet a bright shade of blue can seemingly expand a space. Thus, it will make your room appear lighter. Moreover, you can blend the blue with darker tones to give the impression of the night sky.
2. Yellow Shade
The bright lemon yellow ceilings are hard to overlook. However, after all, it is the point of painting them yellow. Yellow stand out and demands attention; thus, this one of the best interior ceiling paint colors is the polar opposite of classic white, which is generally meant to blend in to the area's background.
Furthermore, if you decide to go with yellow, you must remember that the ceiling will become bright. Therefore, you need to contrast it with the most modest wall. To draw attention to the lemon yellow ceiling, it is advised to paint your walls grey or any other neutral hue.
3. Dark Grey Shade
Choose dark grey for your ceilings because that particular color can lower the height of the tray ceiling. Therefore, you'll have a chance on making the space feel cozier. Moreover, you can put some additional features in the area to complement this best interior ceiling paint. For example, a neatly matched grey couch will do the job.
4. Red Shade
If you're going for a stunning and confident appeal that is on the other side of the white spectrum, you may consider painting your ceiling red. Not only it is bold, but a red ceiling may also liven up your otherwise drab space, especially if there is plenty of natural light.
White or grey walls look great with red ceilings. However, you need to be aware that not every red ceiling must be a vibrant red. For a more subtle and sophisticated effect, you can alternate to reduce the red's hues to maroon, garnet, wine, or burgundy.
5. Brown Shade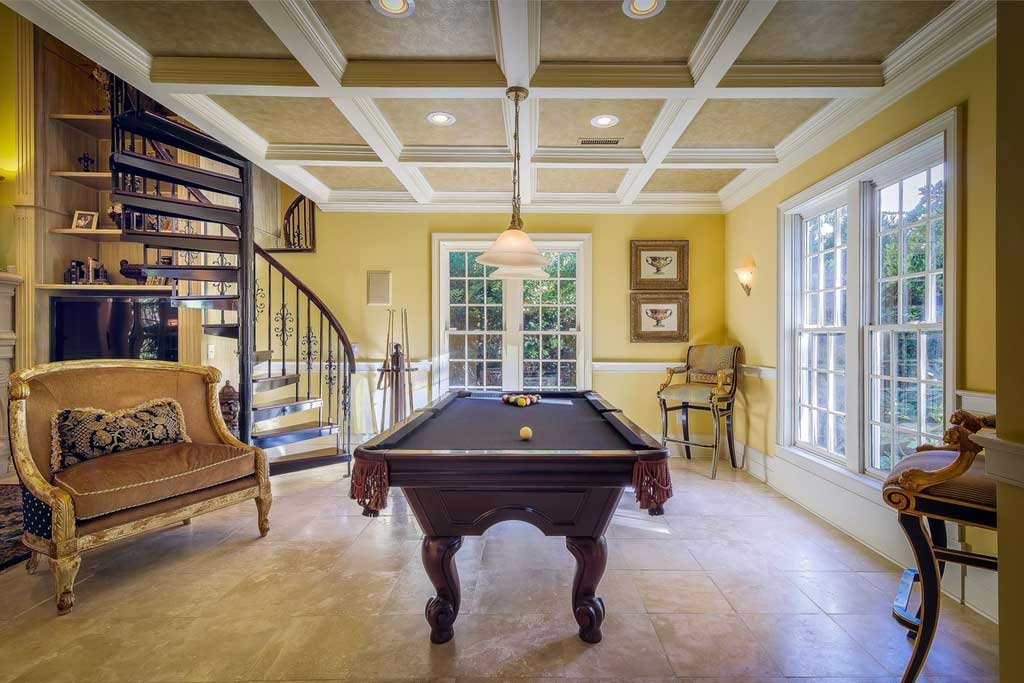 Brown, as one of the best interior ceiling paint colors, can make a room appear smaller and inward looking, but it isn't always the case. To avoid that, you can consider using dark stained paneling to make the space feel cozier. Home theaters and bedrooms are two certain areas that can thrive from the secluded feeling that brown provide.
All in all, ceilings create the complete aesthetic appeal of any interior space. White is the safest and most common ceiling color. However, other hues can be utilized as well. Brown, dark grey, yellow, red, and blue are some colors you may consider selecting.