11 Best Floor Types You Should Know for Homes | Roy Home Design
|
Floor Types Comparison Before You Buy It
Floor Paint
This floor type is a paint coating that is commonly used for helipads, parking lots, sports fields (volleyball, badminton, tennis court, basketball, etc.), both outdoor or indoor. This paint has basic ingredients; polymer, filler, and pigment (color). This paint is water-based, which means dilution using water.
How to use floor paint is as follows.
For concrete floors should be clean from oil and mildew.
After cleaning, dry the floor.
If there are cracks or cavity on the concrete floor, then the crack should be fixed first using a mortar. Next, clean the crack after it is dry.
Paint crosswise using paint rollers, at least three times.
The interval of coating is two hours before the next coating during sunny weather. But, don't paint during hot weather.
For painting on asphalt, the same as with concrete painting. However, asphalt has perforated textures, so it will quartz sand and liquid additives to fill the cavities.
For floor painting, each 1 kilogram of paint can be used for 1,5 – 2 m² floor area. On the market, the available floor paint colors are yellow, green, blue, red, and gray.
The advantage of using floor paint is
anti-slip,
not melt easily,
resistant to mildew,
easy to clean.
During its development, floor paint was also used for industrial floors, factories, and large diameter pipes. In industry or factories, large diameter pipes are used as water flow, it's perfect to prevent moss.
Floor Hardener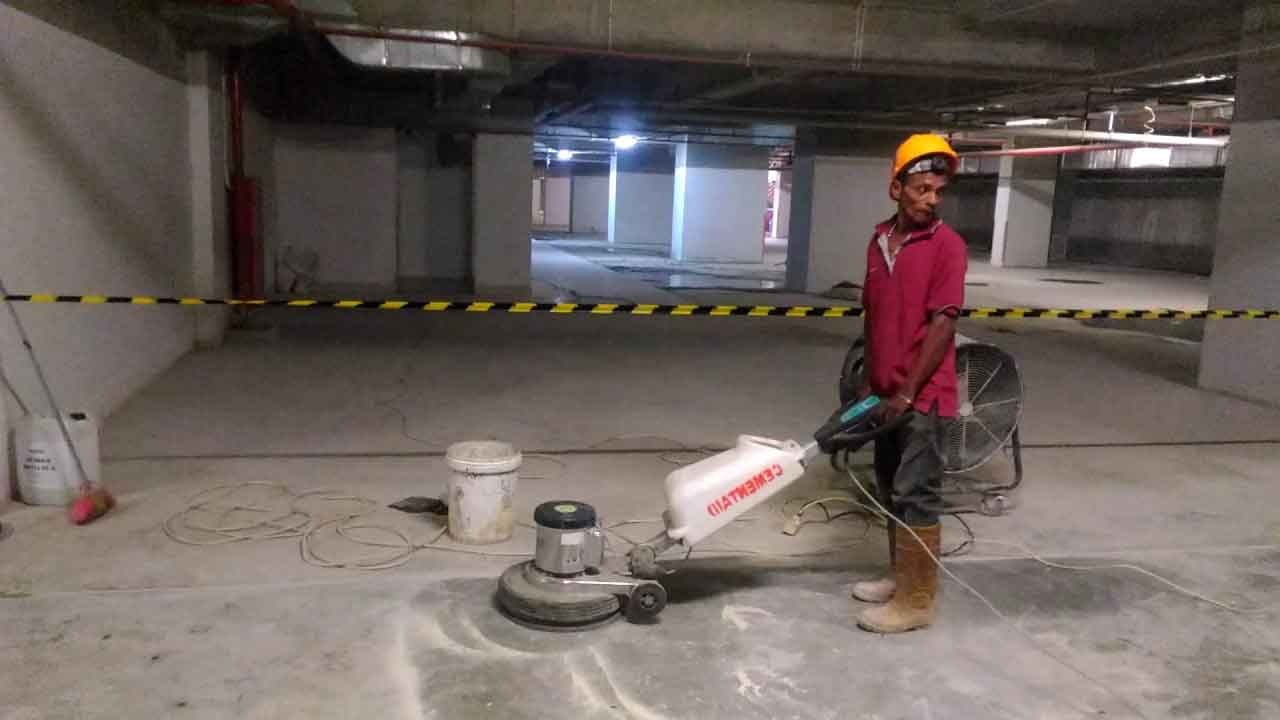 Floor hardener is a floor designed to withstand heavy loads without coating. Normally, casting concrete surfaces is mixed with certain additives. These additives can be found on the market with various brands. With these additives, hard and strong concrete will be obtained. These additives are commonly used for factory, industrial, warehouse, or parking floors. How to use are depends on each product. Each product has a different method.
Epoxy Flooring
Epoxy flooring has characters that are almost like paint floors and floor hardener. Epoxy has a smooth and shiny surface. That is why this floor is used for clean and dry industrial buildings, such as the paper industry, textiles, shoes, and so on.
Block Paving (Pavers)
For garage floors, block paving is generally preferred because they are easy to install and easy to move. In the market, block paving is also called brick paving.
Block paving is made in two ways, press machine, and vibration (manual press). The press method has more strength block paving results than the vibration method. However, block paving that uses press method is more expensive.
How to install block paving is as follows.
Compact the soil to the maximum as a base (foundation). If the soil is not compacted, the floor surface will be easily wavy if gets pressure on it.
Sprinkle cracker dust as a base layer to make a flatter floor surface.
Install block paving according to the desired pattern.
Sprinkle the cracker dust again until it fills any gaps or grout.
Compact the block paving using a compactor tamper (plate compactor).
Clean the remaining cracker dust that does not fill the block paving gaps by sweeping it.
Grass Block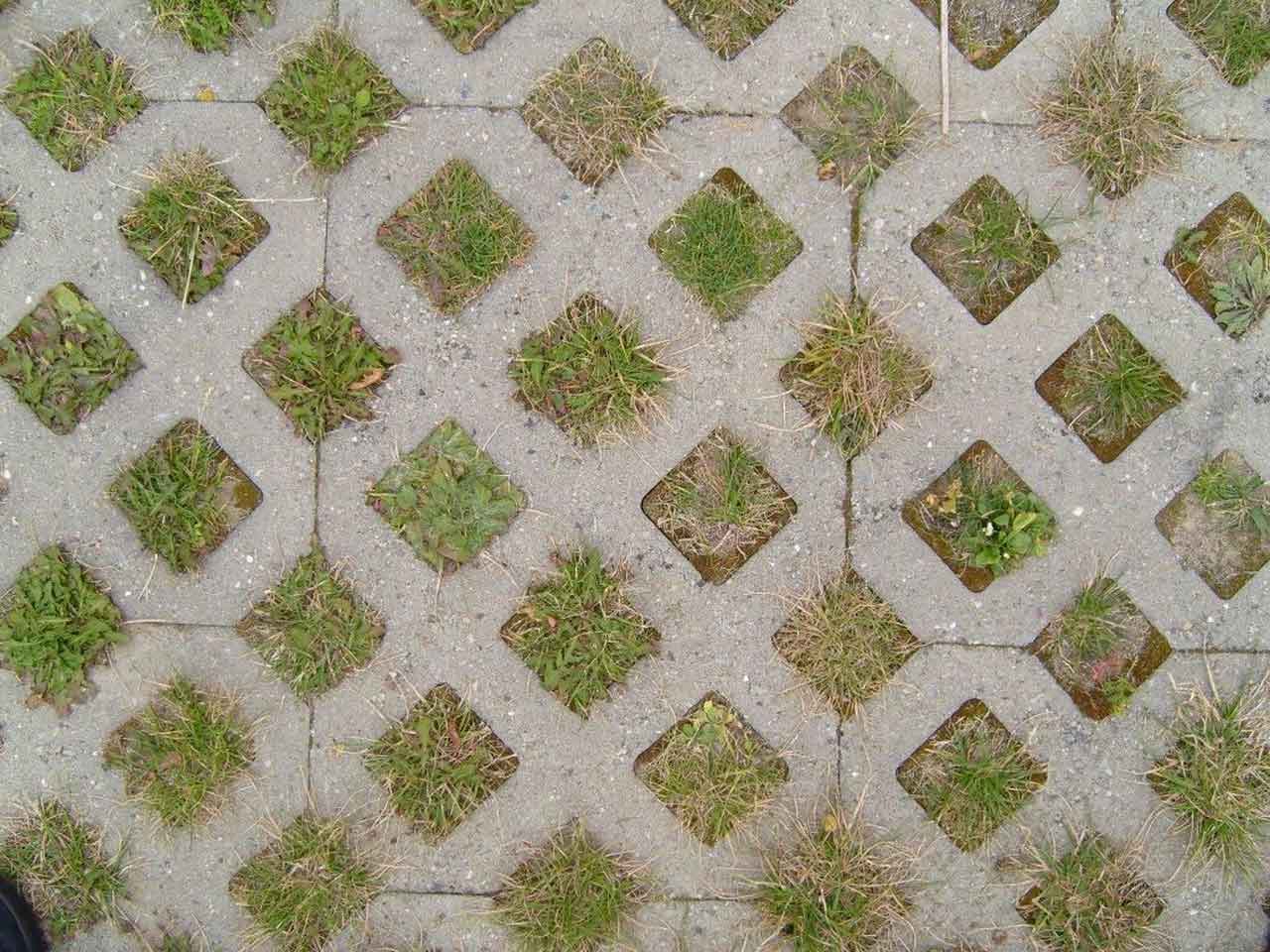 If you want a type of floor that has seepage or wants to keep grass growing, then you can use grass block. Grass block has two thicknesses, 6 cm, and 8 cm. Each 1 m² floor area requires 7,5 grass blocks. Grass block also has four different colors, natural, red, green, and black.
The grass block has a square shape with holes in it. The installation method is almost the same as the block paving. The difference is that the block paving installation requires cracked dust to fill the grout, while the grass block does not require cracked dust. To fill the grout, it can be replaced by planting grass.
Carpet Flooring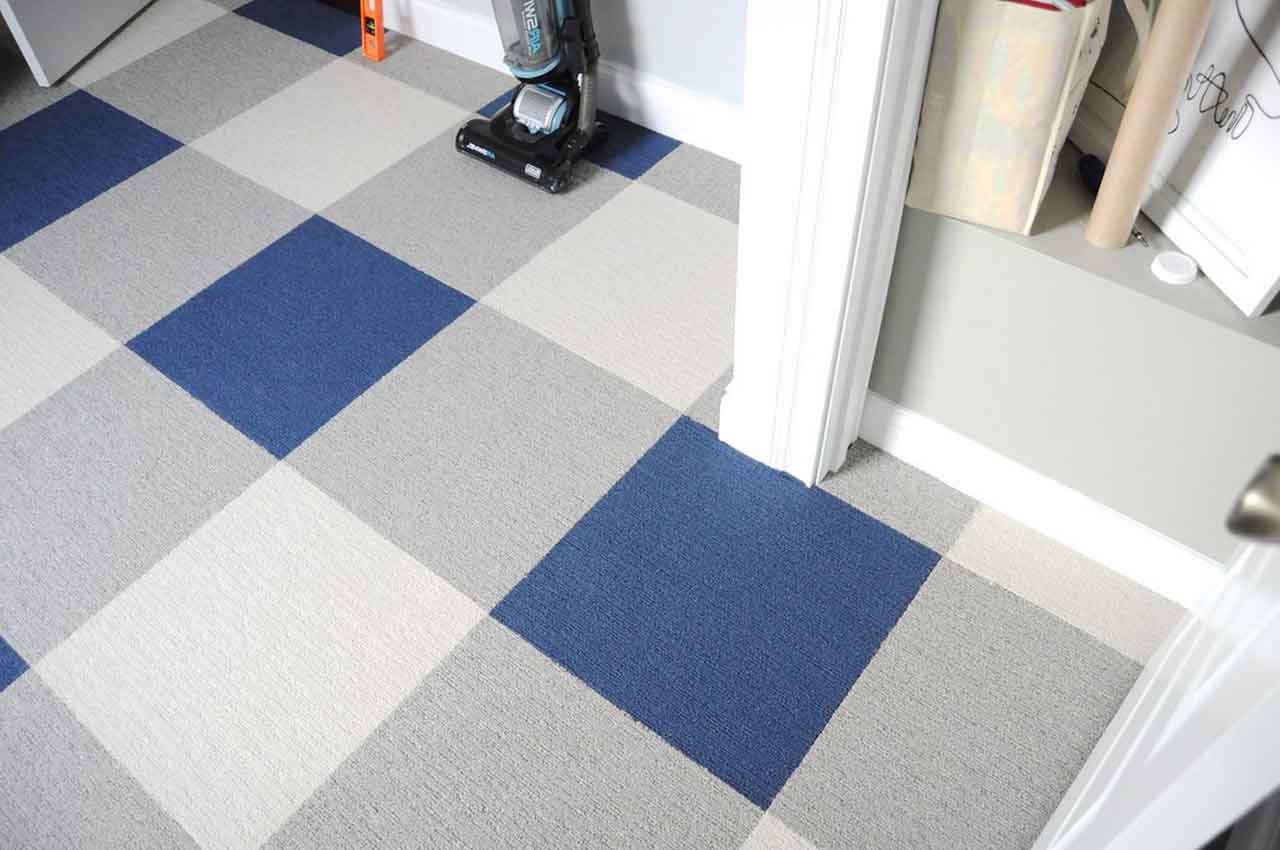 Carpets are installed on the permanent floors, whether wooden, concrete, tile, or other floor types. This carpet installation can be permanent or just a roll (lay down). If permanently installed, the carpet size must match with the floor size, either merged and trimmed. A special adhesive is required for this installation.
Basically, a carpet consists of two layers, the top layer made from wool/synthetic and the bottom layer made from rubber. For the top layer, it can be divided into six types, cotton wool, synthetic wool, polyester synthetic, nylon, woven, and acrylic.
Generally, a high-quality carpet has a thickness of more than 15 mm and a medium quality it is around 8-9 mm. While a synthetic polyester carpet has a thickness between 4-6 mm. Higher prices equal better quality. Until now, many local-made carpets are widely used as floor coverings, like a woven carpet made of soft rattan.
Vinyl Flooring

In the past, vinyl flooring is easily torn, burn, and dull. However, with technological developments today, these deficiencies have been resolved. At first glance, a high-quality vinyl floor will look like marble, tile, or even granite. The vinyl floors installation can be glued directly to the floor surface, either concrete floors, wood floors, or multiplex floors.
The advantages of vinyl flooring are very lightweight, easy to install, and has a beautiful texture. Moreover, certain vinyl materials resist cigarette embers and chemicals. Vinyl is sold in rectangle shape like tiles, large sheets like plywood or rolls like carpets.
Polished Pebble Floor
To create a unique and artistic floor in the laundry room, carport, or garage, polished pebble flooring is the answer. Generally, polished pebble floors are paired with ceramic tiles. The polished pebble floor is made of polished river stone and has a diameter of 1-4 cm.
Polished pebble floors are sold in tile-like sizes, such as 30 cm x 30 cm, 40 cm x 40 cm, 40 cm x 60 cm, or 60 cm x 60 cm. However, the installation can be directly affixed to the floor, on the cement flooring (stucco), and sprinkled with a polished pebble on it. While the installation of factory-made polished pebble is the same as tile installations.
Terracotta Floor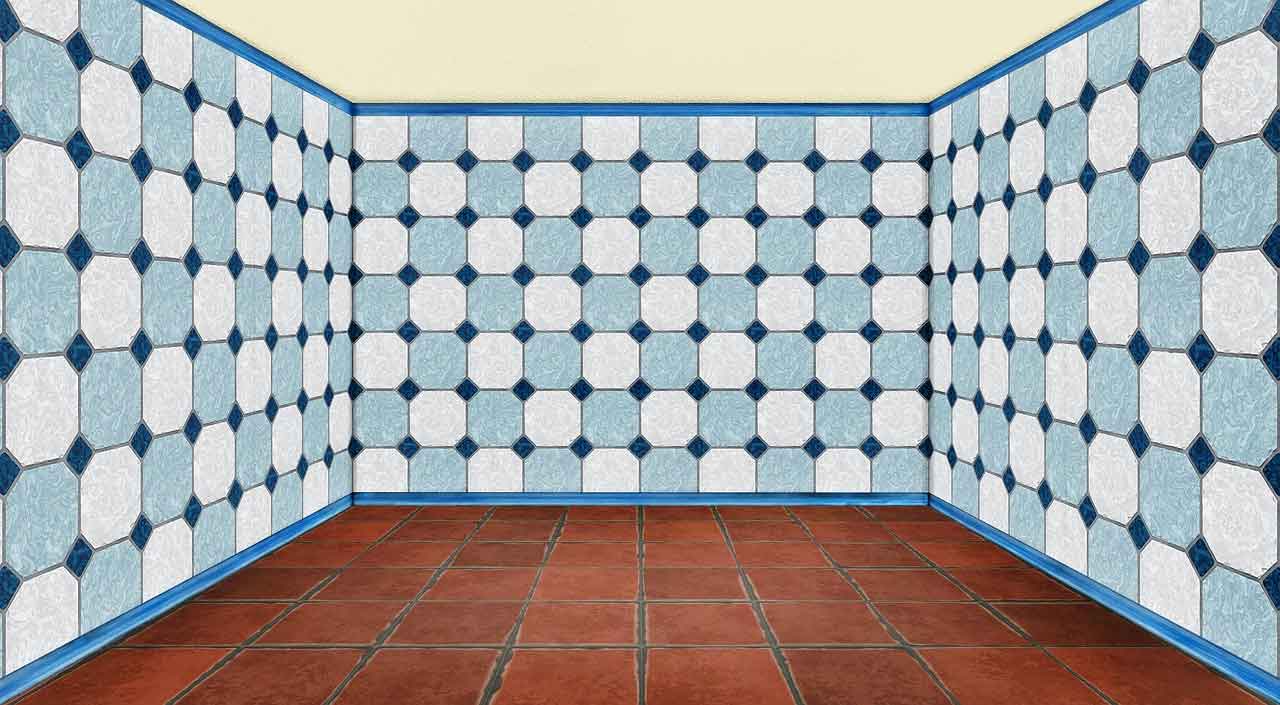 If we see terracotta, it means we see red bricks. The terracotta floor was developed from the ancient floors that use red brick without plastering. Terracotta floor is marketed in sizes 10 cm x 20 cm and 5 cm x 10 cm.
The installation method is the same as installing tile flooring, using mortar or instant cement. Terracotta color is reddish-brown. The terracotta floor is used for open spaces such as a patio or outdoor areas.
Floor Tiles
Floor tiles have various types, patterns, and sizes, such as waffle patterns and ethnic patterns. The waffle pattern has a rough texture making it perfect for bathroom floors. While the ethnic pattern has a traditional and floral character that is suitable for hall floors and terraces. For indoor and patio areas, smooth tiles can be used. Floor tiles have a wide range of colors, such as grey, yellow, red, and black. There are other patterns like plain, floral, especially for smooth tiles.
Tile flooring is widely used in simple houses because the price is relatively cheap. However, nowadays it is almost rare to find a house that uses tiles as floors. This is because people tend to prefer using ceramic tiles because they have a little bit of price differentiation.
Floor tiles are made of sand and cement and then covered with a mill filler and white or colored cement. On the market, floor tiles have a size of 20 cm x 20 cm and 30 cm x 30 cm with 3 cm thickness.
Terrazzo Flooring
The terrazzo tiles are made from a mixture of portland cement, white cement, water, terrazzo stone fragments, and sand with or without dyes. Generally, terrazzo has a cream color decorated with terrazzo stone fragments. Other terrazzo colors, such as red, yellow, green, and black. The terrazzo sizes that are often used for residential floors is 20 cm x 20 cm x 2 cm; 25 cm x 25 cm x 2.4 cm; 30 cm x 30 cm x 2.6 cm; 40 cm x 40 cm x 3 cm; and 50 cm x 50 cm x 4 cm.
Terrazzo tiles installation is almost the same as floor tiles. The only difference is in the grout filler or joints that use white cement. Once installed, the floor surface needs to be polished by hand or polishing machine. The purpose is to make a shiny and smooth surface.
Here you are at royhomedesign.com, content above 11 Best Floor Types You Should Know for Homes published. Many individuals attempting to find details about floor finishes type and definitely one of them is you, is not it?