Beach Coffee Table That Perfect For Waterfront Property
|
There is nothing wrong with a coffee table that can complete your beach themed home. In addition, this table can bring all the designed elements together. Since it's the first piece of furniture that you will see when entering the room, it should be attractive and match the home theme. If you want to complete your beach house appeal, here is a beach coffee table you should consider!
Here Are 5 Beach Coffee Table You Should Don't Miss That Will Enhance Beach House Appealing
Wicker Round Coffee Table with Glass on The Top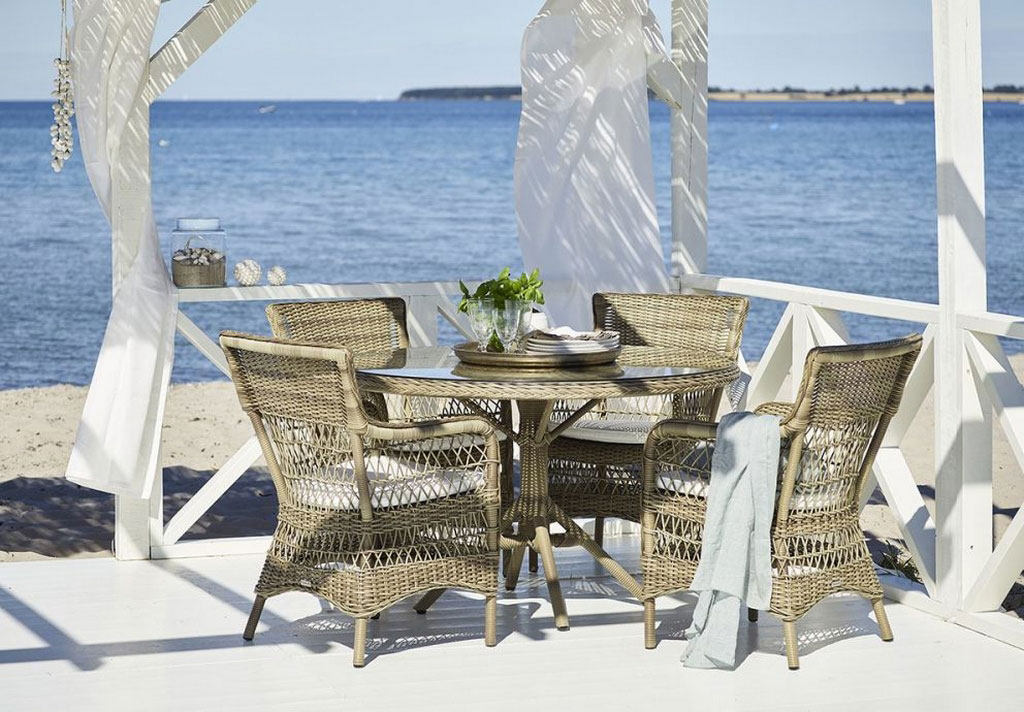 Coffee tables are a great centerpiece of your living room. They are a place to show off your personality while serving as a practical place to store beverages and snacks as you watch TV in the living room. One of the sticking natural materials for your beach house, such as wood and rattan. When it comes to choosing the right coffee table for your seaside retreat, then this is the best option.
A wicker and glass table is one of the best options for your beach house. It is because the beach coffee table serves double duty on your space. You can pull out the beach patterned cushioned seats to provide for extra guests. Then, push them back in afterward if you don't want to use them. It is perfect for limited space like a bungalow or beach house.
Coastal Coffee Table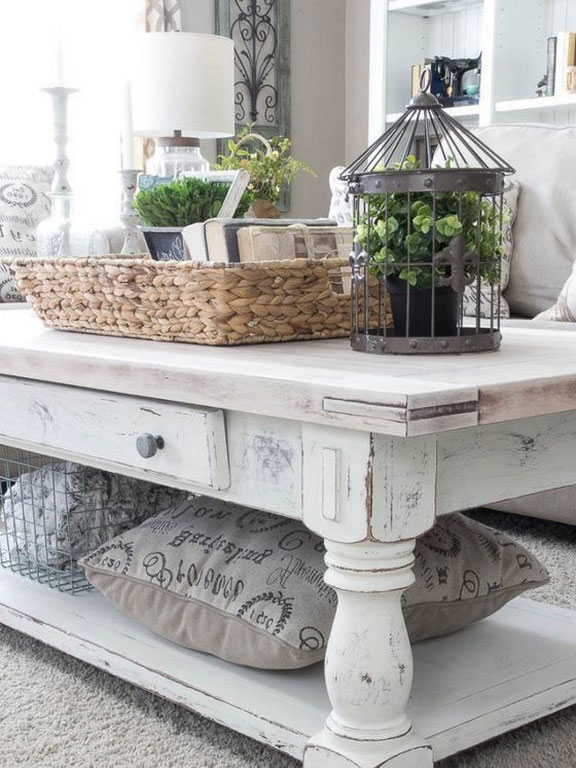 As you can see, white and beige are the most popular colors to waterfront property coffee tables. Don't be afraid to experiment with more unique choices though. You can use the beautiful sea green coffee table. Coastal decor doesn't have to be boring and predictable since it can showcase your decorating style.
Seashells and Coral Display on The Top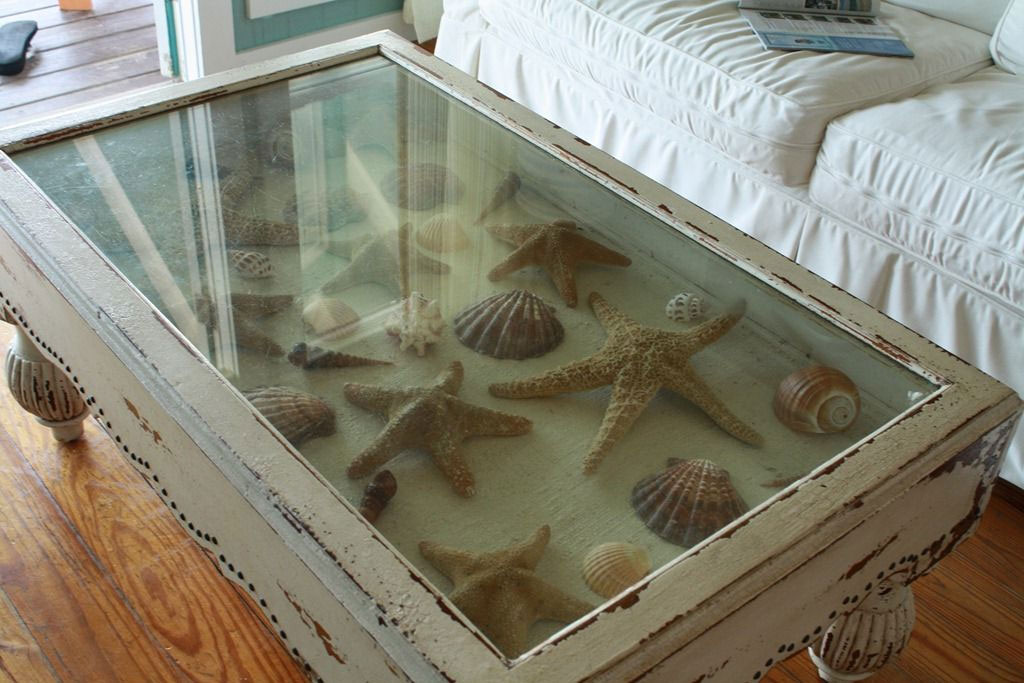 The next option is a table that doubles as a display case. It will give an additional ambiance for your space since you can show seashells and coral collection from the glass-topped table. Not only have that, but this beach coffee table is ideal for rooms with plenty of space.  The worn-out texture and patterning along the sides give it an exotic feel.
Wooden Pallet with Wheels Coffee Table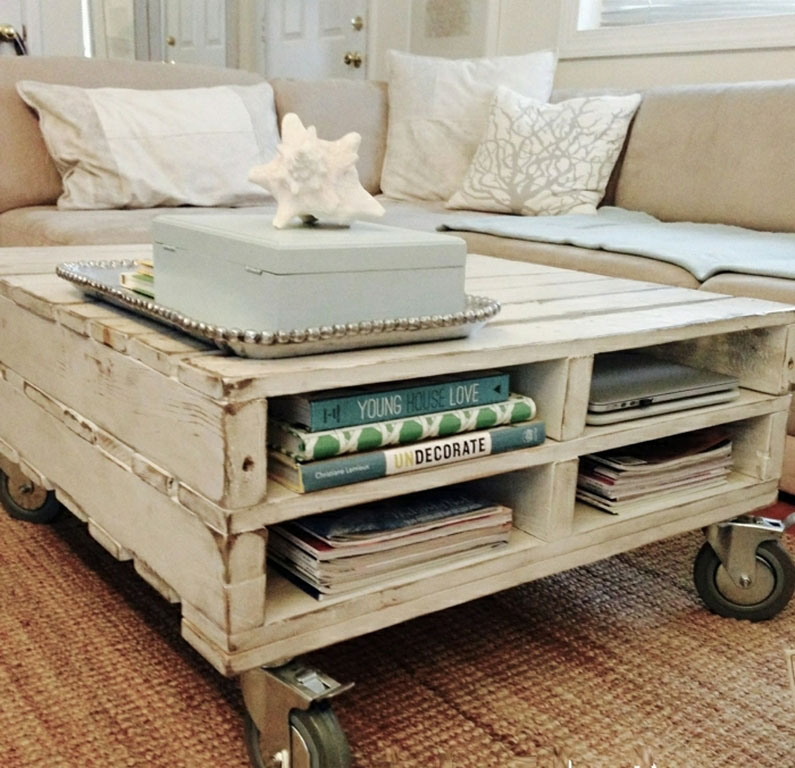 This deconstructed wooden pallet table on wheels is ideal for the modern all-white look beach house. It blends the use of everyday materials with the bareness of white-painted surfaces. In case you want to complete the look, then add some books and tiny ocean-themed decorations to this table.
Driftwood table with glass on the Top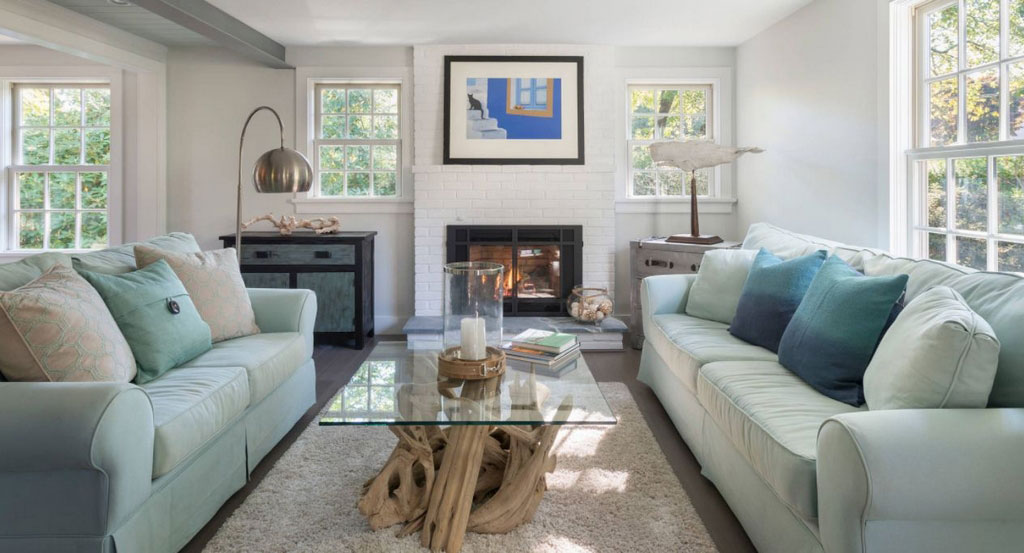 You can combine chic and natural beauty in your beach house with this lovely oval glass-topped driftwood table. The dramatic curves of the branch as the base can contrast well with the regular symmetry of the glass top. You can use this beach coffee table for your option in any style, including minimalist decor.
Finding several perfect coffee tables for a beach house is not hard these days. In fact, the tricky part is deciding just one! With many people owning seaside retreats and beach homes, an entire industry around seaside cottage furniture has developed. From rattan to wood, there are many different coffee table styles and materials to choose from.