Easy and Simple, Here Are 5 Tips to Create Cheap Shower Remodel
|
Do you want to have the look of a luxurious bathroom with a shower that is comfortable to use? If so, you can apply an easy method without spending a lot of money. In addition, you can also choose how to remodel your bathroom without buying junk. You don't need to buy inferior products with the lowest quality. Here's how you can apply tips to create a cheap shower remodel!
Bathroom Remodel Ideas You Should Do at Home
Don't buy the cheapest product
For those of you who want to get the best view for the bathroom, then don't choose the cheapest shower base at their local big box store. Not only does it cause rust, but it also causes cracks. Also, thin-framed bathroom doors are not the right choice. Try to choose items that have good quality but are also easy to reach your pocket.
DIY
The cost of construction labor and building materials is indeed very costly. For those of you who want to save expenses, it is better if you reduce construction workers. The reason is, they demand a higher salary to renovate your bathroom. However, if you want to use professional workers to create a cheap shower remodel, you can buy the materials yourself.
Sometimes remodeling contractors mark the materials they supply and install. So, the higher material costs are passed on to you. Plus, you can make even more savings by DIY or do the renovations yourself without professional help. You can install your own shower wall panels that look like tiles but without the hassle of installing them. Leave heavy-duty stuff to professionals like plumbing, electricity, etc.
Do the Work Gradually
Do the work in stages to complete the bathroom remodel. This is not a problem, because you can find the unexpected expenses get in the way of your bathroom renovation. Therefore, you can make a cheap shower remodel in stages, for example, do what you need to do now and what can be done later for effective work.
The most essential thing in the first stage is to overhaul the shower pans, valves, replace the shower fittings, and so on. What can be done later, for example, a shower niche added to the wall and a glass shower cover like a curtain can be added later. These activities are beneficial to make your renovation project easy and effective.
Buy Custom Products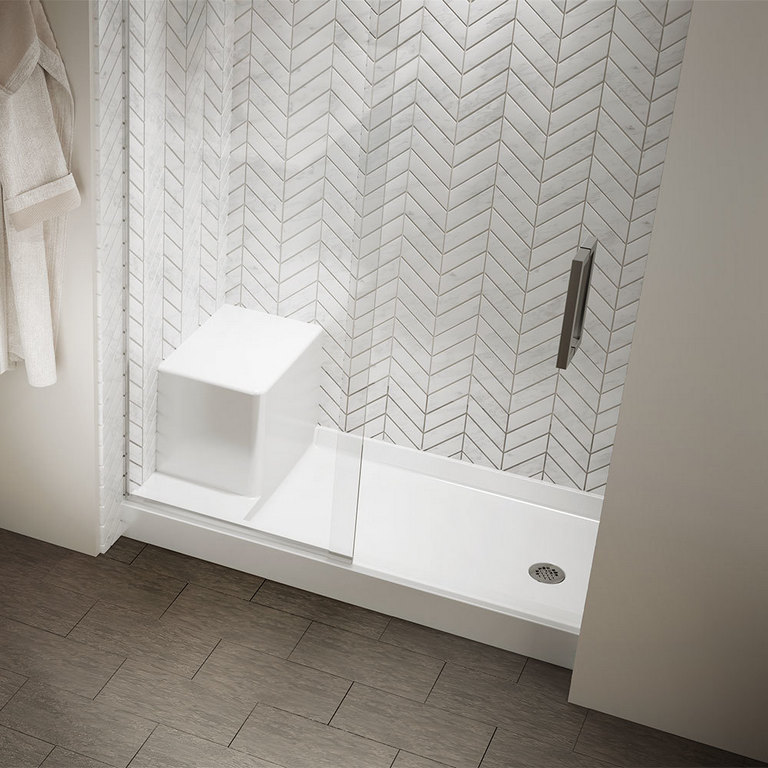 To save a budget, you can buy custom products that can be customized. After that, buy a tile flange and use standard 48 x 36 size plinths. This product will work for one-sided, double-sided (in a corner), or even 3-sided adjustable glass cover with five different configurations, but typically cheap shower remodel requires a custom-made shower base.
As an additional recommendation, you can use a tile-less wall panel or a tile shower. This shower panel has a modular size that locks and seals together. You can use a 6 'x 8' x 3/8" shower panel which looks like a tile but breaks the grout joints. Again, a standard product works for a predetermined size without the need for additional costs.