10 Smart Storage Solution for Small Space | Roy Home Design
|
Feeling bad about throwing away used goods? Hobby to pile up items that are already unused and think someday maybe you will need them again? Love to storing things and collecting them, because they feel they are valuable, so you're reluctant to get rid of them?
When those items pile up more, there must be a way to store them. However, how long will you pile up those items so it becomes as big as a mountain? Do you ever think that the house you are currently living in will not change its breadth by itself? When occupants in the house increase, the needs will also increase, right?
Indeed, it takes creativity to create those storing spaces. Take advantage of every possibility and optimize every available potential. There are lots of ways and inspiration indeed, including 100 ideas for storing items that we present in this article.
Storage Solution And Organize Space With Properly Arrangement
No need to build a warehouse or special room to store it, home storage can be presented in various forms according to the existing conditions. In fact, creativity in creating storage can bring new beauty that beautifies the house.
Simple … and unexpected!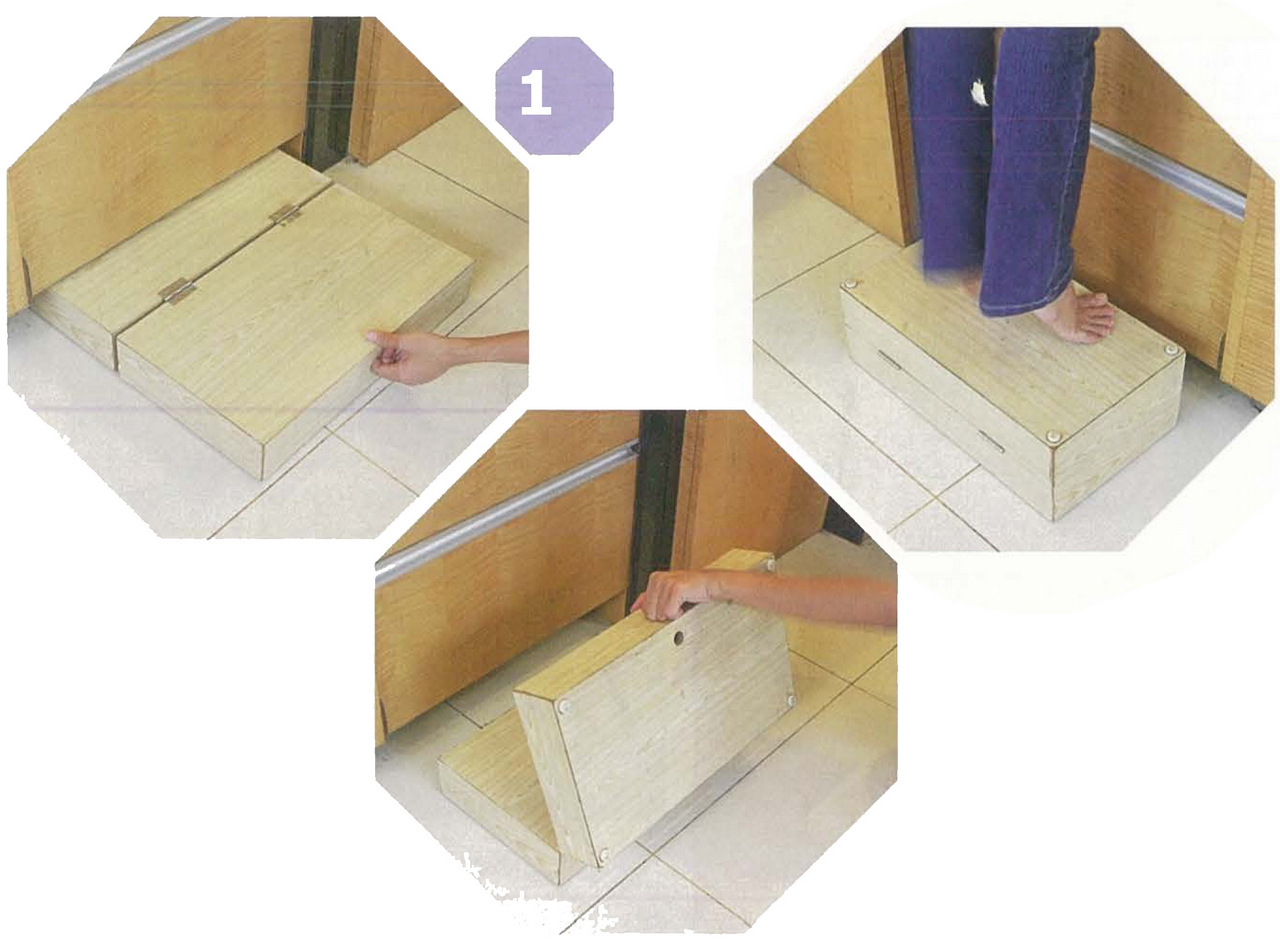 Who thought that the area under the kitchen set could also be a storage area? You don't use additional foothold too often in the kitchen. This accessory will function when we need to pick up items stored in areas that are high and difficult to reach. At other times, this additional foothold needs to be stored properly so as not to disrupt any activities in the kitchen.
By utilizing the area under the kitchen set as a place to store the foothold, it means that you have utilized the unused areas in the kitchen without spending other places. When needed, just pull the foothold, fold it, and use it. Smart, right?
Store under the stairs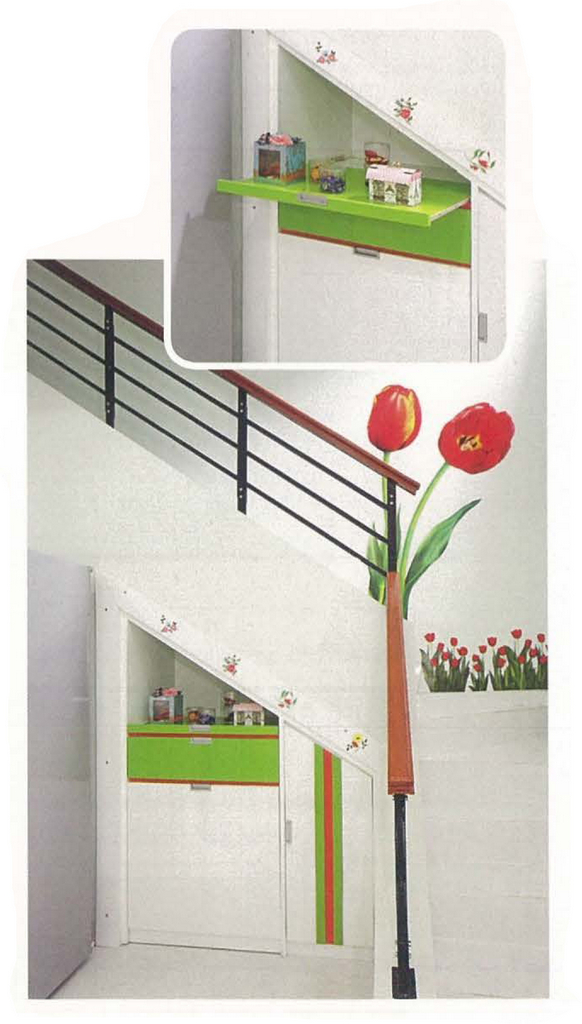 Other areas on the stairs that are often overlooked are under the stairs. In fact, this area is generally large enough to accommodate various household accessories and has the potential to be styled beautifully. On this inspiration, under the stairs are filled with various household storage cabinets. Shelves that can be pulled out, are used to place various jars and bottles. While the drawer underneath can be used as a place to store shoes. To make this cabinet look brighter, give it an accent of cheerful colors like green and red that are uplifting.
Mini library under the slide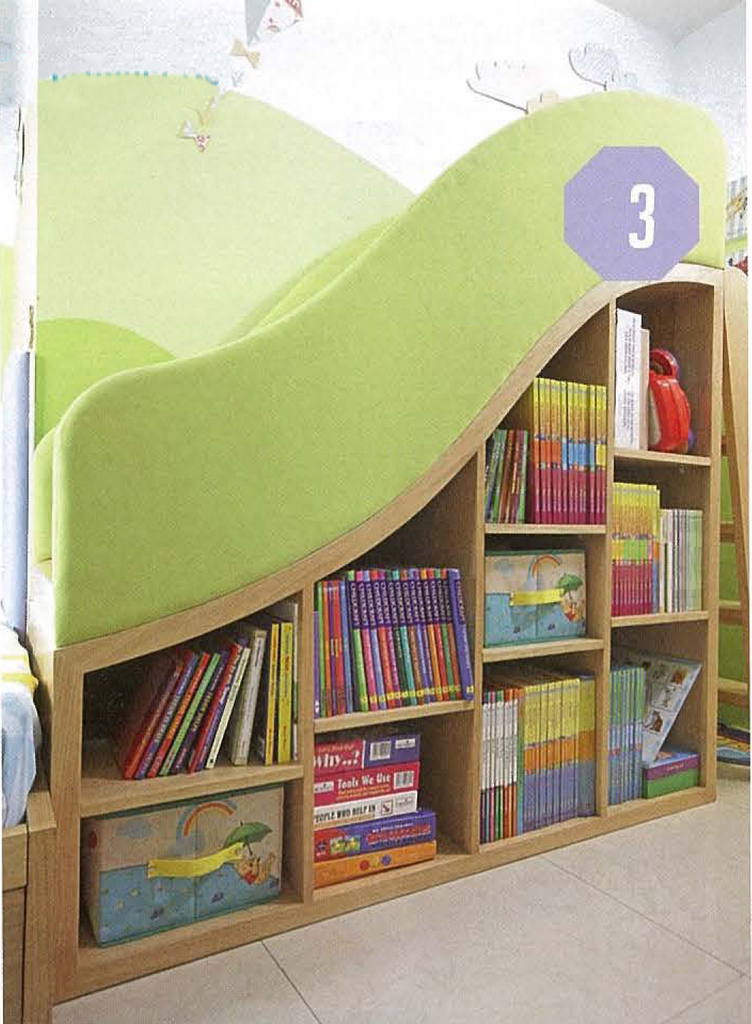 Play and learn, move in line. Playing while learning. That is the right phrase when looking at the bookshelf located below the slide. Following the slide shape, the bookshelves underneath were curved and bulkhead. This is where the collection of children's books is neatly stored according to the height of the book and the objects stored in it.
So, after getting tired of reading a book, your kids will store his book back on this shelf, then play the slide cheerfully as much as he like.
Pillar-shelf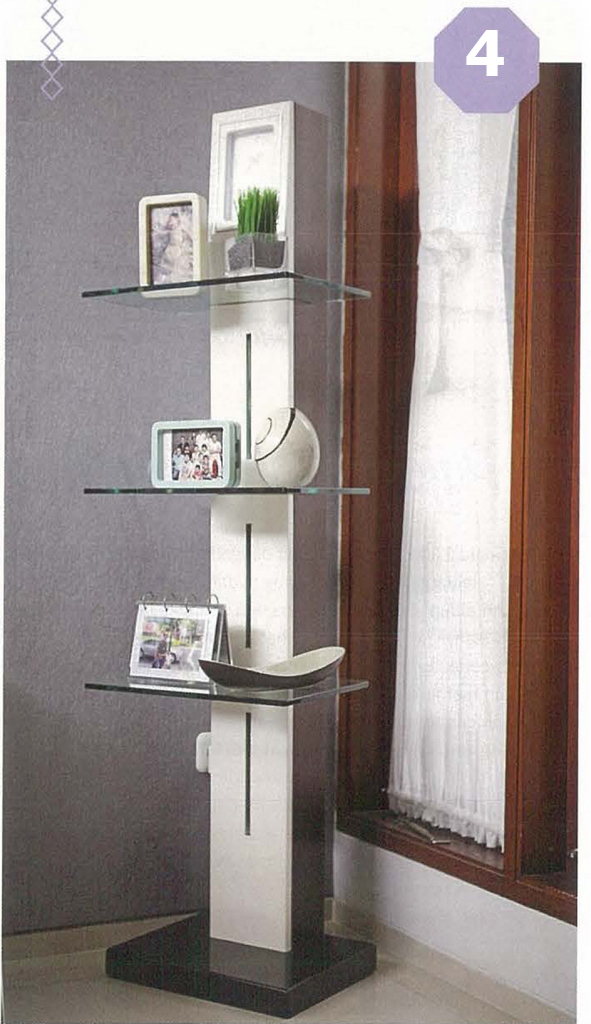 In the present day, the living room generally occupies a limited area so there is not much leftover space after the chair and the guest table are placed there. However, it doesn't mean that this space does not need to be decorated. Decorative elements still need to be presented to beautify and give a good impression to the guests.
This pillar-shelf can be an inspiration for you. Using glass as a shelf and MDF material with duco-finishing as its pillar, these white pillars-shelf are very simple and look minimalist as a place to display elements of homeowners' decorations. This design also provides an opportunity for homeowners if they want to increase the number of shelves, by shortening the distance between shelves.
Stored in the steps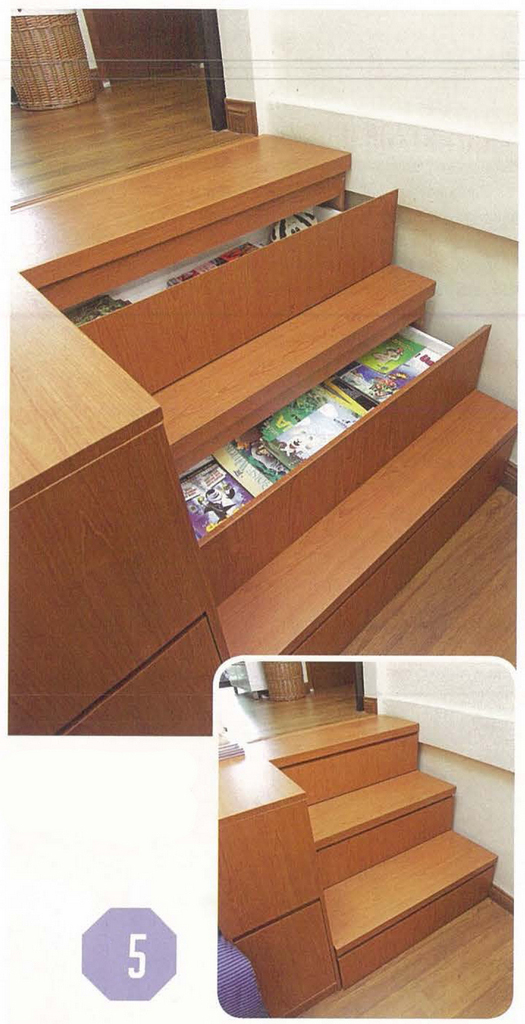 The area under the stairs is used as storage space, often we encounter. However, there is one more area on the stairs that can be used, namely on the steps. On each step of the stairs can be made a cavity as a place to store books or toys. For example, the connecting stairs between these rooms. Although the size is not large but very functional. In addition to books, toys and supplies of toiletries can also be stored here.
A row of rattan baskets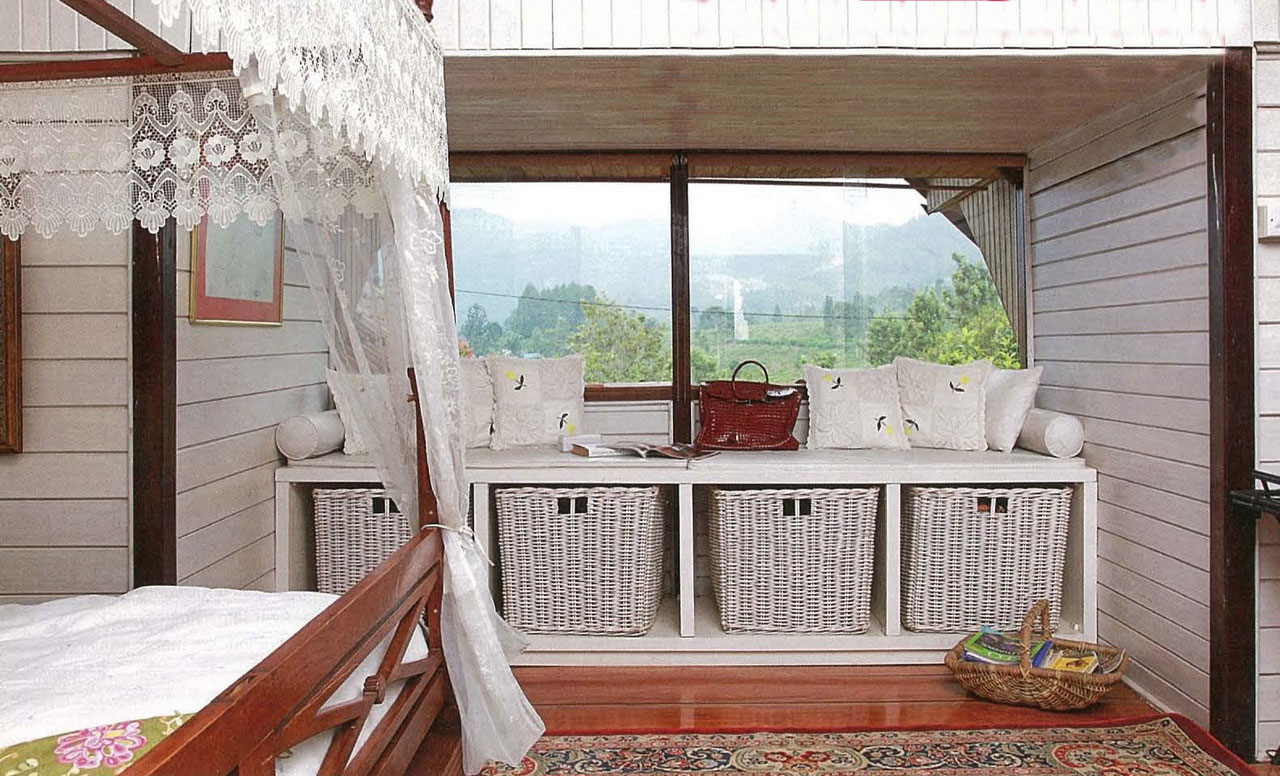 Actually, the available space beside this window is not too narrow but it is difficult to function it because of the presence of glass in the window. No loss of mind, there is a bench with underneath which can be used as a storage area. Four rattan baskets were ready to accommodate pillows, towels, bags, and books.
With this arrangement, the storage problem is resolved and the occupants of the house are still able to enjoy the beautiful natural scenery around it from behind the window.
Take advantage of blank walls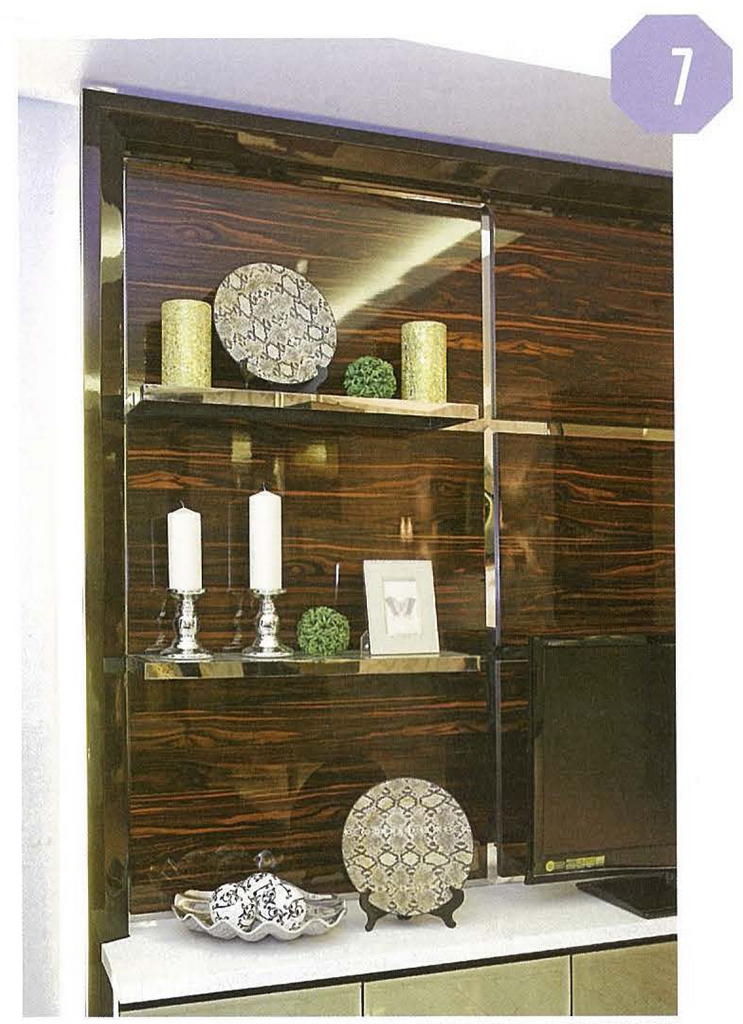 The wood panel behind the television in the family area is often left blank because usually there is an assumption that the presence of the panel itself is a touch of design. The presence of wood panels becomes the point of interest in the family room and becomes a trademark.
However, in this inspiration, wood panels that filled the wall behind the television were not left idle. There are more values that can be added to this panel. A very elegantly designed shelf is present as a decorator and has a role as a display area and storage of some decorative items that beautify the space. The candles are arranged neatly on this shelf. Apart from being easy when used, by storing candles in a standing position the candle is spared from the risk of broken and damaged. The shape of the candle also strengthens the impression of elegance in the room.
Display photos on the column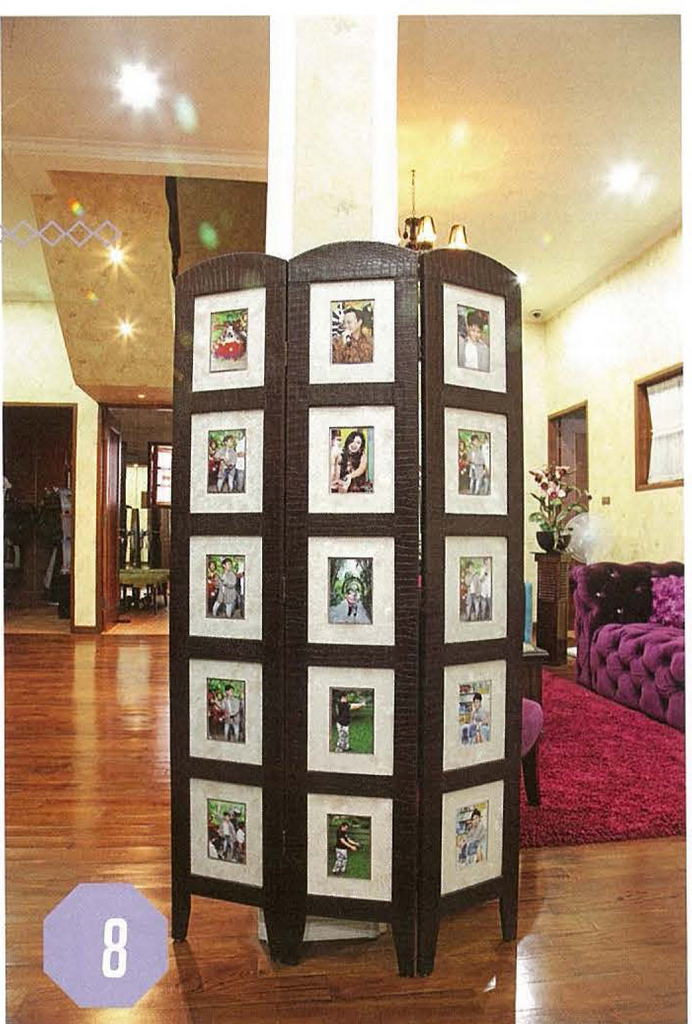 Often we are confused by the many photos of family documentation that have been printed. Want to be stored in a photo album book, it could be done, but often we are lazy to open it again and look it again, especially if the photos are already so many. We can even forget that we have had those photo documentation. However, if we save it by stacking it, it is prone to gluey with one another which will cause your photos to be damaged. Therefore, the idea of displaying photos is the right solution.
The partition in this inspiration functioned as a place to display photos. In order not to look monotonous, the partition placement is created around the house column. In addition to having a special impression when enjoying it, the presence of a partition will cover a column that looks stiff, which is in the middle of the house.
Hollow bench under the window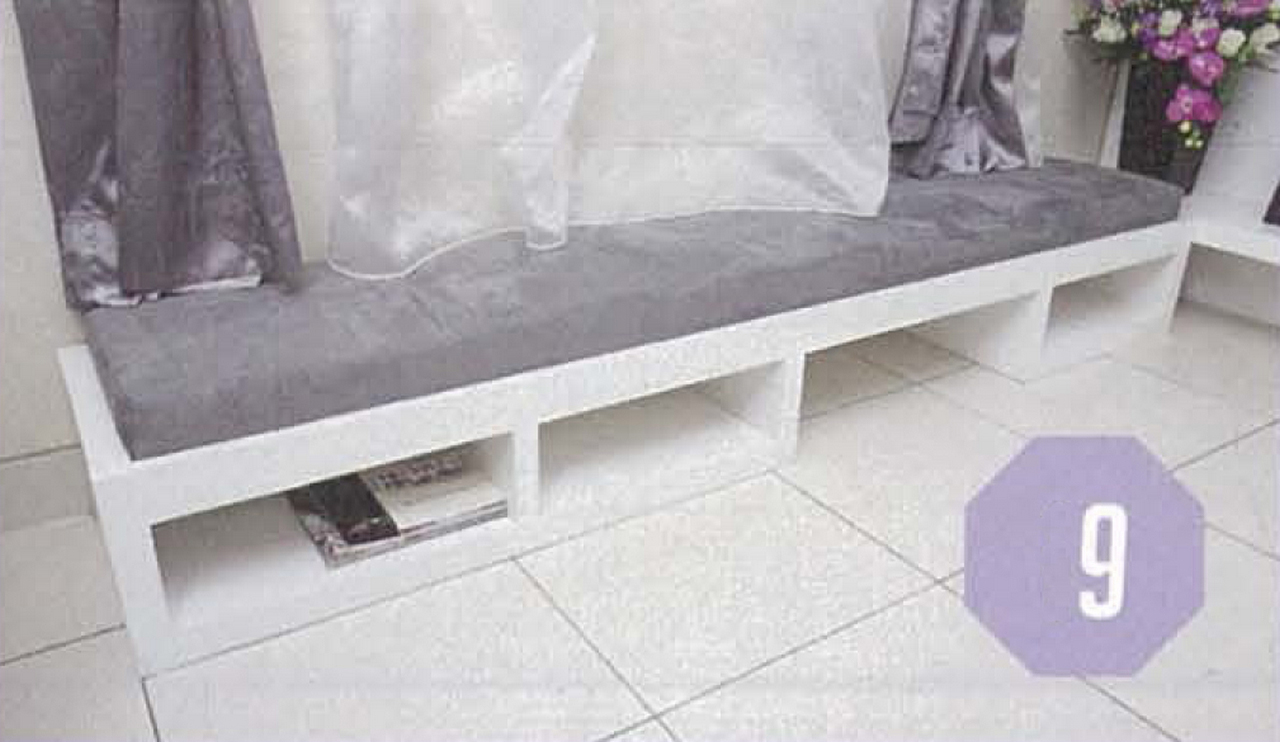 Be clever in organizing space so that it can be used optimally. One way is to arrange space near the window. Usually, this area is not utilized because it is enclosed by curtains. In this example, the curtains are not created too long until floor surface but are made shorter. Well, this available space can be used as a storage room for books or shoes.
Open-close combination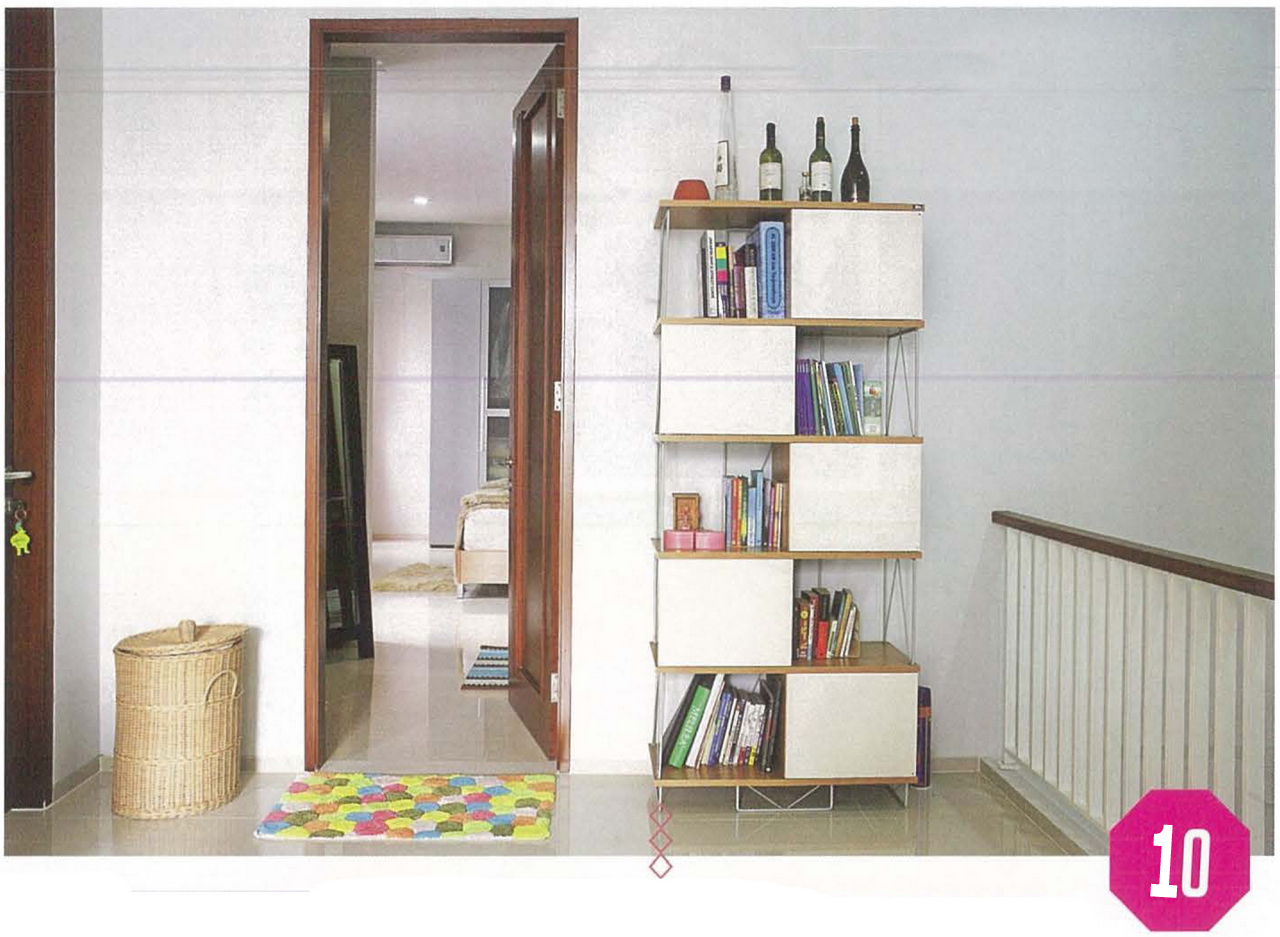 The area around the stairs always requires creative ideas to be utilized. The narrow space beside this staircase will become crowded if it is filled with inappropriate items. This shelves that combine open and closed design look simple but can accommodate various types of items and also owner's knick-knacks.
Using iron as its frame and the MDF as a cabinet material, this shelf appears very "light", so it absolutely does not stifle the space. Classify items according to their type and place them according to their usage intensity. For frequently used item, place them on the bottom shelf and for items that need little security, place them in a closed shelf that is not easily visible.
In order for the presence of storage to be truly optimal, basic knowledge of goods management is needed. So, what we store can be safe, neat, quickly found when you want to use, and still look beautiful.
More than that all, familiarize yourself with running the concept of "sufficiently" is certainly wiser. Before deciding to buy something, you'll always think about whether it's really needed, or just what you want. After considering this, you don't have to bother to hoard items at a later date.
So, if you would like have all these fantastic pictures related to 10 Smart Storage Solution for Small Space, click save icon to store these images in your personal computer. These are all set for transfer, if you love and wish to grab it, just click save logo in the post, and it'll be instantly down loaded to your laptop.
Thanks for visiting royhomedesign.com, article above 10 Smart Storage Solution for Small Space published. Many individuals attempting to find information about Storage Solution and definitely one of them is you, is not it?