Small House Design With Mezzanine Concept | Roy Home Design
|
Mezzanine in this house is designed as a "growing house", to overcome the limited space with a design that resembles a facade.
Multifunctional Small Living Room Design
At a glance, a building that stands in the hilly area doesn't look like a house. Imagine, the facade design of this house is not like an ordinary house. Having a square basic shape with most of its material using glass will remind us of an artistic building design that is very popular in Scandinavia. It feels perfectly combined with the cool residential area which is surrounded by hills in North Carolina.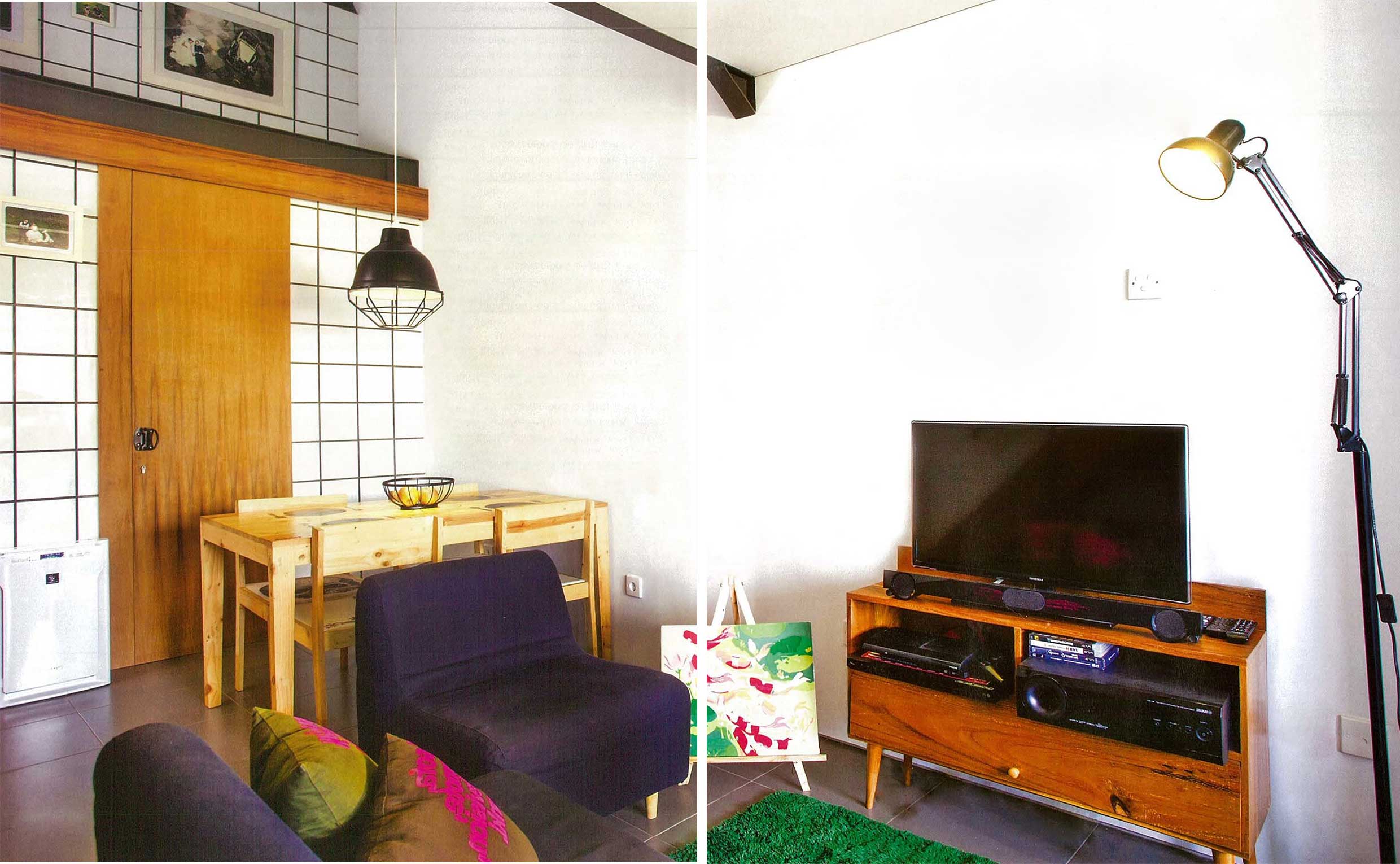 The living room features a compact space even though it is integrated with the dining area.
The house is owned by the couple Harry Todorov and Sary Terim. As a young couple who have just married, they want a comfortable dwelling and suited to their character. Starting from looking for references from the internet about homes that are suitable for young people, then they meet with interior designer Dennis Fabio, who then adjusts these desires into this house. According to Dennis, the ideas and concepts of this house are small and compact houses in limited spaces. But of course, still following the style of its inhabitants who are still young.
Space utilization is a major concern for Dennis when designing this house. He designed so that a room can have many functions. For example in the living room, which functions as a living room as well as a workspace. Moreover, the area also functions as a dining room by utilizing the fixed-size furniture that they designed themselves – so the room still looks compact.
One of the unique ideas is mezzanine which is right above the family room. The area used as a kid or guest bedroom is made using lots of glass material as a room divider, so the house seems to have a "facade" in it. This is a great solution to overcome limited spaces.
When viewed from the design, this mezzanine is like there is a truncated space, because of the roof shape is triangular. However, this is a growing house concept. So if Harry and Sary need additional bedrooms, the roof can be raised and mezzanine can be added so that it is transformed into a floor.
An idea to utilize the space is by the arrangements. Dennis asks the homeowner about special requests for household appliances, such as television or refrigerator. The purpose is for the interior design that will be made, so it can be adapted to household appliances. The result is a neater placement.
For Harry, having limited space does not interfere with his daily activities. Even according to them, the house feels ample because they do a lot of work outside the house. For them owning a small house is very easy to clean and maintain, so they don't need to hire a housemaid.
The storage space in this house feels adequate because for now they only have items for both of them. They only buy items that are important to have. Therefore, they avoid buying a complementary or additional item, for their dwelling convenience.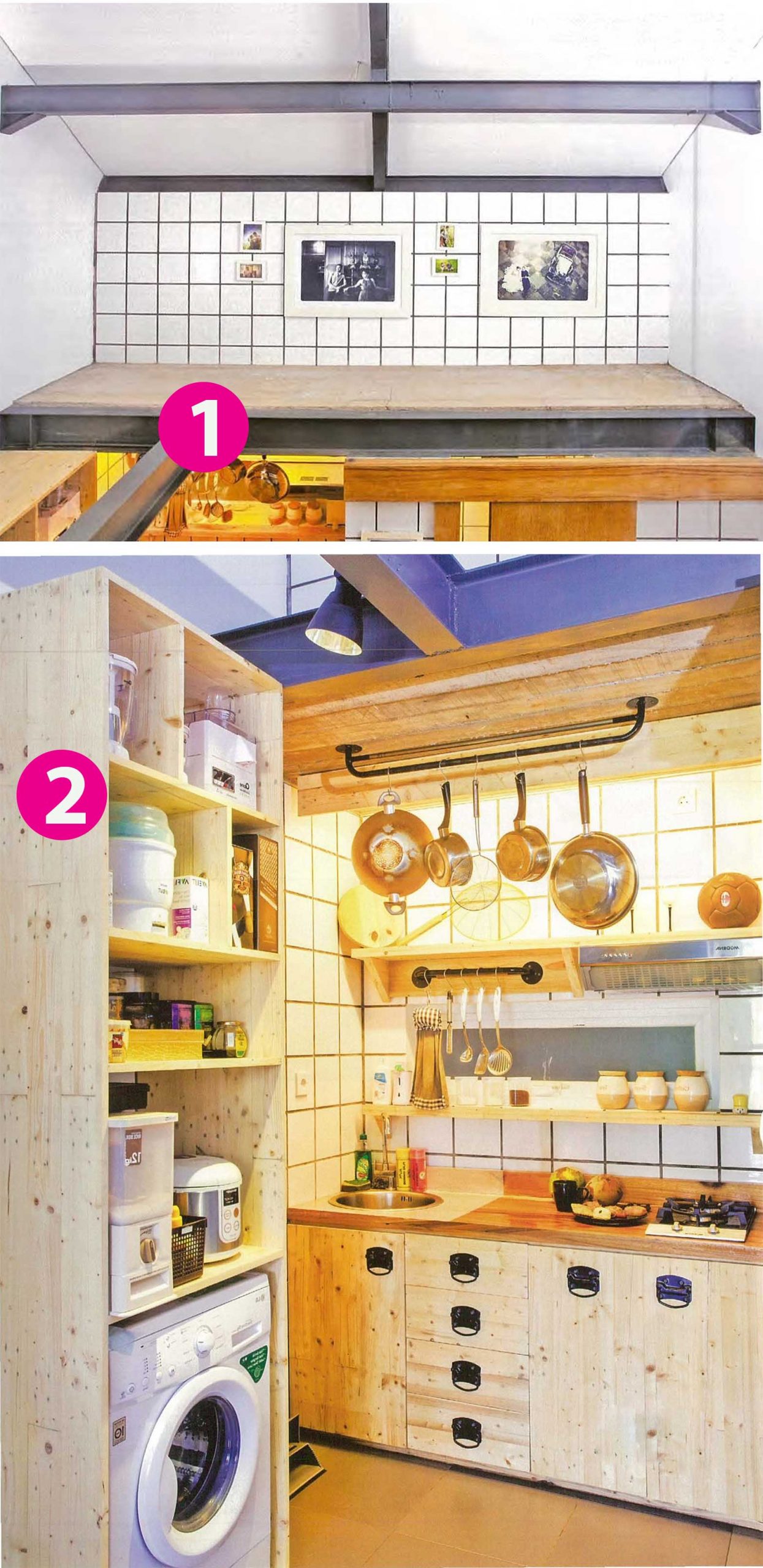 The room is projected as a "growing house" because it can add a floor, well, for now, it is used as their photo gallery.
Kitchen sets are custom-made to get a modern feel. The size has also been adjusted to remain ergonomic when used.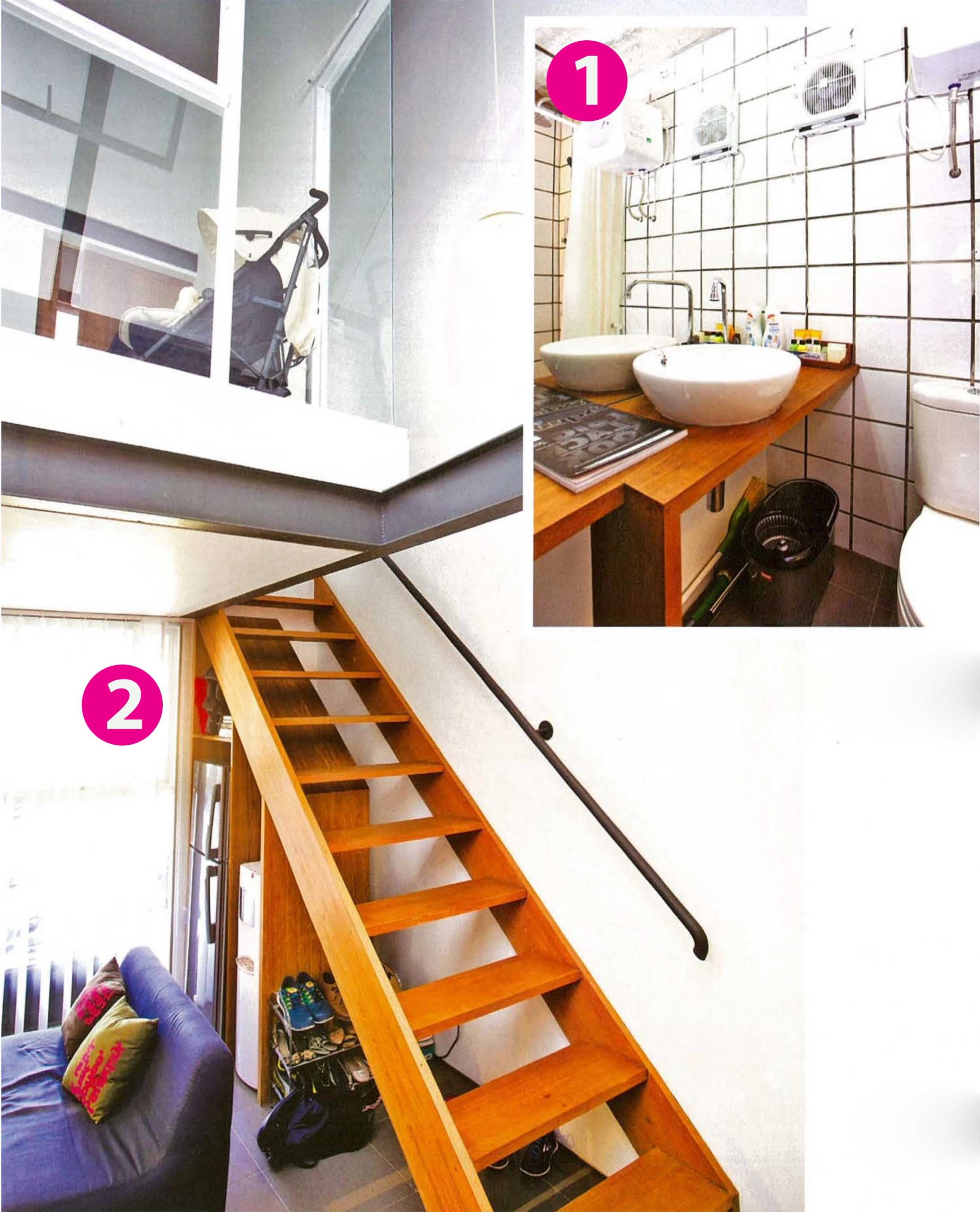 The small-sized bathroom can be tricked by using glass and white floor tiles.
The mezzanine that looks like a "facade" with dominant glass material to get a broad view.
Invisible storage area
Vehicle equipment and other items are often scattered in the garage. What's troublesome is when you want to use that tool again, the tool is hard to find. But it doesn't happen to this house. If you look closely, at the garage ceiling there is a box looks like a wooden accent, actually, that is a storage area for storing vehicle equipment. In addition, there is an umbrella and jacket hanger.
Amazing small house design interior
According to this young couple, the house size is not their criterion when buying a house. "The most important thing is the emotional sense and having personification," said Harry. He admitted if he loved the main room that has many functions, such as the living room, living room, to the work area. "But for my wife, she loves the kitchen design. You know, women, especially the kitchen is beautiful," he said, laughing.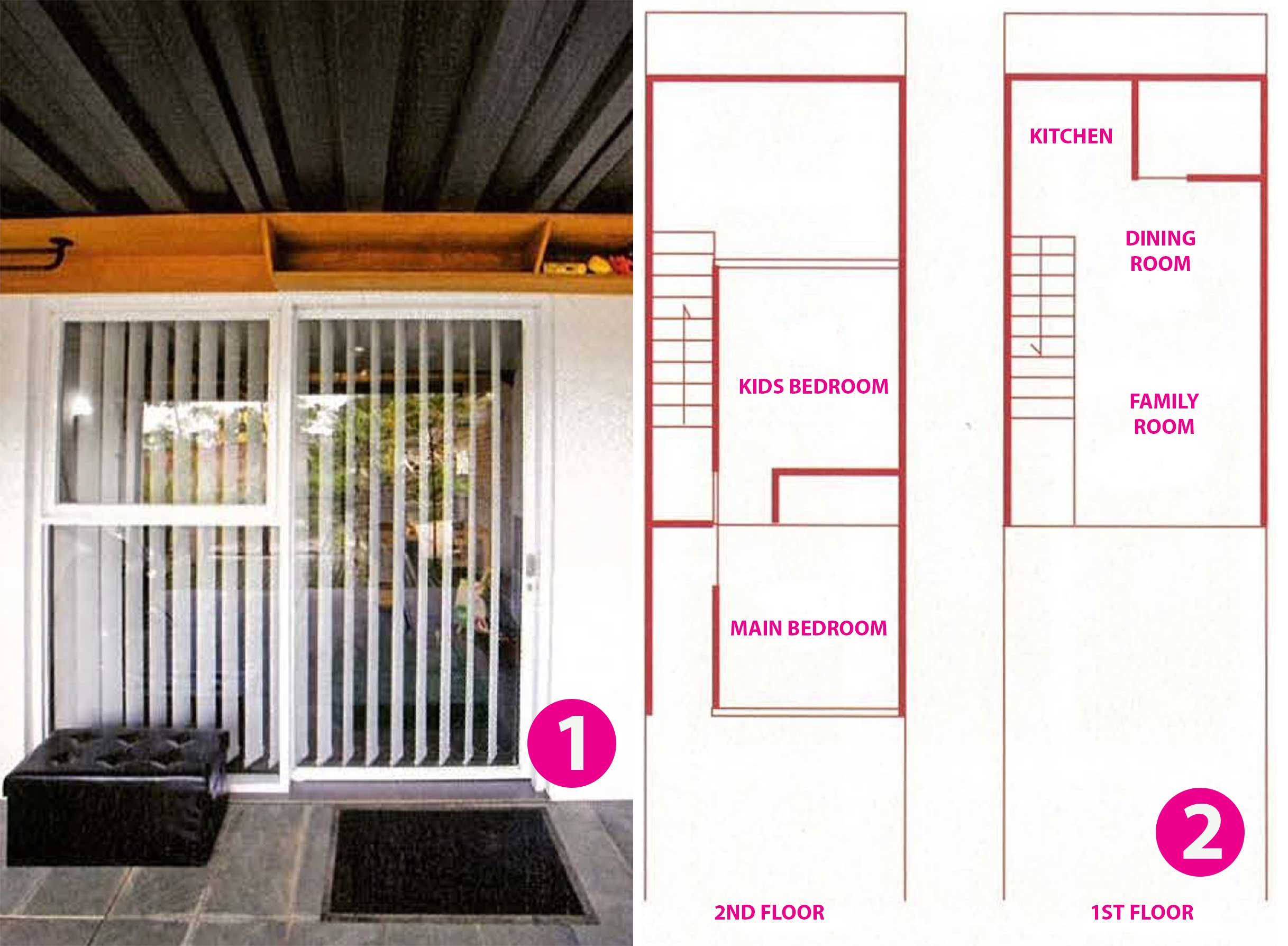 To arrange this house, they think it is not difficult at all. "That's because this house has been arranged by an interior designer, so we only need to maintain this house. For the items arrangement is after special requests from us, for example, household appliances such as refrigerators, TVs, etc., are adjusted to our wishes. What we like about this house is the temperature. I don't know because of the design or what, if the weather outside is hot, when you entering this house, it will feel cool. "
"What always makes us happy is the response from relatives or colleagues who are often amazed when seeing this house design," he said with a smile.
Furniture in the dining room is chosen which has a small size to fit the size of the room.
Kid's bedroom which was previously is a mezzanine. The walls are dominated by the glass to get a wide view.
The main bedroom is projected to get maximum sunlight. White color is used to overcome the limited space.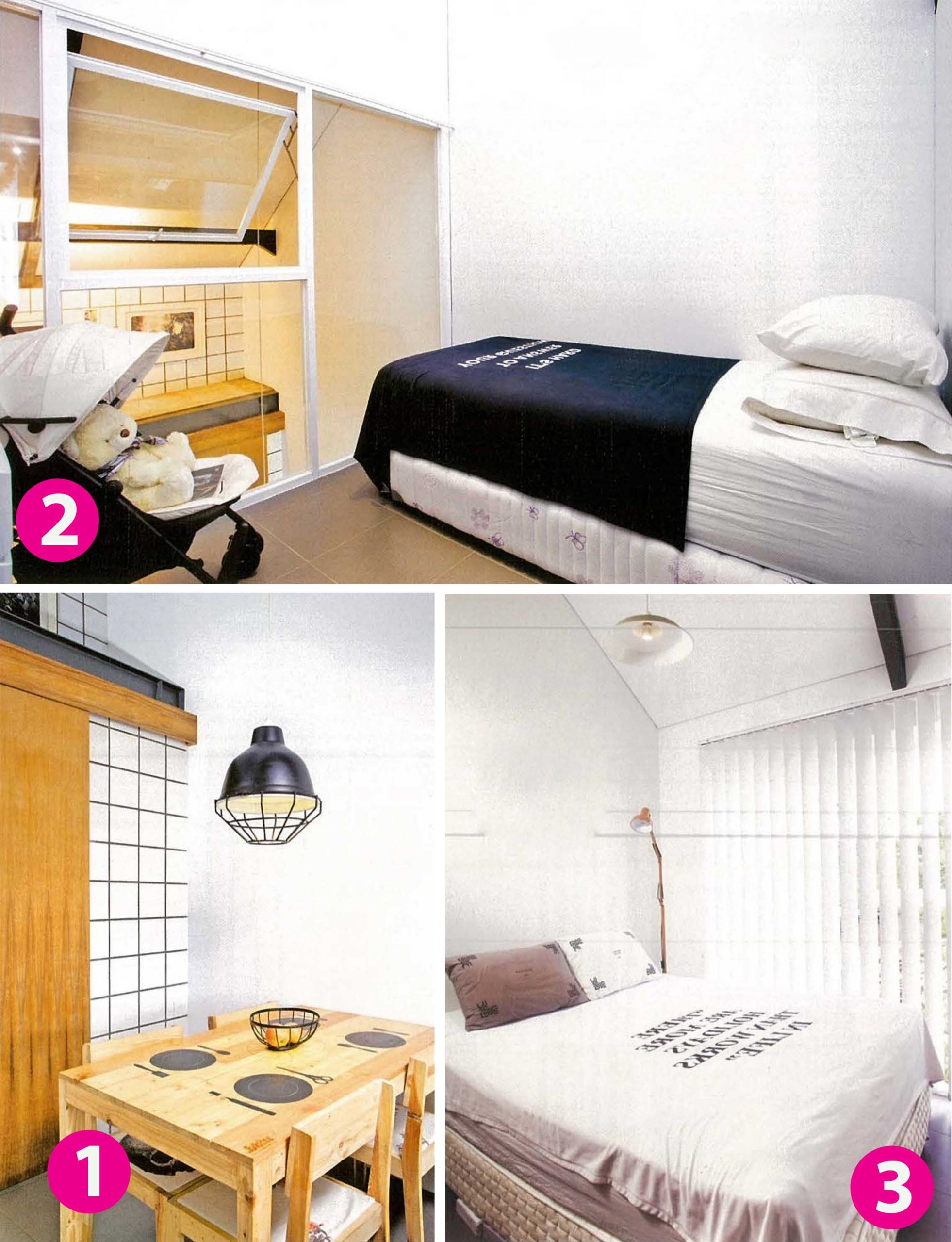 So, if you want to obtain all of these incredible pictures related to Small House Design With Mezzanine Concept, simply click save button to store these graphics to your computer. They are all set for download, if you appreciate and wish to own it, simply click save logo in the page, and it will be instantly down loaded to your desktop computer.
Thanks for visiting royhomedesign.com, content above Small House Design With Mezzanine Concept published. Lots of people trying to find details about Small House Design and definitely one of them is you, is not it?