Small House Plans With Open Concept Dining Room | Roy Home Design
|
The arrangement may be almost the same, but the owner's personality in creating this residence is different from any house.
Small Modern House Designs Based On Homeowner Personality
No matter how similar your house is to other houses, your house will never be the same as other houses. As Susan said, "House is a reflection of the owner's character and his lifestyle. It will be inhabited every day for many years."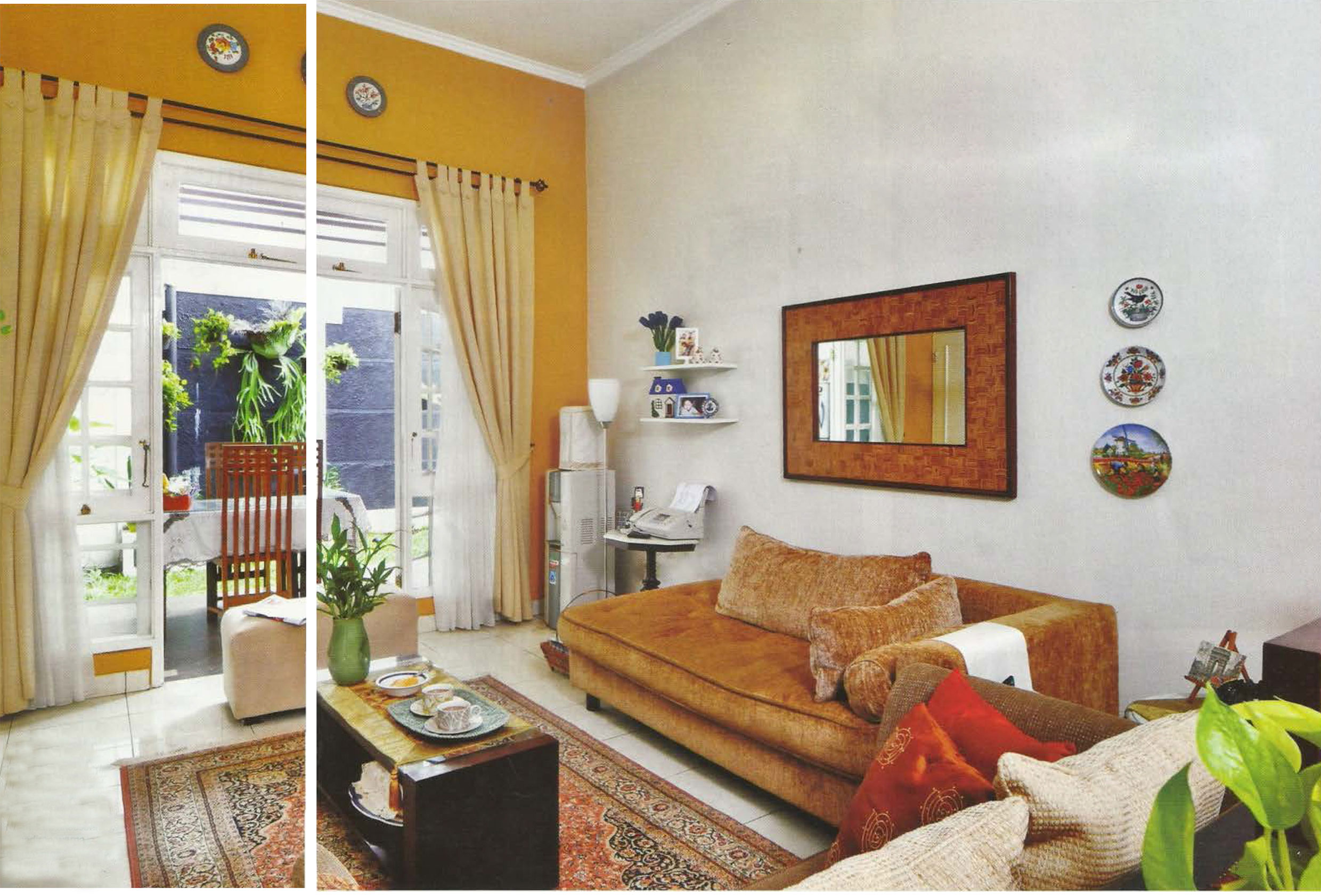 The family rooms arrangement, processing natural calm colors with green plants as one of its accessories. The orange colors make the room look more dynamic.
We found a pretty attractive house in Tallahassee, Florida. The owner is Lucy Broxton (50 years old) and Michael Tsigalko (54 years old). This one-story house has a facade that is almost similar to other neighbor's houses. But try to get into it. You will see neatly arranged rooms.
The cushions position is perfectly mounted on the living room chair. The stack of newspapers is neatly folded. The wall paint purchased since 2010 is still looking good. The homeowner character, who likes cleanliness and neatness, gives a distinctive soul to this residence.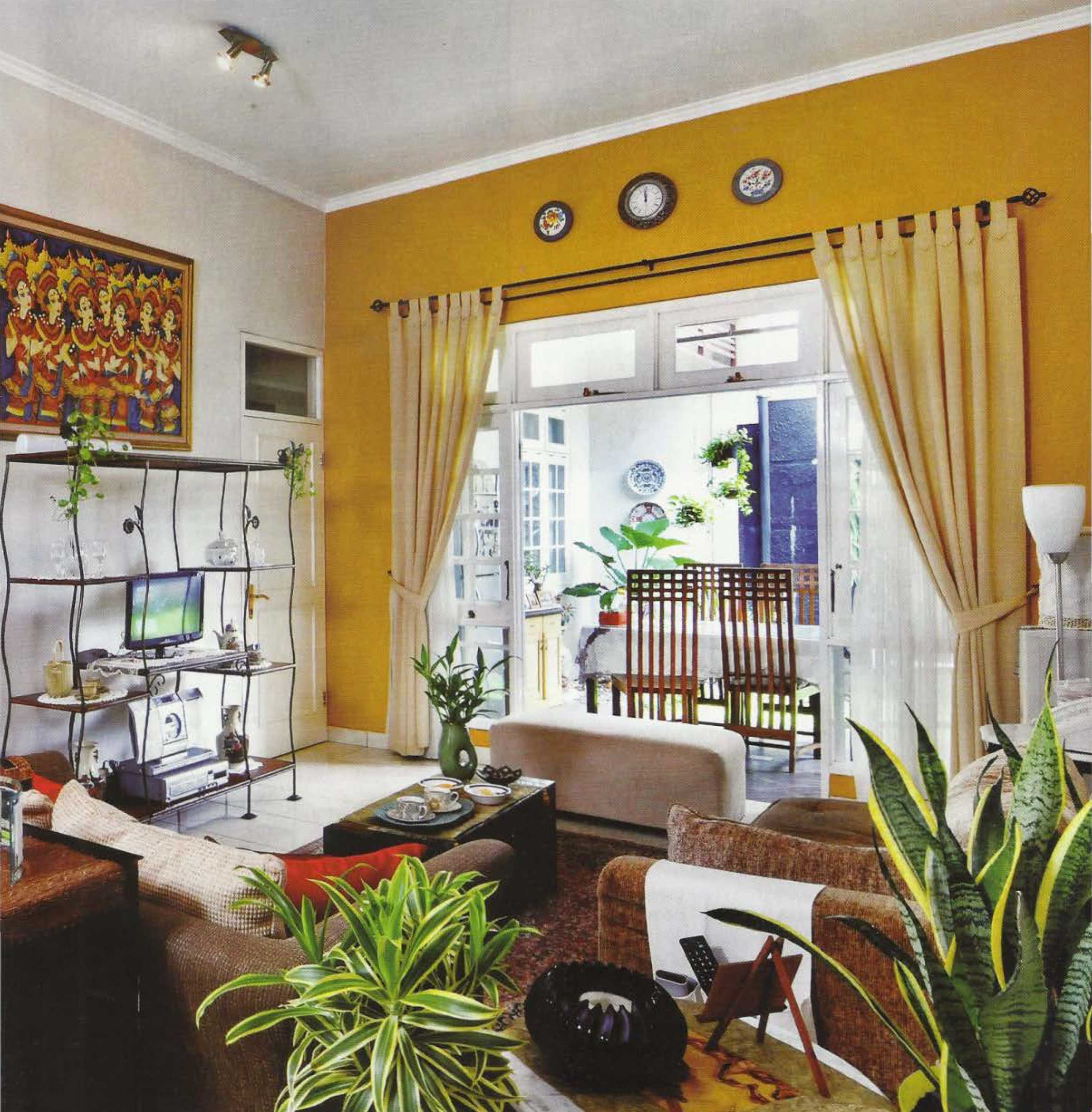 Lucy arranged her own one-story house. He never studied interior design education, but she got a lot of inspiration from her mother about arranging the house. "My mother likes to put living plants on the table and the corner space," Lucy said. She also did the same thing. However, if her mother places the flowers in ordinary pots, she places the living plants in ceramics and antique jars. Although imitating her mother's style, yet there are still different in its implementation.
Lucy also does not use bulky classic furniture, as her mother applied. "To prevent cramped, I'm not using too much furniture for my house. The furniture shape is simple". The reason is simple furniture is more suited to Lucy's character and her husband. Lucy still brings classic touches, but only a few, like the carpet motifs option and the TV rack with a unique shape.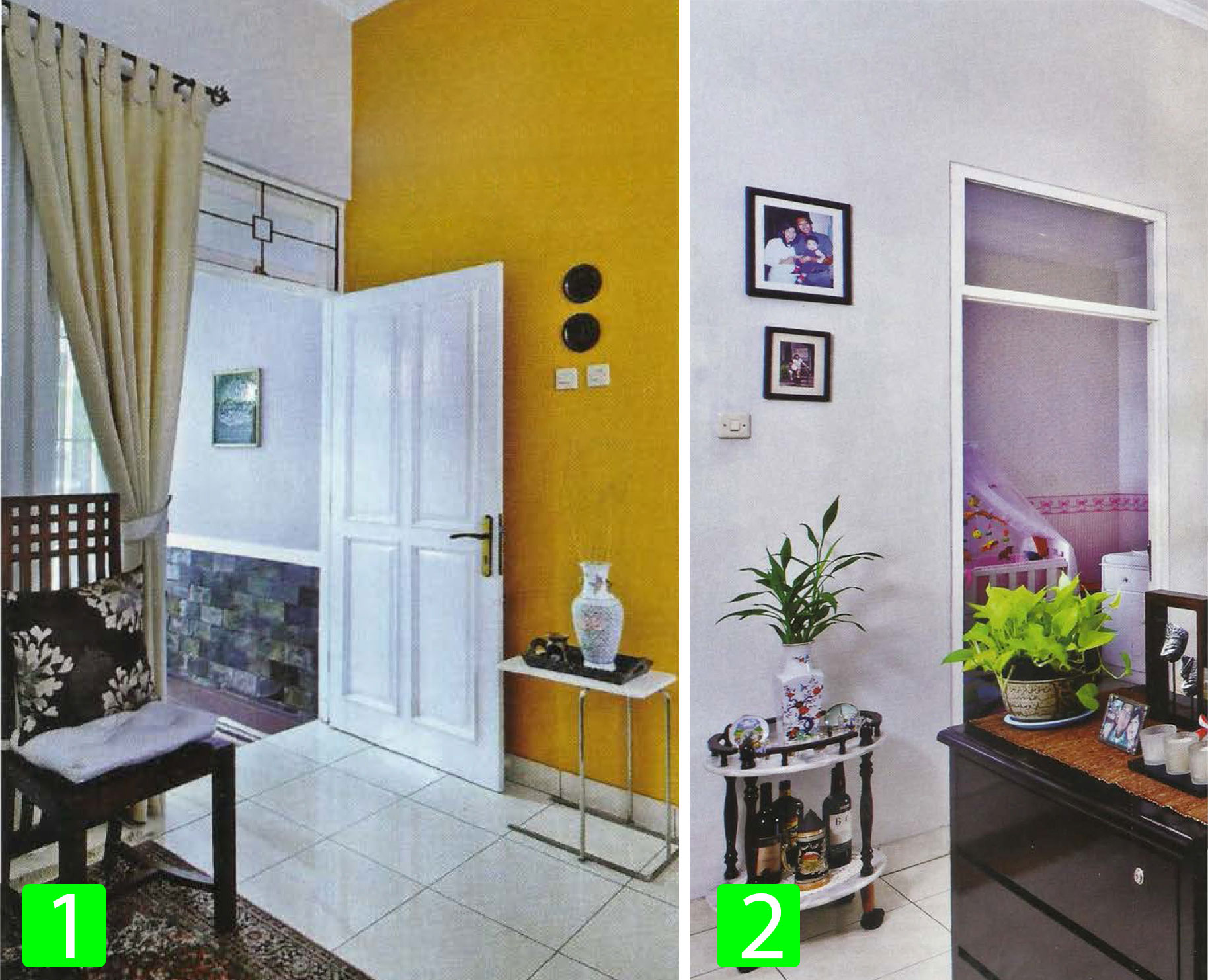 This house may look similar to other houses. But, the homeowner's personality makes this residence different from any house.
Although dominated by natural colors, this space is also given an orange-colored accent wall in some areas. One of them is in the main entrance area. This color placement gives a friendly and open impression when welcoming guests.
Partition as a divider between the living room and family room is only using a small credenza with a height of 70 cm. The Credenza is placed right behind the sofa. Orange accent walls directed the viewpoints to the dining room at the backyard patio area.
Spacious With Simple Floor Plans
This tiny house, with 90 m² area, has 3 bedrooms, 2 bathrooms, a living room, a family room, and a dining room. This house also features a service area such as a kitchen, laundry room, and clothesline, and a maid's bedroom along with the bathroom.
The space layout nothing has changed from the initial house plan by the developer. But Lucy decided to place the dining room on the back porch.
"In that way, the family room which initially joined with the dining room becomes more spacious. While the dining room has an attractive view because it has an open concept and faces the garden," said Lucy.
Three bedrooms and bathrooms are placed on the left. The middle area is filled with a living room, family room and dining room (located on the back terrace). While the right side is used as a service area. With a simple division of space like this, the house feels roomy.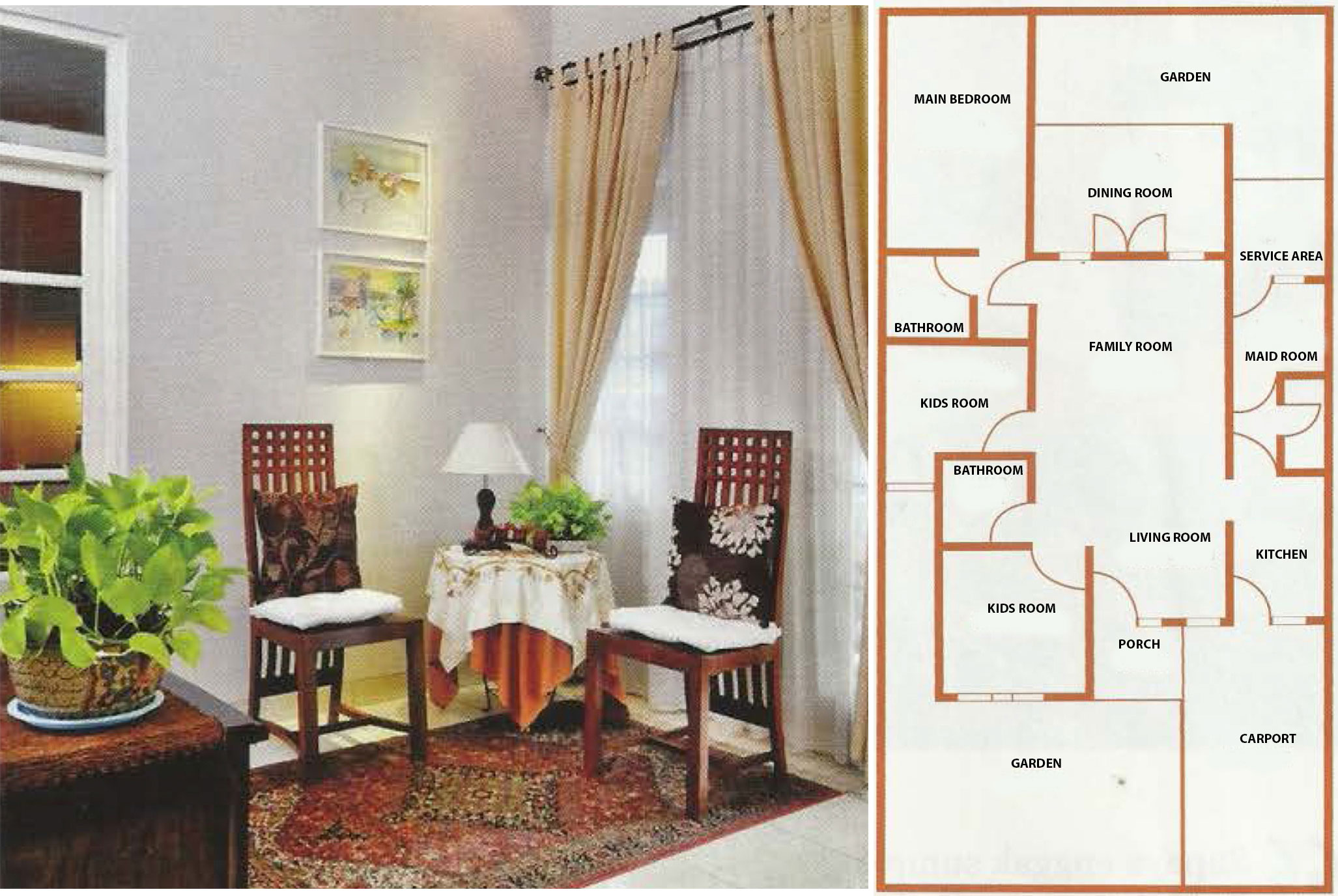 The living room does not need to be large because it is rarely used. This living room is only 1.5 m x 2 m. The living room is only filled with two chairs and a round coffee table. Armless chairs like this are usually used for dining tables. With additional cushions for the seat and backrest, the chair is worthy to fill the living room.
Here's The Creative Idea!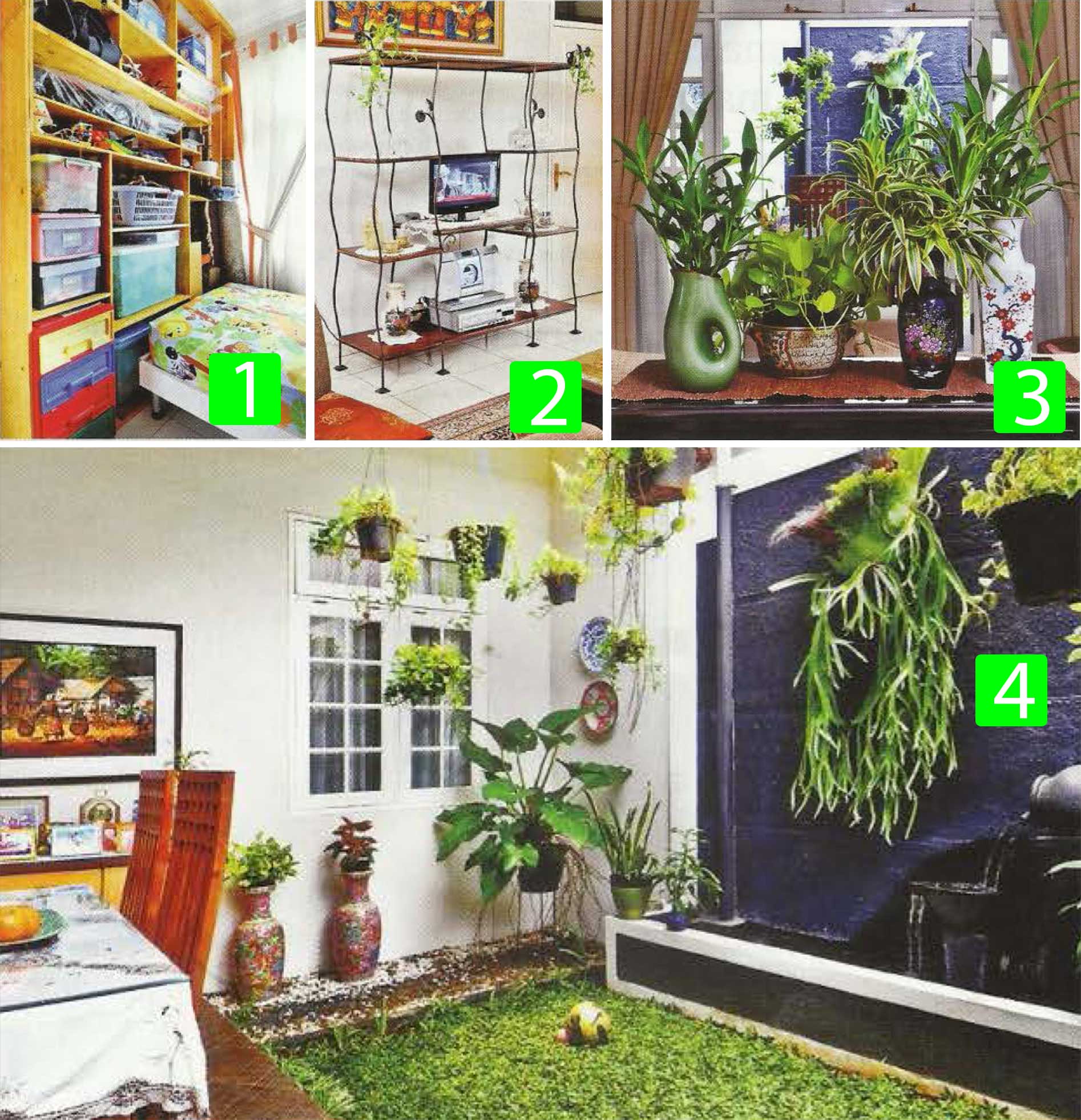 Stacking shelves
On one side of the child's bedroom, there is an open stacking shelf; which is made until it reaches the ceiling. The shelves are made of pinewood with a varied shelf arrangement. The shelf is a place to store some children's toys, as well as other items that are not enough to be stored in the cupboard. This shelf makes it easier to take and store items. Items that are rarely used, placed in a closed box or wrapped in plastic, then placed on the upper shelf. If you want to use a stacking shelf like this, keep your items neatly so it doesn't interfere with the shelf's beauty.
Wrought-iron shelves
This rack is located in the family room, functioning as a TV table and display rack. The material is made of wrought iron. This open rack has a 1.7 m height, sleek shape, lightweight, and unique design with several small arches on the frame. This custom made rack design is the home owner's desire, to give a classic touch, but it doesn't make the room look full and heavy. It's perfect for a small house.
Material Selection
Beautiful ceramics for plants
Living plants become more attractive if placed in the right vase or pot. As seen in this house. Beautiful jars and bowls, some of those antique items are the parent's inheritance, make these living plants look beautiful. The type of plants chosen must also be appropriate, namely indoor plants and tropical plants. As seen here, the types of plants include Dracaena sp, Philodendron sp, and Spathiphyllum sp.
The dining room is placed on the back porch with an open dining room concept. It is the right solution to utilize space maximally. As a result, the dining atmosphere becomes more pleasant because you can immediately see your garden.
So, if you wish to receive the great shots about Small House Plans With Open Concept Dining Room, just click save icon to save the graphics in your personal computer. These are available for download, if you'd rather and wish to take it, just click save symbol on the article, and it'll be instantly downloaded to your laptop computer.
Here you are at royhomedesign.com, content above Small House Plans With Open Concept Dining Room published. Some people trying to find info about Small House Plans and of course one of them is you, is not it?