Home
»
Decorations
»
Good Ideas How To Decorate Your Porch Beautifully | Roy Home Design
Good Ideas How To Decorate Your Porch Beautifully | Roy Home Design
Create a morning atmosphere as beautiful as possible, then the beauty will wrap you all day long.
Beautiful Porch Creates Enthusiasm
When the days have been so crowded for a week, it is not wrong if you relax for a while with your loved ones, with a new atmosphere to get a new spirit. At breakfast is the right time for this important moment.
Because it is natural that in various aspects of life, humans can not be separated from the "touch of nature", then enjoying a touch of fresh nature accompanied by a healthy breakfast is a therapy for body and soul.
As the end place for all activities and relieve fatigue, a house must be able to function as physical and mental therapy. A place where the occupants can "recharge" their energy and restore their mind. The fresh green color makes all the green nuances suitable for use in any room. Utilizing the outside space, on this porch, the green nuance is presented, spreading optimism as well as flowing the calmness that inspires you.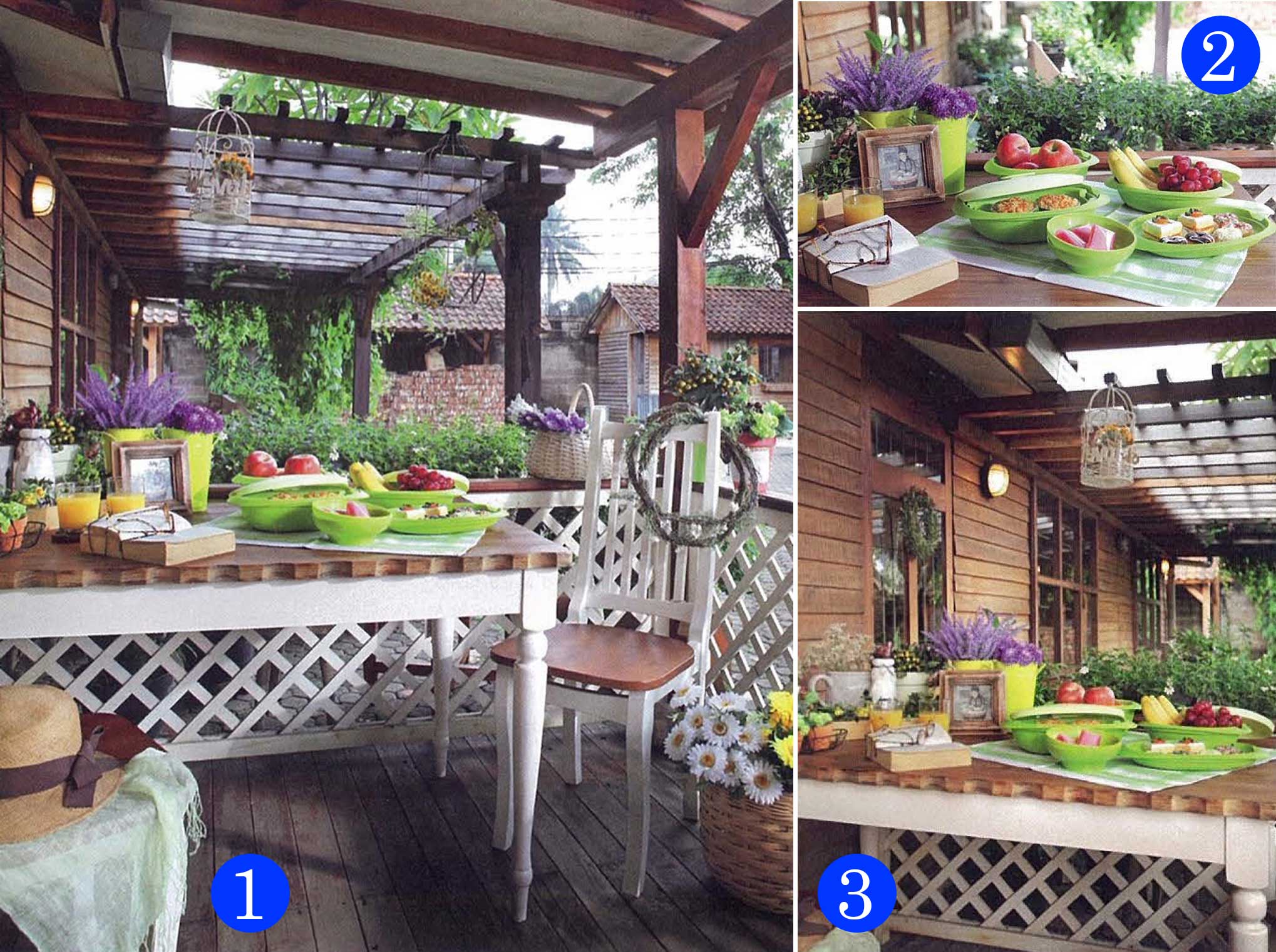 This bright green but soft is a fresh, artistic, unique, chic color. Purple is a soft, bright and pleasing color. Brown is a warm and friendly color. That three combinations will feel fresh and pleasant.
Green color combined with yellow and purple creates an exclusive relaxation atmosphere.
This fresh and soft green color is like the color of the newly blooming adiantum leaves, it's a safe color. This color is suitable for all home and furniture styles, both traditional and modern. Calm, but not monotonous.
Everything with green nuances correlates with natural freshness. Parks, trees, leaves, and grasses are the main natural source of green color. The sensation of natural freshness comes through the green nuance at this morning dish. A meal at the beginning of the day emphasizes the closeness and dependence of human condition on nature.
Inspired by nature as well, these fancy plastic containers come in fresh green, bright but soft looking, depicting nature represented by newly blooming leaves. Even with dense vintage-style accessories with natural characters become a complement that emphasizes the naturalness that you want to be created in this dish.
The physical and mental therapy process runs automatically from beautiful scenes created through colorful cakes and fruit dishes; the smell of fresh food and its conditions; the touch and taste from the softness of food texture, the freshness of fruits, and from the leaves, flowers and plants and their parts that complement them.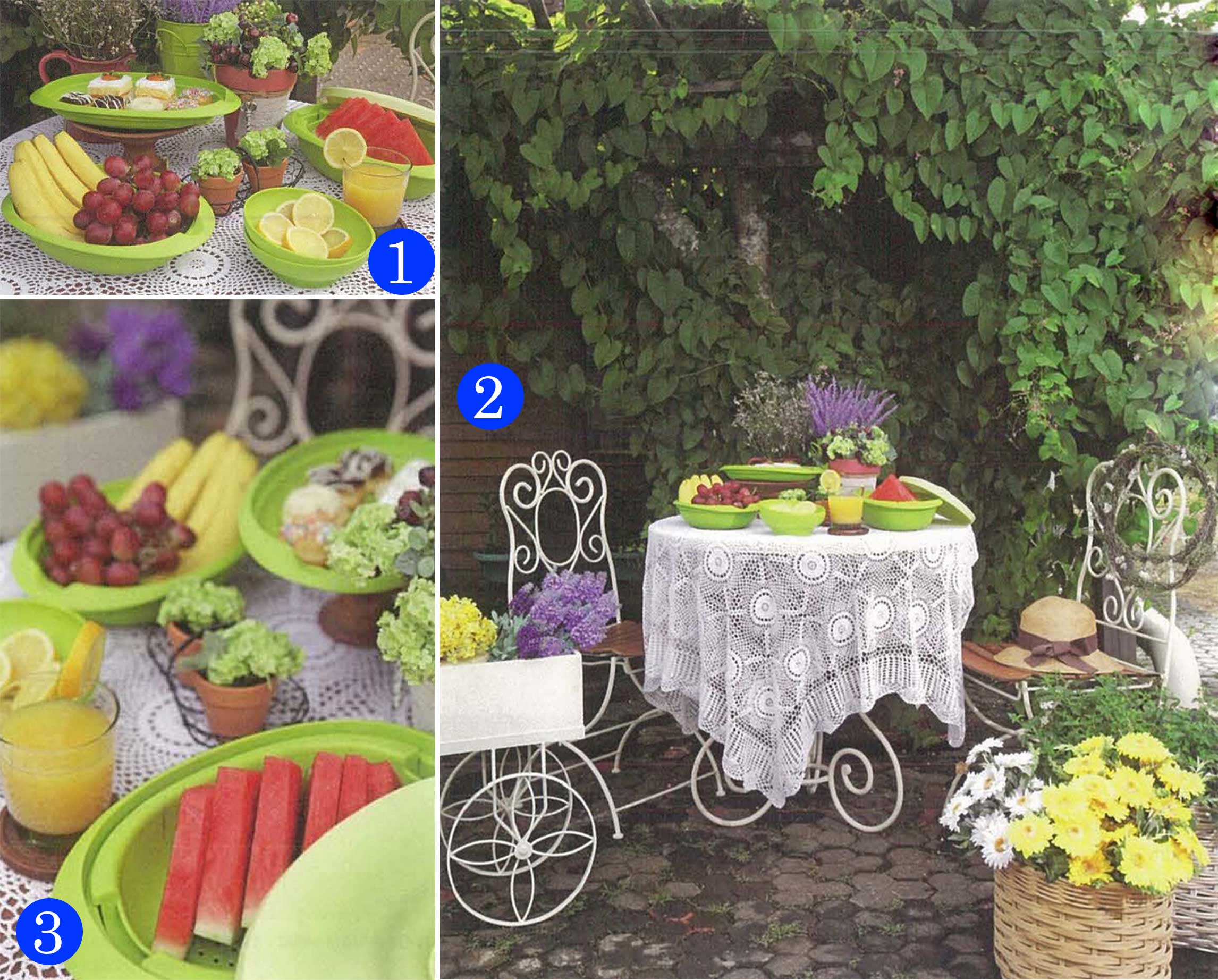 The luster of fruits color always gives a fresh atmosphere. The combination of harmonious yellow color that shines with fresh green and red color, brings an active atmosphere, optimism, fresh, and encourages people to interact healthily.
The row of plants brings soothing coolness.
The green color is associated with freshness, while yellow and red color is associated with passion. Their combination will create enthusiasm and a fresh atmosphere as well.
Indeed! An atmosphere that brings soothing coolness. The dominant green color from the containers, combined with yellow, purple and red color, creates an exclusive relaxation atmosphere. The freshness that arises will balance the emotions, give a healthy effect, and increase stamina. The positive energy that comes in the morning, becomes a provision for your new day with optimism and full of vitality.
White Porch Ideas, Beautiful And Homey
Porch with vines. The white color gives a comfortable impression. Homey!
The dominant white color on the porch makes a clean and spacious impression.
The orchid plants increasingly make the porch looks beautiful and chic.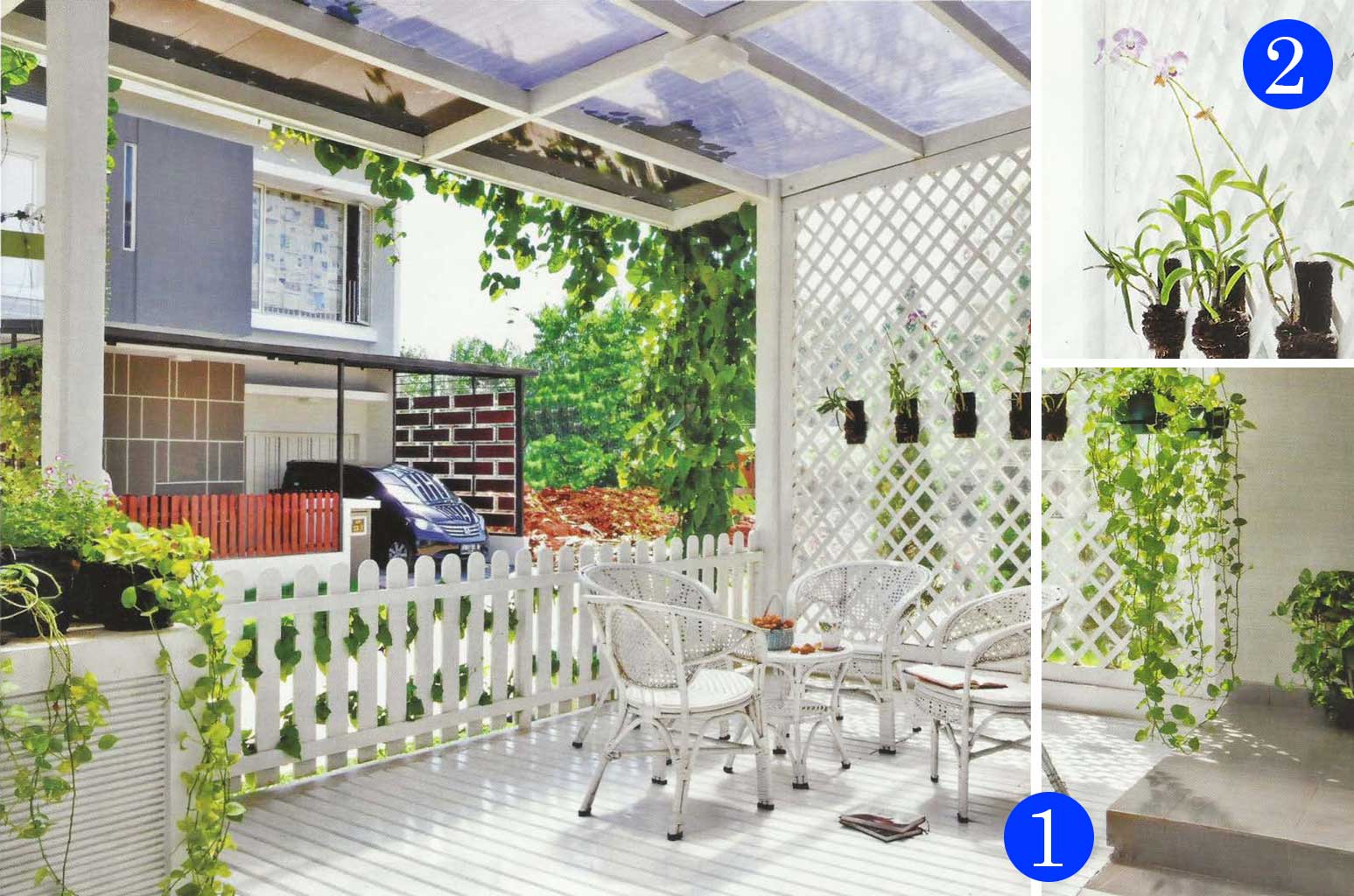 At the first look, we immediately fell in love with this porch. The shape of this fence is like an ice cream stick, it looks unique and cute. Also, we were welcomed by the beautiful Thunbergia vines on the fence.
The homeowner, Merry, immediately invited us to sit on the rattan chair located on the porch measuring 6m x 3m. "This chair is an old chair that I repainted. Formerly, this chair was brown. Because our porch concept is white, then I sprayed this chair with white duco paint," Merry said. She and her husband have never quarreled about taste. White is their favorite color. Just look at, white is the dominant color that fills their porch.
"There is no special design in making this porch. For me, the most important thing is comfort. By feeling homey, surely we will feel at home, right?" said Merry. To support the comfort in the porch, of course, plants are needed as air coolers. For this reason, Merry chose tropical vines. "The first consideration in choosing this plant is its maintenance issue. Tropical plants are very easy to maintain," Merry said.
Besides thunbergia planted in front of the garden, there is also an Epipremnum aureum (i.e betel) that hangs pretty near the entrance. Beside the porch, some orchids are lined beautifully and gracefully. We also continued the conversation while enjoying potato pastels served by the homeowner. It's nice to relax on this cool, comfortable porch.

The Epipremnum aureum (betel) plant makes a beautiful porch, making it a favorite place to gather.
Homeowners like cartoon movies, so the porch design is inspired by the Rabbit house in the cartoon movie.
The growth of dangling thunbergia flowers makes it suitable to be placed on the fence and canopy. 
Beautiful vines
Purslane
Purslane (Portulaca oleracea) is an edible plant. Plants that can grow in the lowlands and the highlands can also be used as herbal medicine. Based on its shape, purslane can be installed as a hanging plant.
Thunbergia
Thunbergia (Thunbergia Grandiflora), is a vine that has beautiful flowers. If you have limited land, you can plant this thunbergia as an ornamental plant. Having vertical growth does not take up space. Thunbergia flowers bloom in the morning and begin to bud in the late afternoon. This plant can grow in soil or potting media.
Material selection
Polycarbonate
Homeowners want a porch partition that does not obstruct the view. Therefore, polycarbonate material is used as partitions. Polycarbonate material is flanked by wood which has a width of 4 cm with a thickness of 2.5 cm
Wooden floor
This porch floor uses mahogany wood with a width of 10 cm. Wood is painted duco with finishing using PU (Polyurethane) to make it look shinier.

So, if you would like get the outstanding shots related to Good Ideas How To Decorate Your Porch Beautifully, press save icon to save the images in your personal PC. They are available for download, if you'd prefer and want to have it, click save badge on the post, and it'll be immediately down loaded in your laptop computer.
Thanks for visiting royhomedesign.com, content above Good Ideas How To Decorate Your Porch Beautifully published. Many individuals attempting to find information about porch ideas for houses and of course one of them is you, is not it?
Related Posts