Home
»
Living Room
»
White Side Tables Home Decor Ideas And Tips For Simple Interior
White Side Tables Home Decor Ideas And Tips For Simple Interior
|
Accomplishing modern and simple interior design tends to come with a very unique color palette. One of them is using whites for the items. Among them, you can find white side tables as one of the tricks to complete the idea. The small table is a great additional piece but also brings another functionality besides the table. Here are some collaboration ideas to do.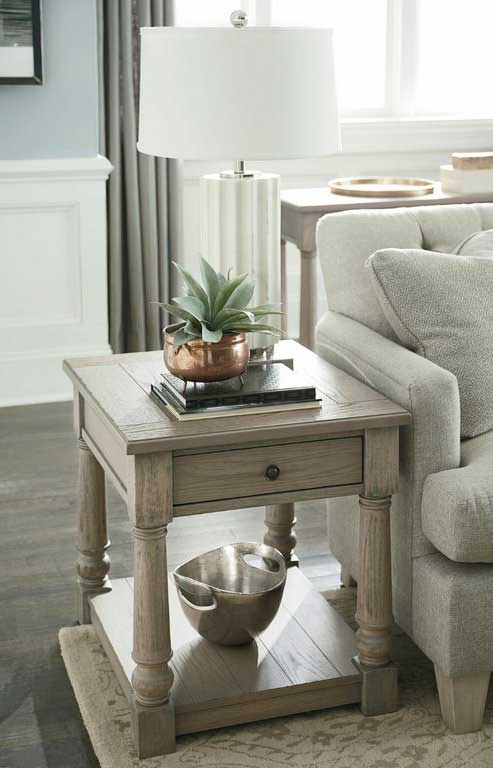 5 White Colored Side Tables Ideas To Try
1. Modern Table With Charging Station
With the new demand for electricity almost every time and day, you can consider that a modern design with an extra charging station should suffice. In this case, many modern styles contain the extra function by hiding the charging station inside a compartment. It can be a fun little addition to a modern simple house.
To make it better, the idea and the design itself can be varied depending on the home styling. The most common one is the classic side table design with a drawer on top and a wide-open space underneath. The white side tables can bring a subtle addition without forcing the styling. It also works as an extra surface to put books, decorations, or some stuff.
2. Simple High Farmhouse White Table
Nothing can beat the classic farmhouse style. In this case, the white small furniture creates a sense of cleanliness and make an illusion of a bigger room. The design should be a simple table using a high surface with simple ornamented legs on it. It only has a tabletop surface and the bottom area, which creates a hollow view and high tall table function.
3. Modern Whitewash Side Table
A modern splash of design cannot get wrong in many new home décor ideas. The point of modern design comes from the solid wood material and boxy models for its shape. The lack of ornamented details makes it a perfect simple and modern white side table to add. The whitewash color itself is an extra detail that makes the table look natural and fancy.
4. Carved Wood, Drawer, And Storage End Table
Going to the more traditional option, carved wood material and design create an always fancy addition at home. For side tables, the fancy carvings can be seen on the storage door. It enunciates a splash of unique detailing, creates a pattern, and adds motive to the room. Some of the table models also have extra room storage in the form of a drawer or cabin.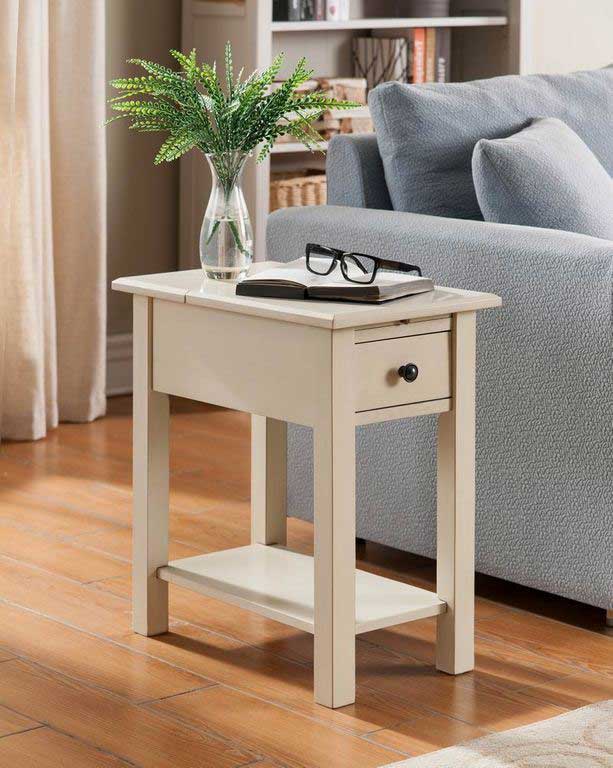 5. Reclaimed Wood End Table
There is nothing wrong with some DIY designs at home. In this case, using slatted reclaimed wood white side tables can be a nice addition to the living room. Going for a full DIY brings any possibilities to make your unique styling and model. You can make a simple design or a unique one to fit the budget and skill. White is a color representing a neutral, clean, and pure idea. When applied to a side table, one can use the piece to complement the whole interior design. Thanks to the vast option of table designs, you can pick one based on how it looks in the room. It can be the modern one with an extra function, a simple look, a farmhouse style, or the fancy one.