Home
»
Furniture
»
Eucalyptus Patio Furniture One Of The Best Outdoor Wood Collections You Should Know | Roy Home Design
Eucalyptus Patio Furniture One Of The Best Outdoor Wood Collections You Should Know | Roy Home Design
|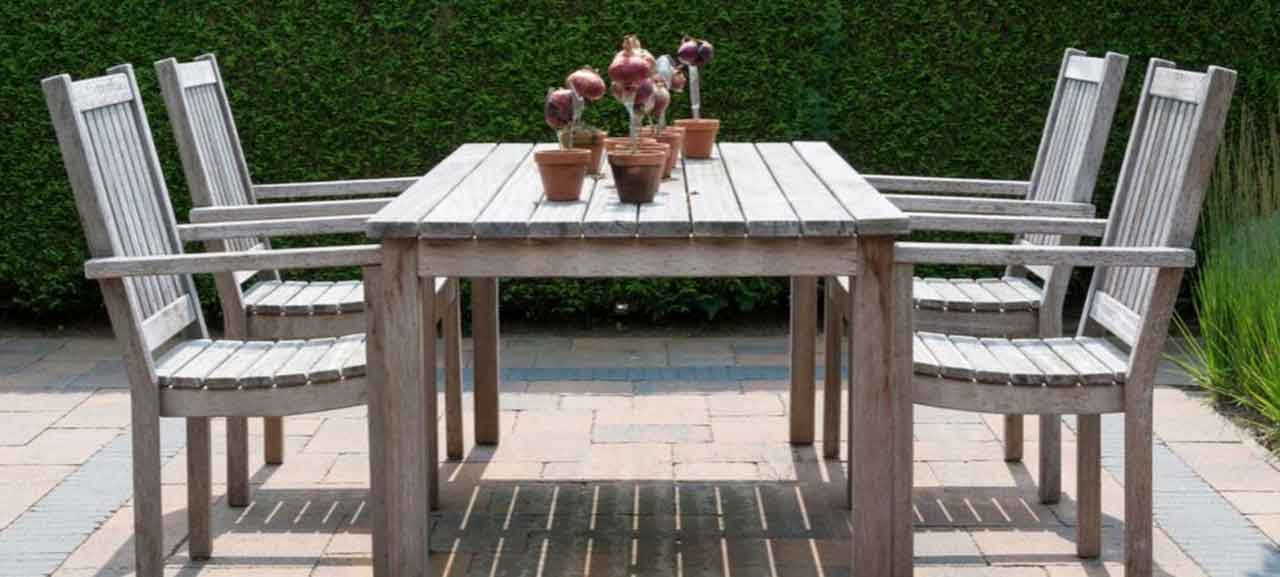 Worth noting that not all of the wood materials are created equal and can withstand the harsh nature. In this matter, only a few varieties of wood can fight rot or giving a great year-round outdoor performance. One of them is eucalyptus wood that is quite new in this field. So if you are looking for outdoor collection, here is some information regarding eucalyptus patio furniture you should know beforehand.
Get To Know The Wood
You may know the name as an ingredient for health and beauty products, however, the wood is also very well-known for its quality. The eucalyptus may not as hard as teak, but the wood has characteristics of an extremely dense structure, decay-resistant, and rot-resistant. Even more, the material is one of the renewable resources. All was because the trees are grown in plantations. Thus, availability is regarded as plentiful and has quite a lot of supply.
In the plantation, the selected grown hardwood that is sustainable will be harvested. Then, processed to create a high-quality ready-to-use wood material. The kiln-dried timber will turn with a solid body that comes with great strength and durability. Other than those amazing characteristics, the timber also has a smooth finish and beautiful grain textures which also come with very minimal maintenance. That is why this timber is great for outdoor use.
In this matter, you can say that choosing outdoor collections such as eucalyptus patio furniture will be one of the great options. Just as said before, the timber has great durability, strength, appearance, and low maintenance. At the same time, rot and decay-resistant will make the furniture stay for a longer time. All of that was due to the high oil content in the wood that can repel moisture and water very well.
Taking Care Of The Furniture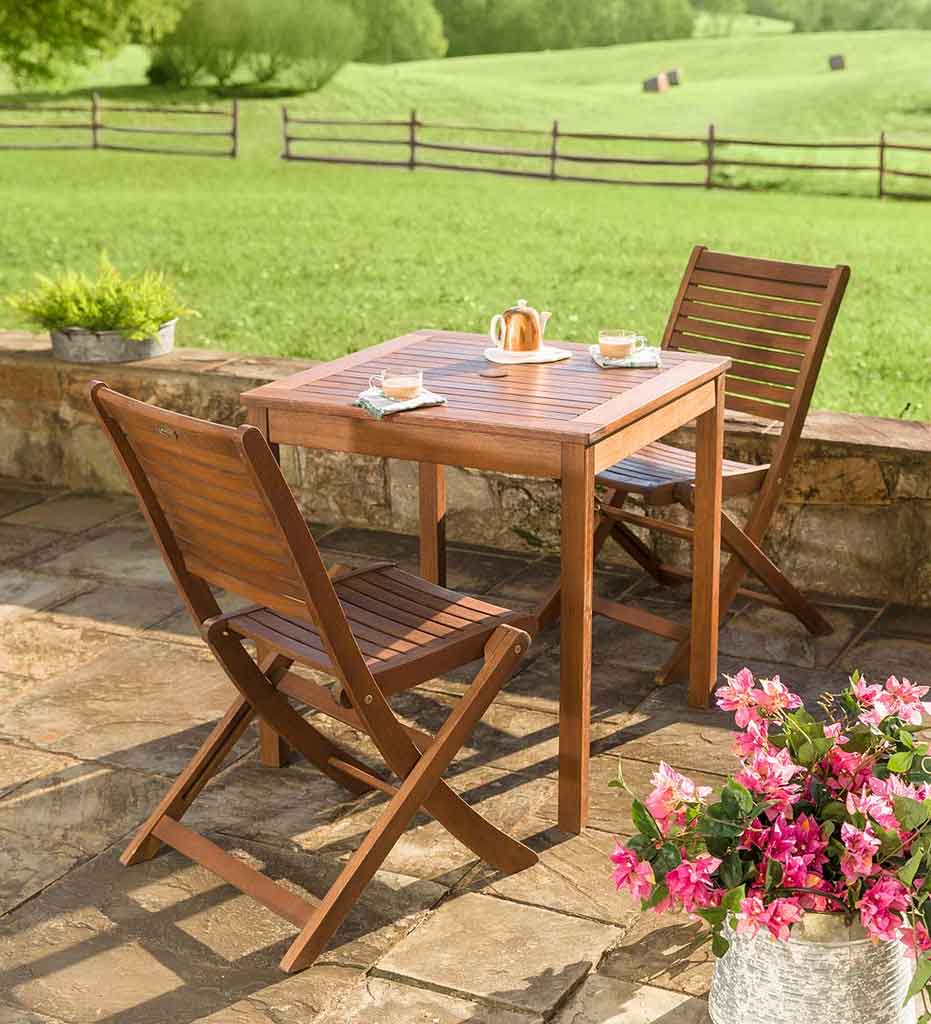 Worth knowing that everything needs constant care, including your beautiful wooden patio or outdoor furniture. In this case, they will get to withstand harder conditions than the indoor collections. That is why you should take care of them. The eucalyptus timber is solid and strong enough to fight the weather, but you can light sanding it with 150- or 180 grit sandpaper once a year. Why? it may be the best way to help the product to stay longer.
The eucalyptus will generally turn into beautiful gray or silvery color as the years go by, this is the reason why many people prefer unfinished eucalyptus patio furniture. As time goes by, the appearance brings a rustic vibe. However, sanding it is advisable because you can clean all the fuzzy grain. Knocking down large fibers and clean the wood. The sanding will make the furniture looks smooth and won't give you any splinters.
If you opt for the oil finished furniture, you can do the same manner as the taking care method. Sanding it with 150 to 180 grit sandpaper once a year will be enough to clean and remove all the dirt. After that, you can give a light coat with a suitable or recommended product. As your furniture will look older, you can protect and brighten it with some patio accessories. You can bring color through pillows, adding cushions, or boost the protection by upholstering the furniture.
Choosing The Furniture Design And Style
As you know that the timber has great quality and suitable for outdoor use, now you got the liberty to choose the furniture. In this case, you will look for your eucalyptus patio furniture collection. Be grateful that the product is quite an abundance. It also comes in different styles and designs. Talking about the patio, you can choose the sets that come for the dining table or patio for the lounge. If you are interested here are some of the ideas.
The Eucalyptus 9 Pieces Dining Set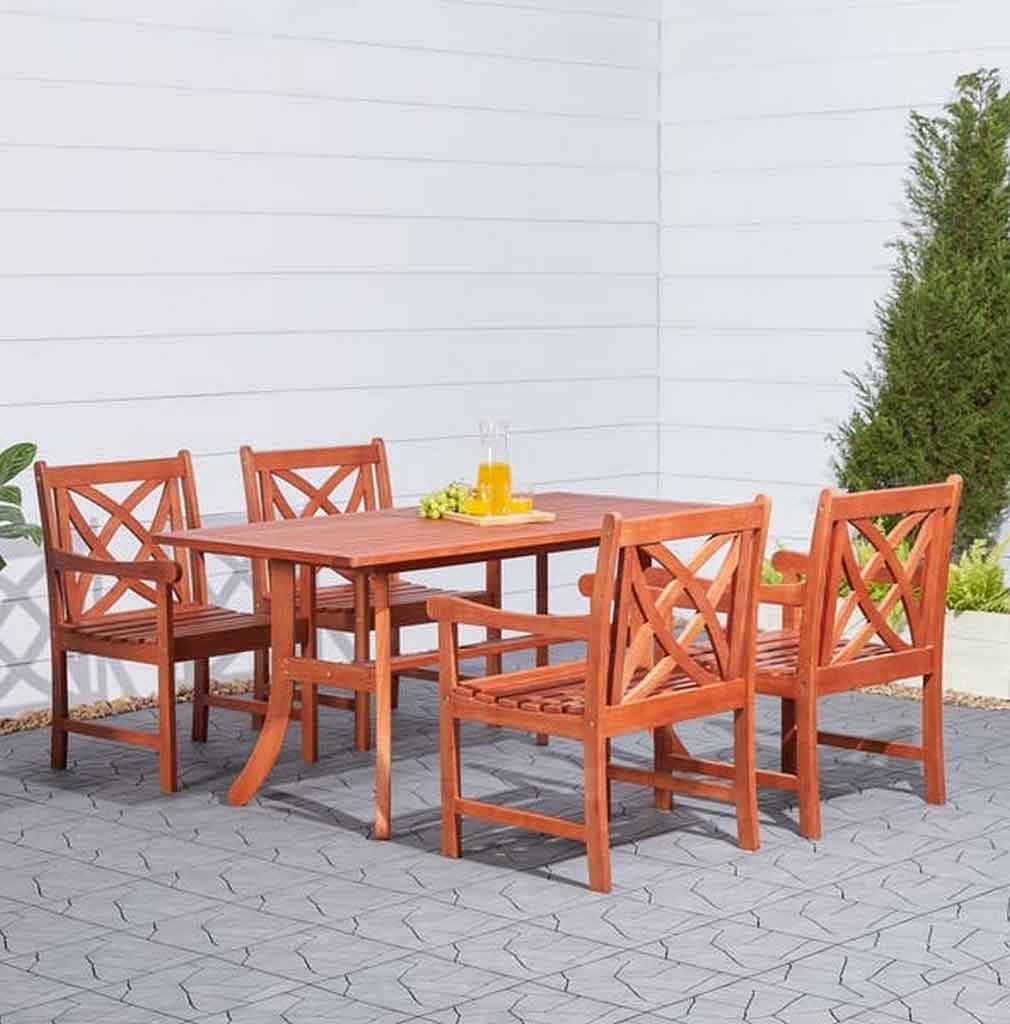 In this product, you got a complete set of dining tables and tables. The furniture collection will be perfect with a foldable umbrella attached to the table. The piece includes 8 chairs and 1 table. The table is fully made with wood, while the chair incorporating wood frame and metal seating. With that combination, the product's strength and durability are guaranteed. The goods have good weather, UV, and rust-resistant.
Eucalyptus Stackable Chair Without Arms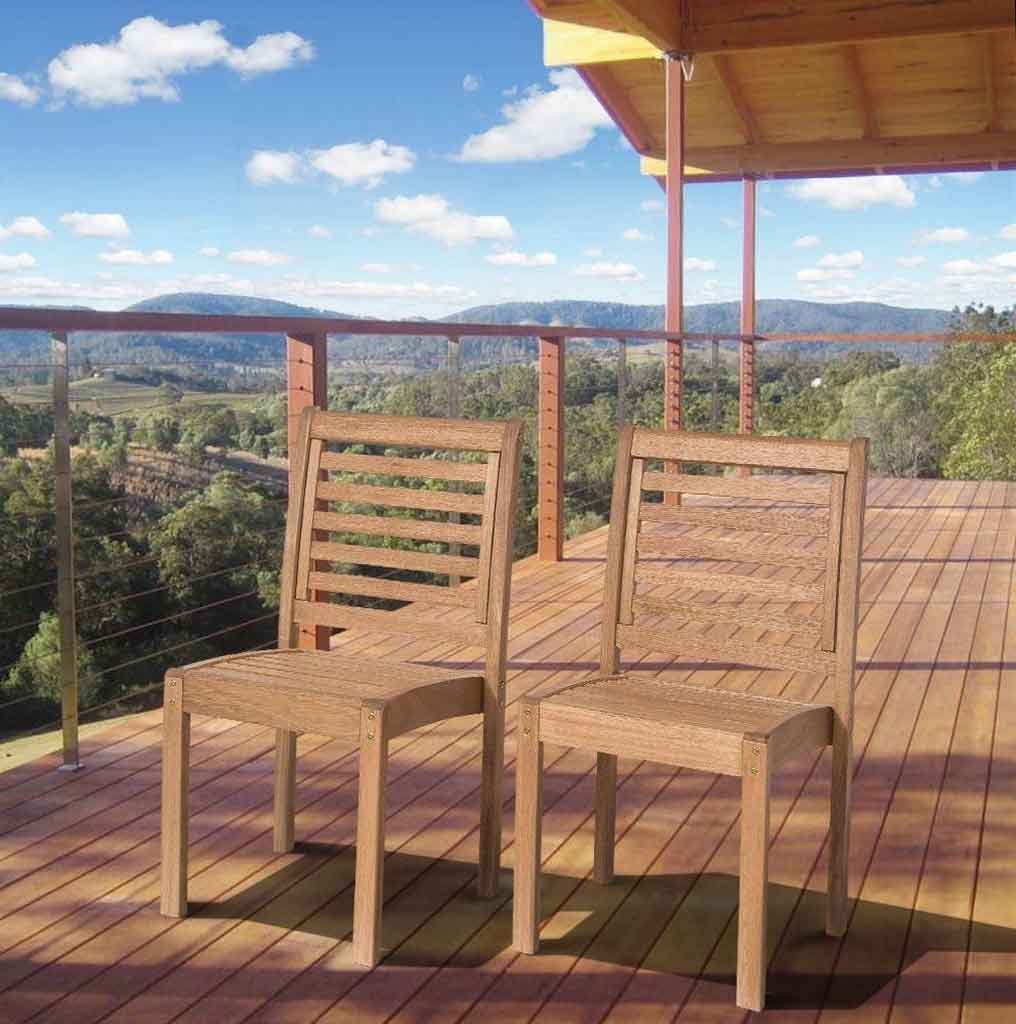 The basic outdoor chair design can be your option too. The stackable chair comes with a very simple design and has a paneled backrest pattern. It doesn't come with armrest, so the particular product can be a simple eucalyptus patio furniture addition. Since the design looks very simple, the chair can adapt to whatever design or style you are looking for. It will be a perfect piece if you need extra seating spaces in the patio.
Swing Lounger With Pillow
In case you are seeking to create a lounge-type patio, this particular product is a great piece to your collection. The swing lounger comes with an original design that molds the seating shape to boost comfort. The back and the seating part is one continuous net made of many small blocks of eucalyptus. Crating a great visual point and make your back comfortable. It also comes with a canvas pillow to give your head and neck a little support.
Sectional Outdoor Seating With Cushions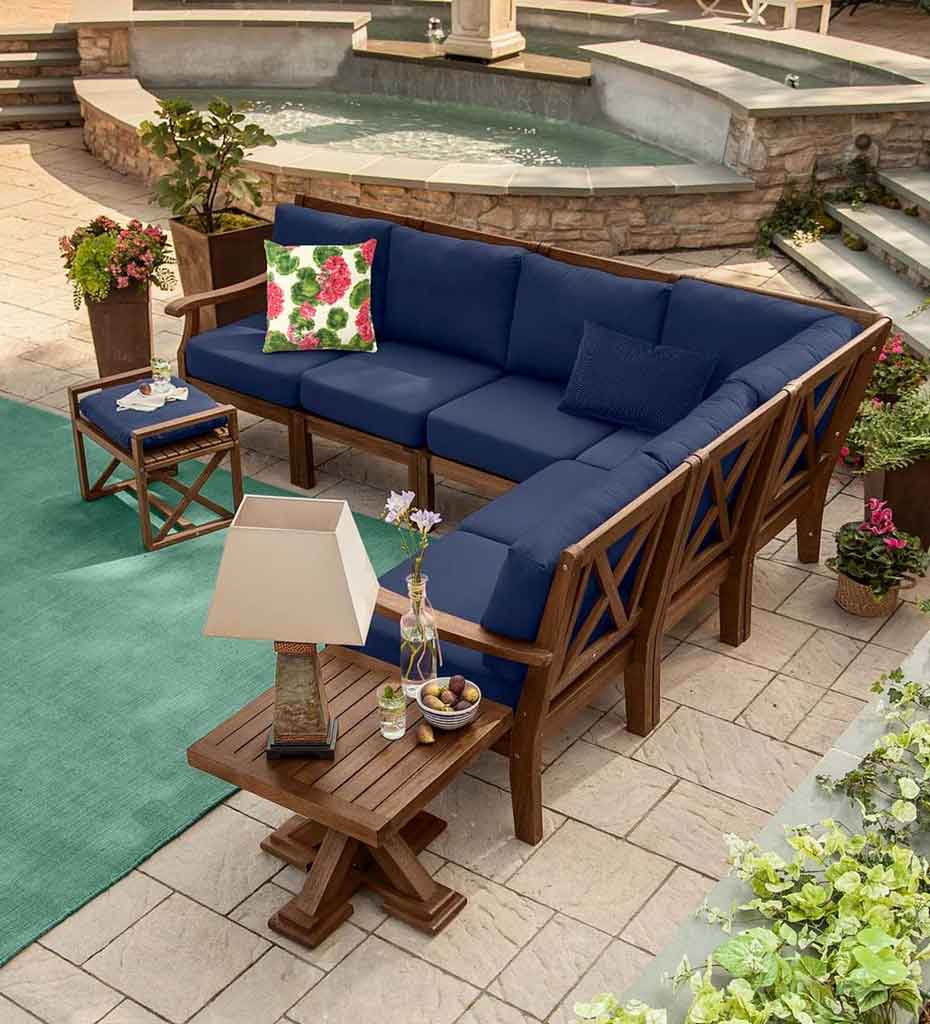 This big sectional outdoor seating with cushion will be a great addition to your outdoor collection and relaxing lounge. The design is combining galvanized steel hardware to boost the eucalyptus patio furniture durability. It also has cushions that add more comfort and bring color to the set. You can choose different polyester cushion colors to match the patio style and the overall design of your home.
All in all, choosing a great outdoor piece is not an easy feat. Especially, when you have to choose the right wood varieties. In this matter, you can choose Eucalyptus wood as your first pick. As it is quite new, the product may a little bit expensive. But the overall quality is worth for your patio collection. It is dense, decay, and rot-resistant. It also transformed into numerous designs and models of patio furniture, so you got an almost endless selection.
Thanks for visiting royhomedesign.com, content above Eucalyptus Patio Furniture One Of The Best Outdoor Wood Collections You Should Know published. Many people looking for specifics of eucalyptus outdoor furniture and definitely one of these is you, is not it?