Home
»
Bedroom
»
6 Cozy Bedroom Ideas for Small Bedroom Layout That You Never Know | Roy Home Design
6 Cozy Bedroom Ideas for Small Bedroom Layout That You Never Know | Roy Home Design
|
We help you sleep well in a cozy bedroom with 6 simple steps below.
Most of our time is spent in the bedroom. That's why a bedroom should be a priority in a rearrangement list in a small house. Of course, it's nice to rest and sleep well in a well-designed bedroom. Here are 6 secret tips!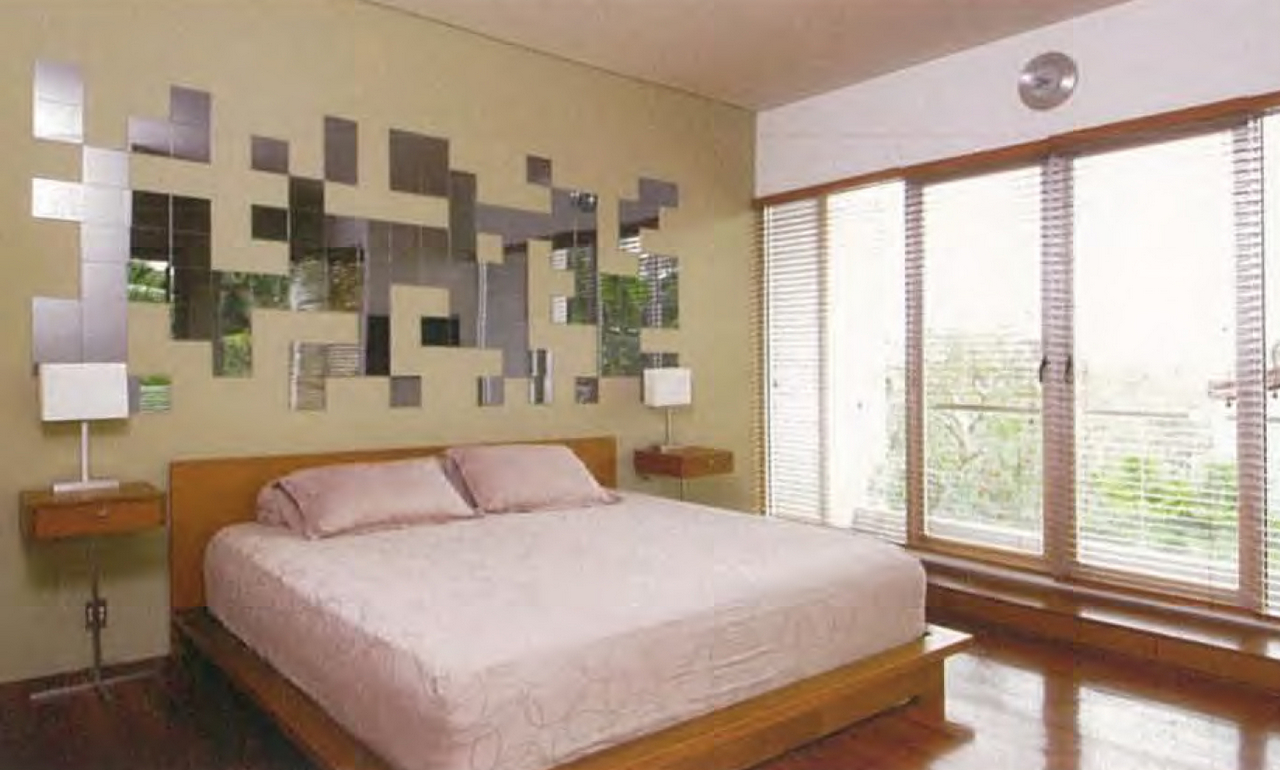 Cozy Small Bedroom Ideas to Make Bedroom Look Bigger
Plan Well
Everyone has different needs and activities in the bedroom. Some need TV for entertainment, some also make the bedroom just a place to rest. You don't need a TV there. In fact, some people also make the bedroom as a workspace. Record any activities that you routinely do and maybe you will do in the bedroom.
Electricity Needs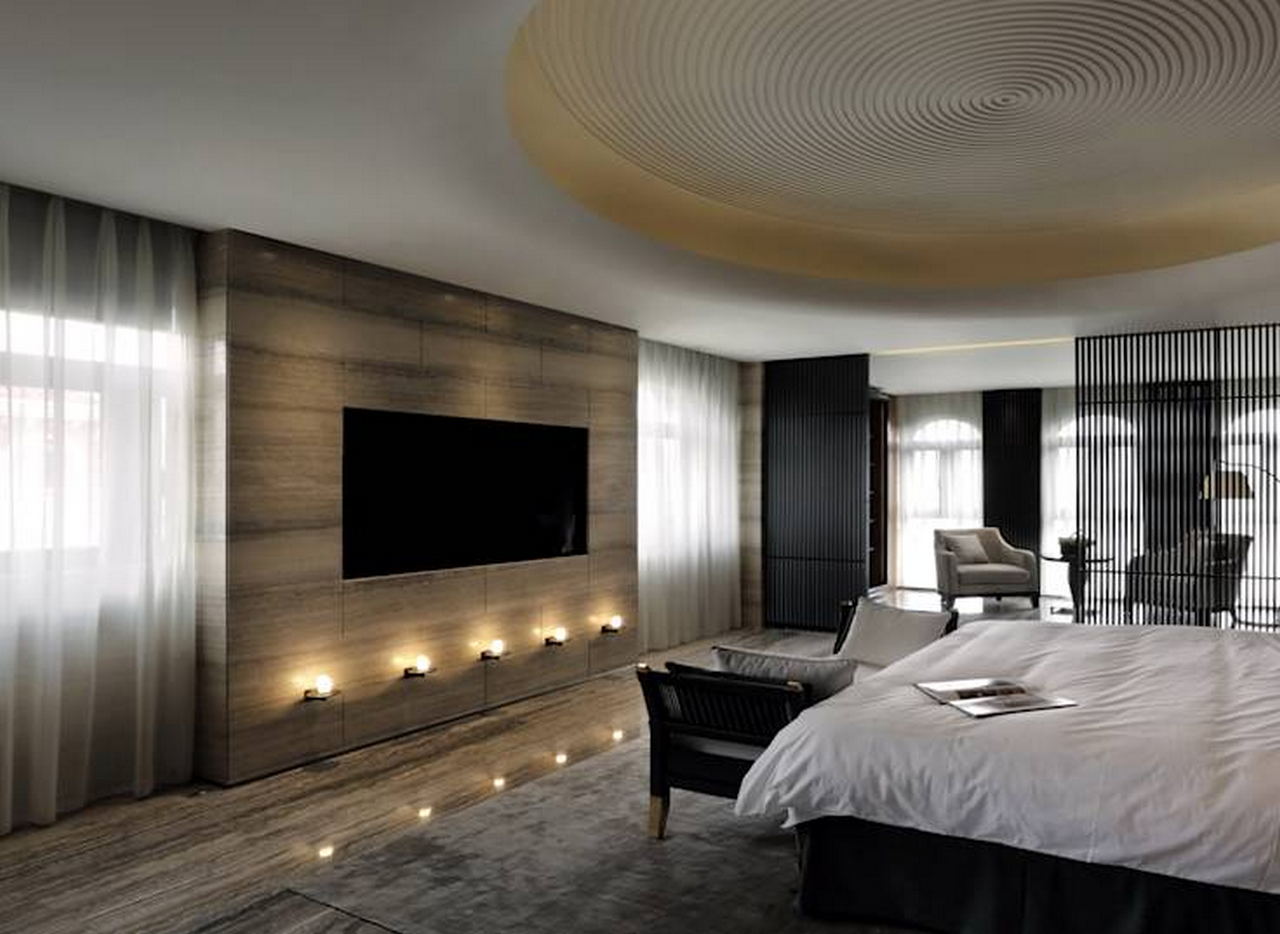 Before renovating a bedroom, write your activity completely in the bedroom relating to electrical equipment. Maybe you want to make the bedroom an entertainment room by placing a home theater. Or you often use a computer, hair dryer, and air conditioning in the bedroom.
Ask for help from a contractor or hire a professional electrician to install an outlet (socket) that suits your needs. This is to prevent the cables from disorganized and preventing complicated branch electrical circuits. Create a separate group (an electrical circuit) for the bedroom. Separate from other rooms. This is to facilitate maintenance and prevent short circuit.
Adequate Lighting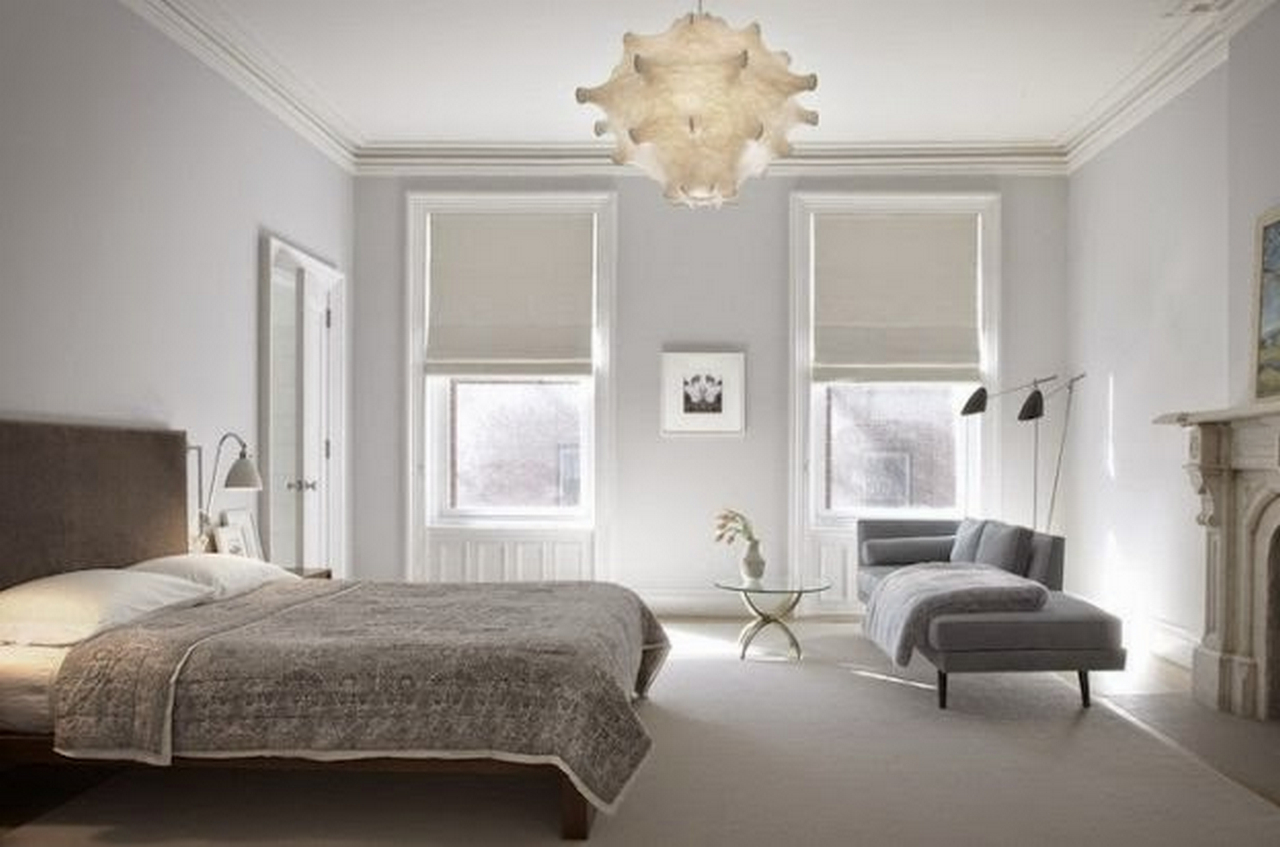 Only general lighting, isn't enough. You need task lighting for the bedroom. Task lighting illuminates certain areas for specific activities. For example, reading lights. You can place it on the side of the headboard, work desk, or above the side table. You will not disturb your partner who is resting when you are reading or working. Use a dimmer to adjust the lightness or darkness of the light in the bedroom. This is to set the atmosphere of the bedroom according to your activities, while saving electricity.
Bed Placement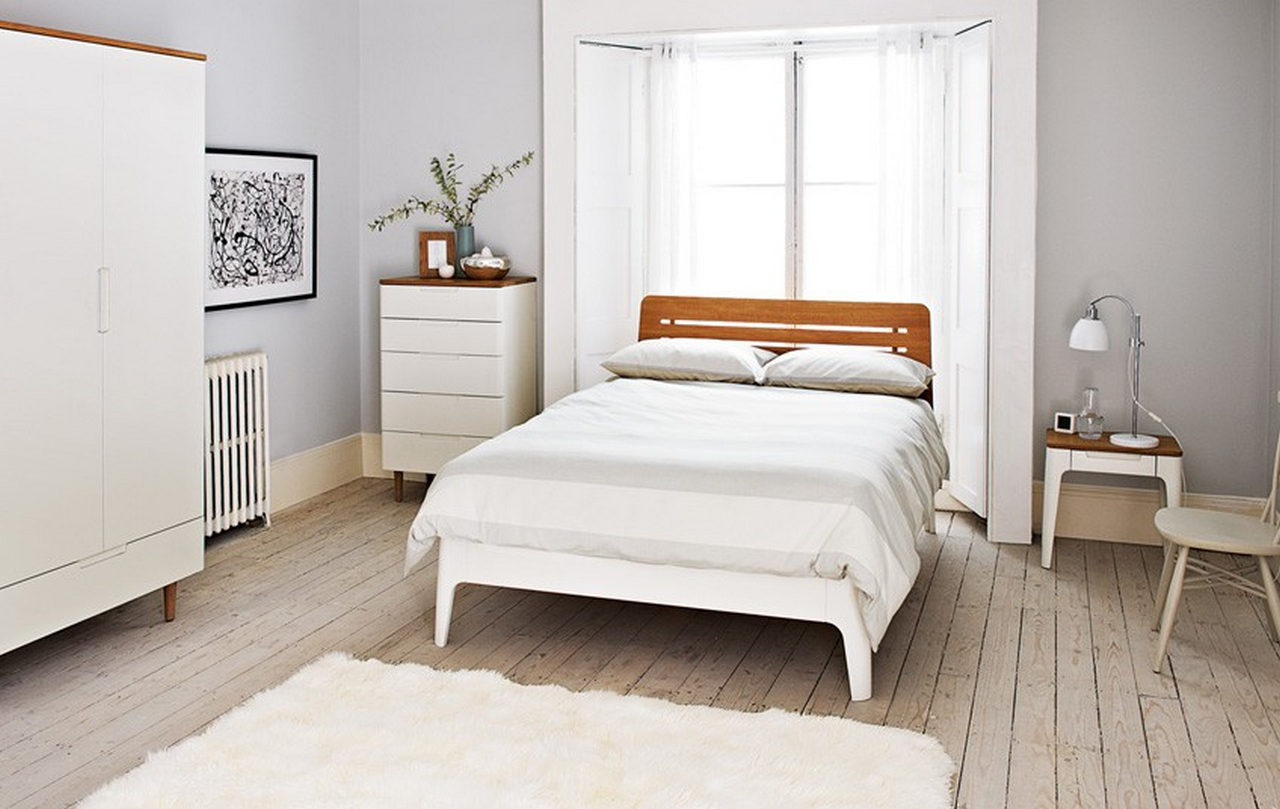 Plan well for bed placement. This is very important because it will affect circulation in the bedroom. Especially for small bedrooms. The size of a single bed 100 cm x 200 cm, double 180 cm x 200 cm, and king size 200 cm x 200 cm. In order for your activities to be comfortable, there is at least 90 cm wide space for circulation on the side of the bed. Choose the most interesting spot of your bedroom as the orientation of the bed.
Having Good Air System
At least there is 20% opening area of the bedroom spaces to create natural lighting and good air circulation in the bedroom. If it's still lacking, expand the opening area in the bedroom. Use the window blind to block the glare during the day. Placing plants in your bedroom is a good idea to help improve the air quality in the bedroom.
In addition, plants also function as decorative elements. Place the plant near the window so that it gets enough sunlight. Choose the type of indoor ornamental plants such as Aglaonema or Sansevieria.
Color Combination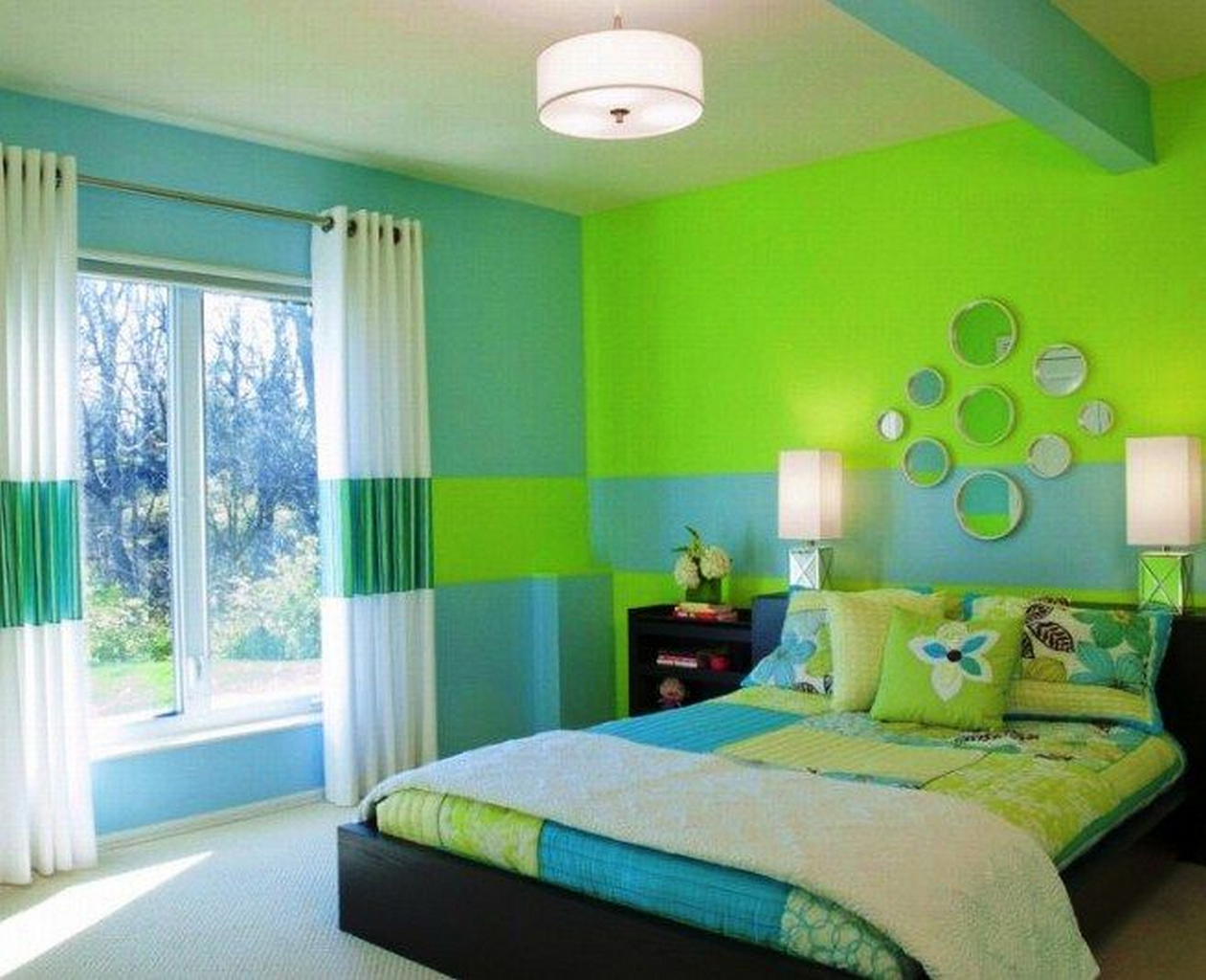 Create a focal point by giving a strong color to the one spot of your bedroom wall surface. The application can be paint or wallpaper. For the overall color of the bedroom, cool colors like sky blue, or neutral white are very good for creating a relaxed atmosphere. Avoid hot colors like red or orange which will make you feel uncomfortable. The small bedroom is very appropriate if given a bright color so it seems spacious. For large size bedroom or have a high ceiling, then a dark color is a very good idea for creating an intimate atmosphere.
Small Bedroom Furniture Design for Storage Ideas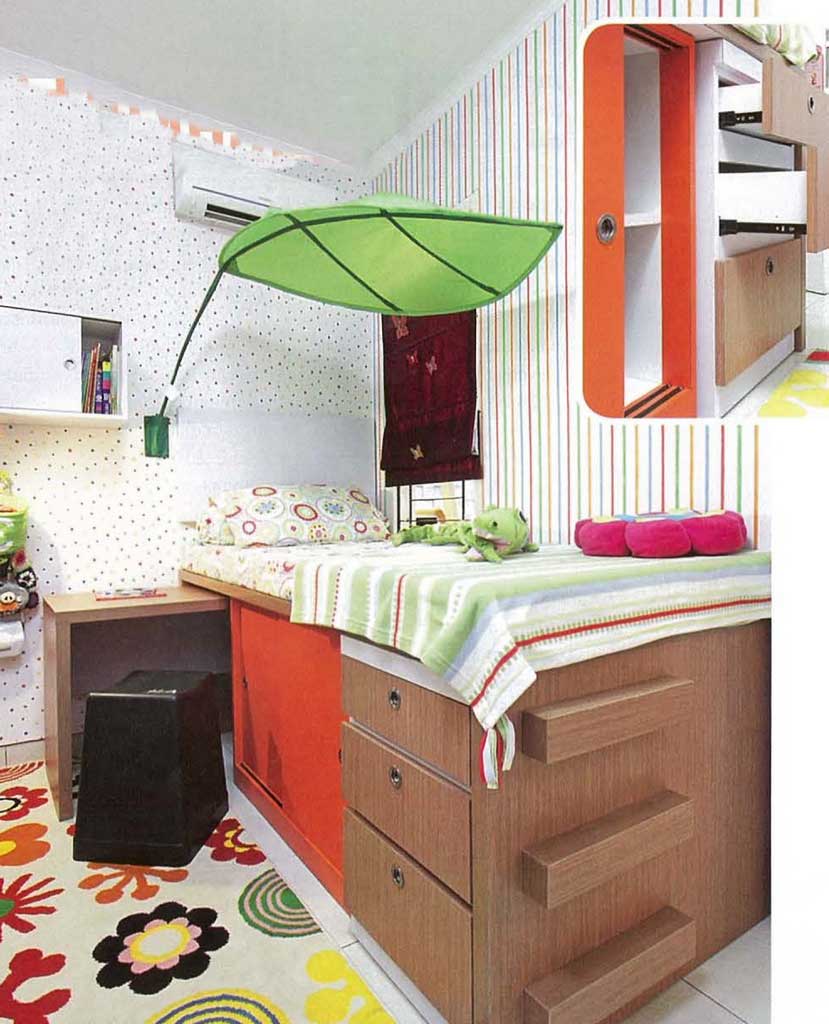 Optimizing bedroom with small spaces is most effectively tricked by using practical and multifunctional furniture. Like this inspiration, a kid's bedroom which has a limited in space that is filled a bed with storage shelves underneath. The bed is custom made so that the size matches with the space available in the bedroom.
With a design like this, the bed no longer leaves an empty space underneath, because in addition there is an arrangement of drawers, the other empty space under the bed is equipped with sliding doors to store items which are needed by the bedroom owner. The empty space under the bed is also a "hiding place" for a small study table, which can be pulled out when it is to be used. To reach the mattress, homeowners are assisted with "stair" facilities in the form of wooden block arrangement with a design that matches with the drawer.
Folding Shelves for Study Tables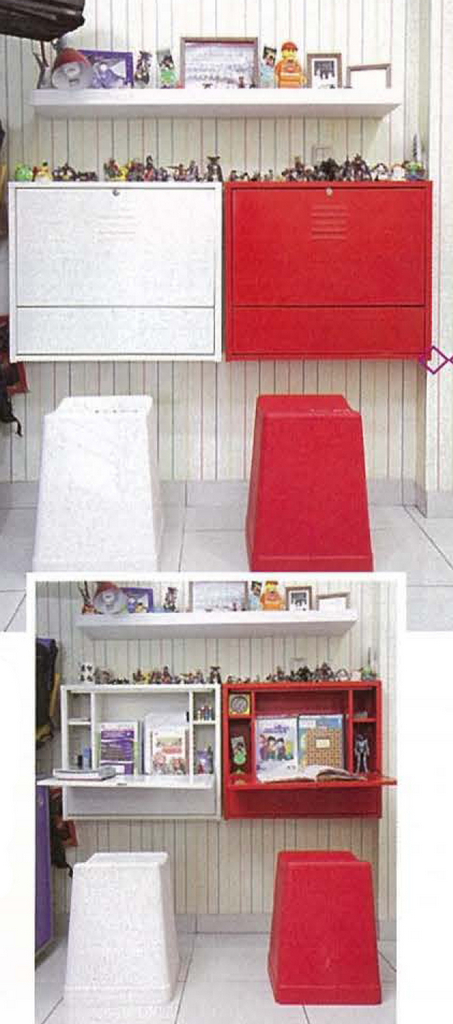 This time the inspiration was presented to make two study tables in a small bedroom. The two shelves affixed to the bedroom wall are full of functions. In addition to storing textbooks, they also store various toys.
The shelf door, when closed, looks like an accent on the wall with a touch of attractive color. But when the door is opened, the leaf door will function as a practical study table. As practical as the table, the stool was made simple without backrest. When not in use, the stool can be placed under a shelf so that it does not fill the space.
Minimum Item with Maximum Role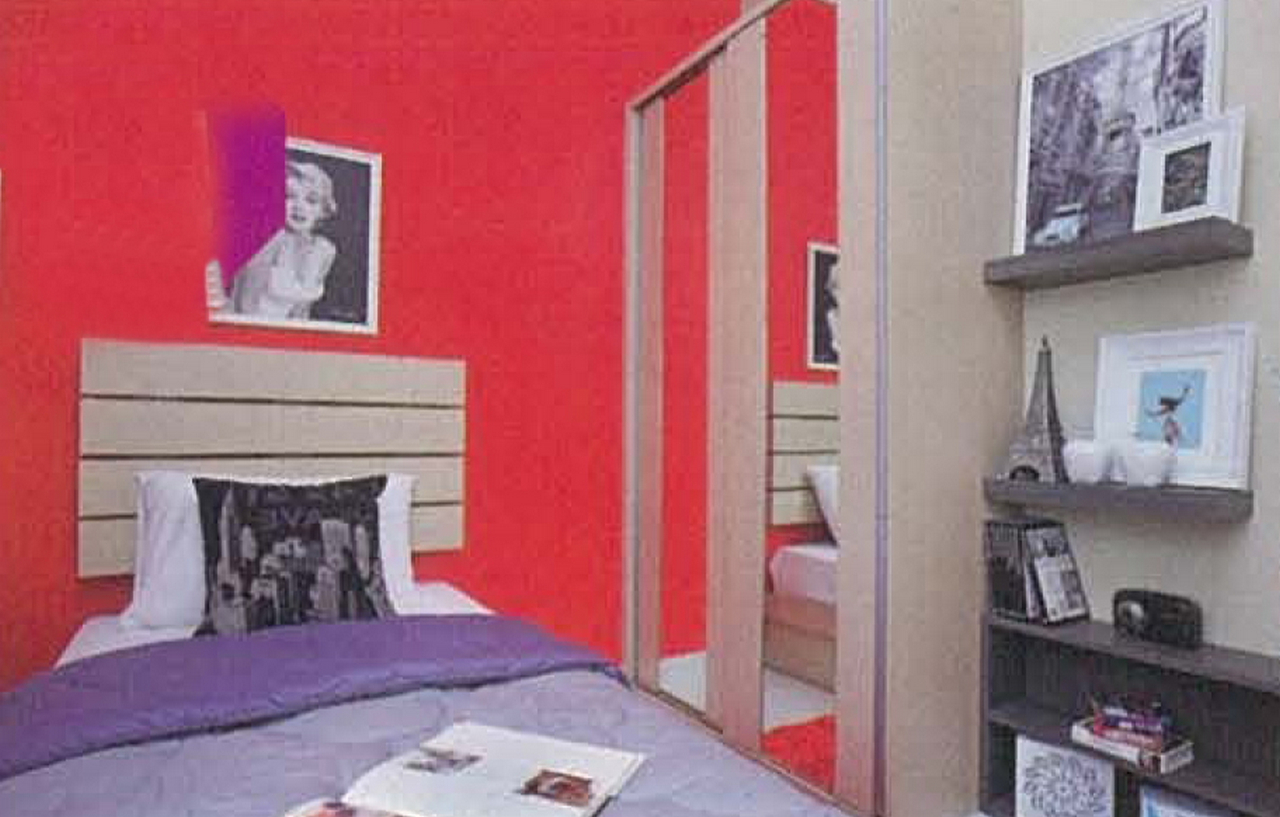 This bedroom only accommodates a 1 m x 160 m bed, a wardrobe, a two-stacked open drawer, and two shelves. The wardrobe consumes a lot of spaces, because this wardrobe is also the most important role as storage. As a solution to expand the space, both wardrobe doors are coated with mirror glass.
Despite limited facilities, this bedroom can still be decorated with various accessories. Painting frames and some decorative elements look beautiful perched on the shelves and leaning against the wall.
Functional Cabinet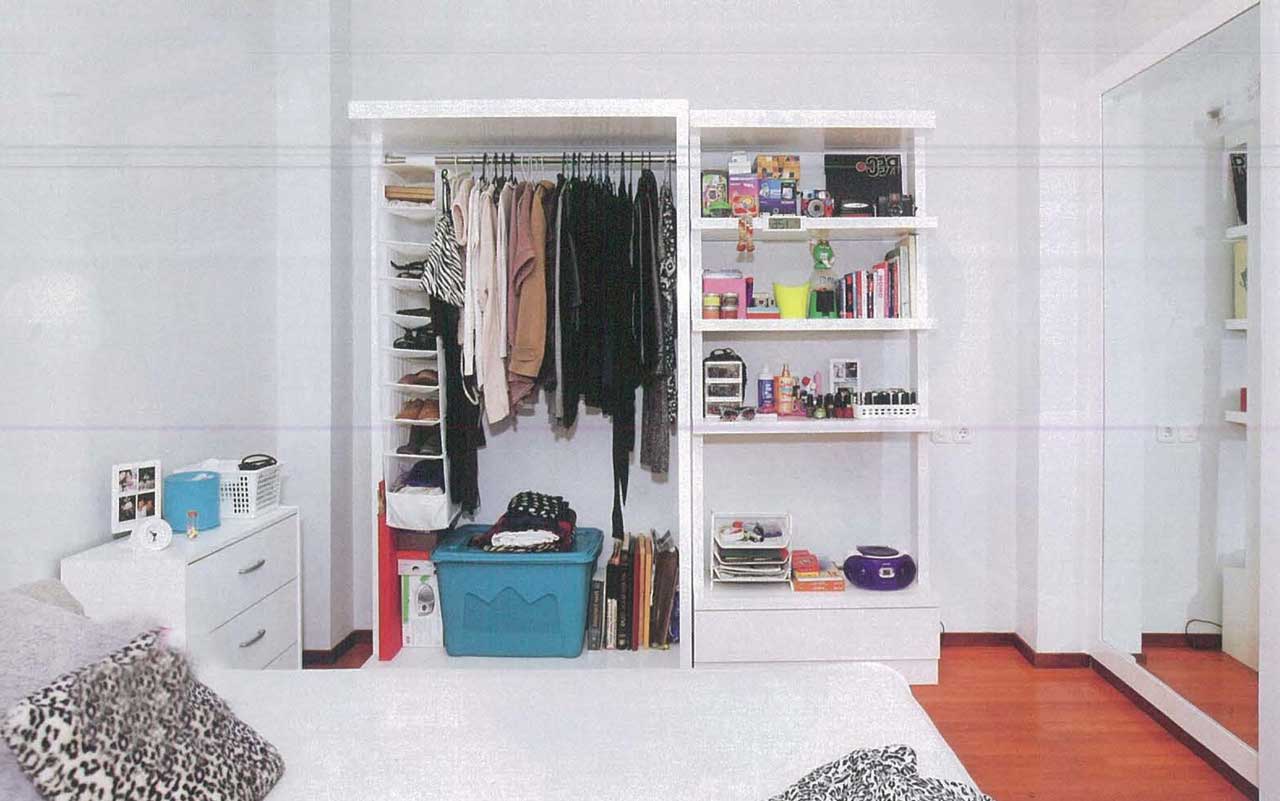 Many teenager girls like knick-knacks as accessories, both bedroom and clothing decorations. Likewise with this teenager girl who owns this bedroom. However, although she likes knick-knacks, she doesn't like if her room seems full of various storages. In addition to the room not too large, she also wanted the storage to be practical and could keep all of her belongings.
An open closet designed as a place for clothes, books, make-up equipment, and various accessories belonging to her. In fact, she also put her shoes in this closet with a practical cloth rack placed in the corner of her closet. For items that need special security, a low-drawer closet is provided. Large mirror glass is affixed to one wall area that functions to create a broad impression in this bedroom. In this small bedroom, a simple and practical storage design is really needed.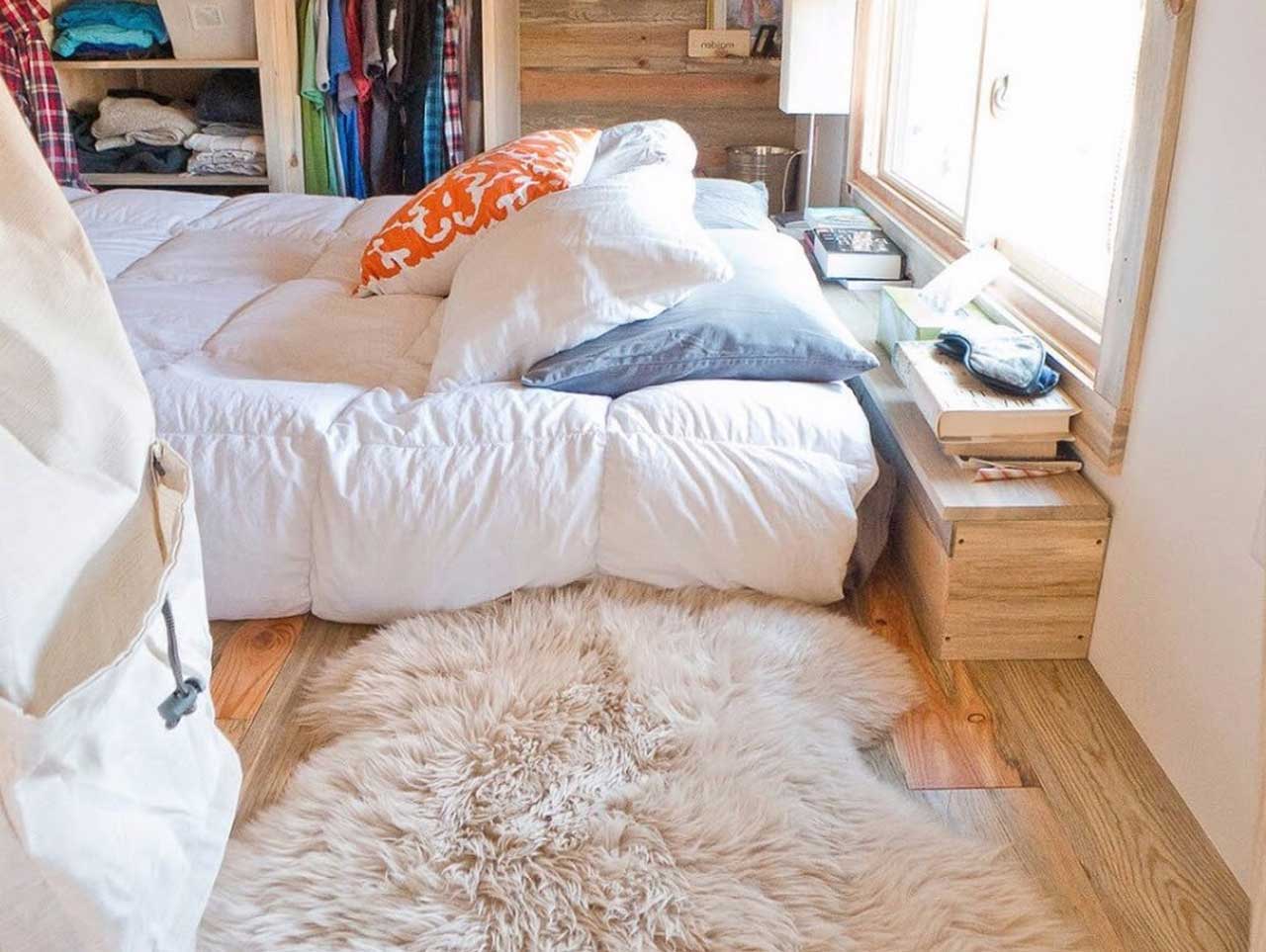 How about graphic previously mentioned? Is actually which incredible??? If you believe therefore, I'l t provide you with several photograph all over again underneath: So, if you wish to have these fantastic photos related to 6 Cozy Bedroom Ideas for Small Bedroom Layout That You Never Know, click save link to save these images to your personal computer. They're prepared for download, if you want and wish to obtain it, click save badge on the web page, and it'll be immediately saved in your PC.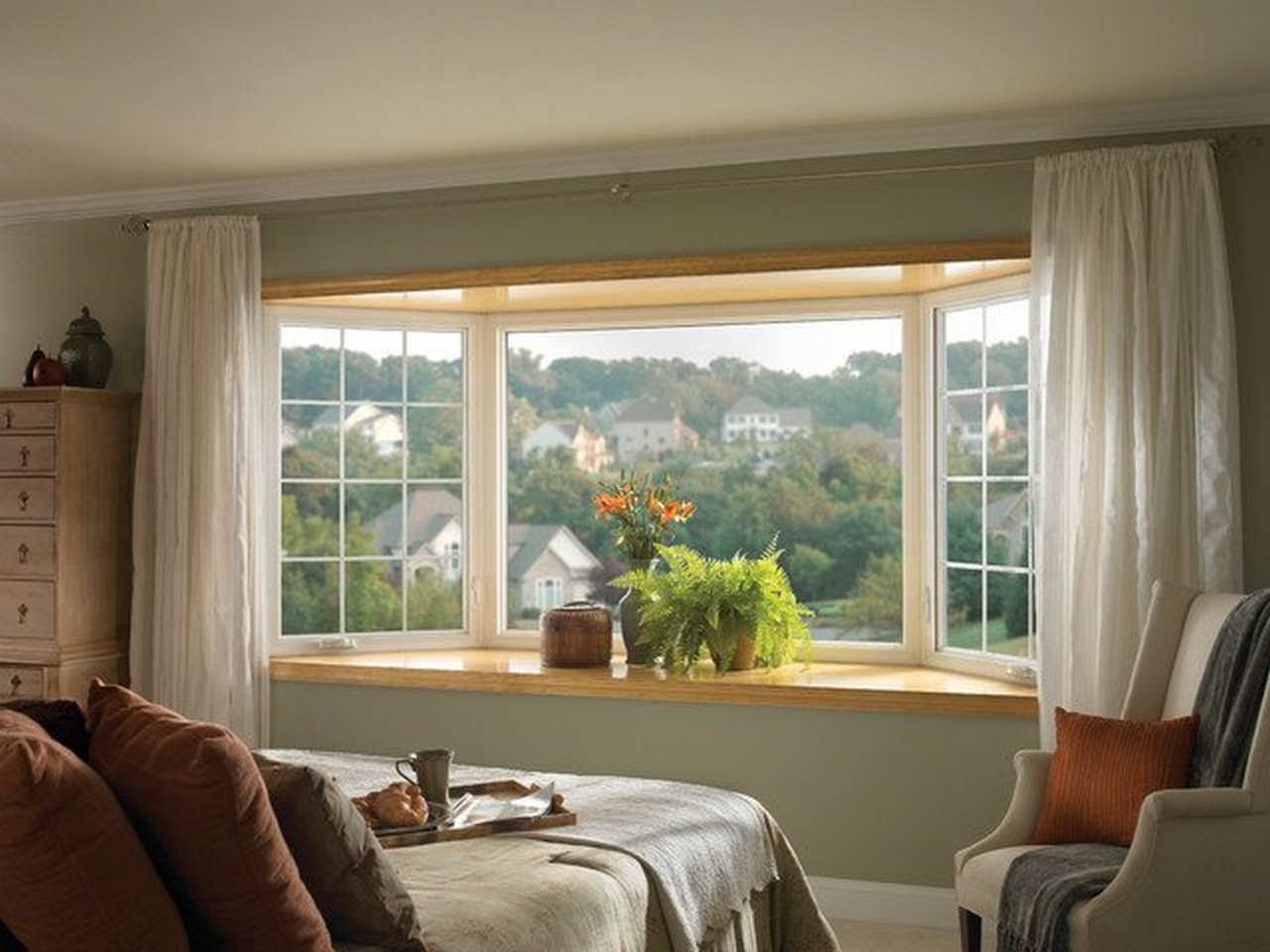 With large windows beside the bed, you can forget about the use of lights during the day.
Here you are at Royhomedesign.com, content above 6 Cozy Bedroom Ideas for Small Bedroom Layout That You Never Know published. Many individuals searching for info about Cozy Bedroom Ideas and of course one of them is you, is not it?