3 Child's Bedroom Floor Plan Ideas With Dimensions
|
The child's bedroom floor plan must suit their growing period. When three years old, your kids will need a separate room. As babies, they don't need much of anything except a quiet place to sleep, a baby crib, baby toys, and a baby table. At this age, they are still allowed to be placed in the parents' bedroom.
During the crawling period, the baby doesn't need a separate room. Parents' bedroom is still enough for their spaces. The family room is a perfect place for crawling and babies learn to walk but still under parental control.
At three years old, you have to prepare a bedroom for your kids as well as a playroom in their bedroom. As kids grow, they should create their environment. This kid's bedroom layout should receive sufficient sunlight and have at least 12 m2. So, there should be enough spaces for children to sleep, play, study, and store their toys and clothes.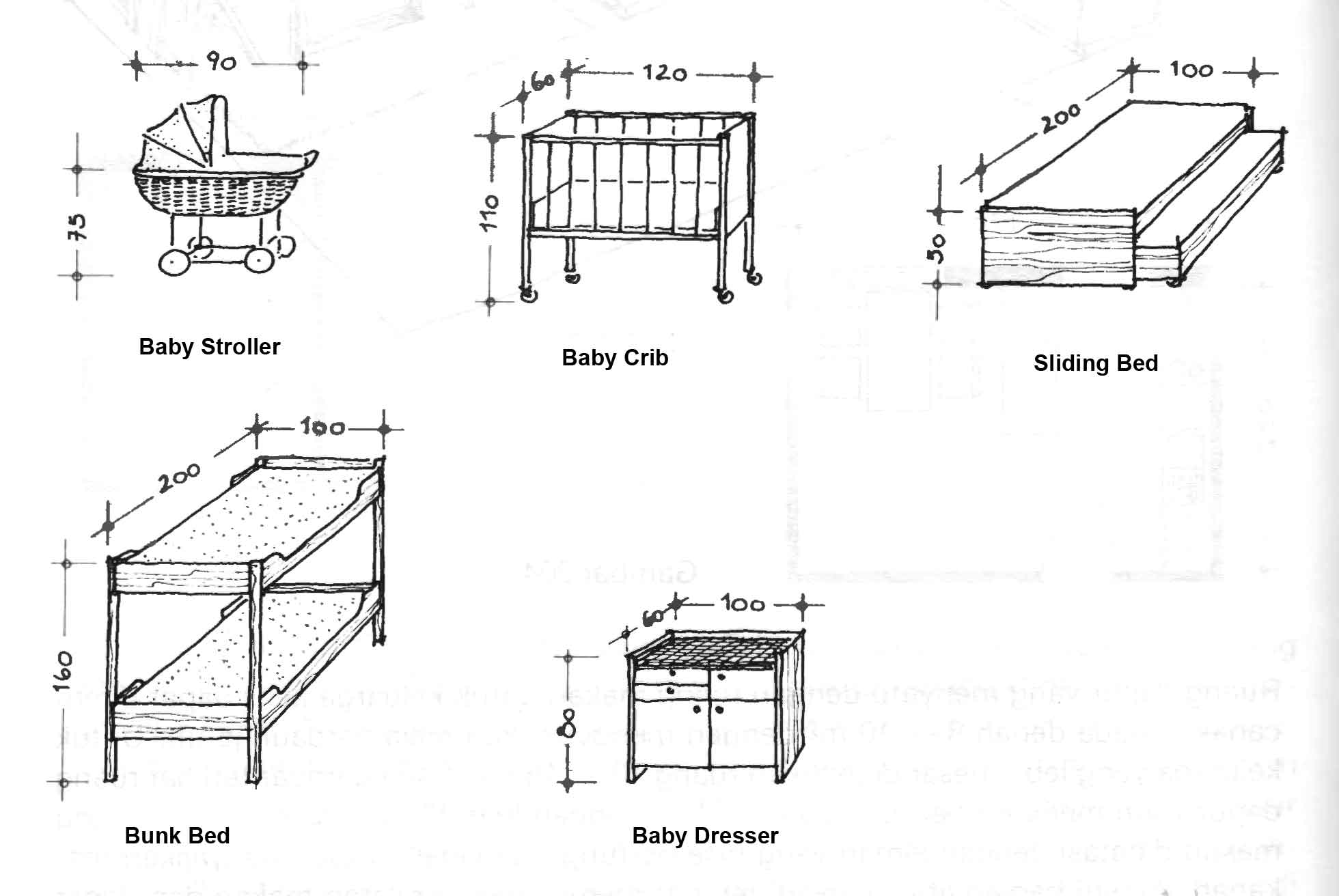 Planning a Nursery Room in a Parent Bedroom
The kid's bedroom design should be bright, cheerful, and well-ventilated. Simple shapes, clear and colored according to the kid's passions. The walls should not be given wallpaper with crowded decorations so that their imaginations are still well-maintained. Blackboard can be used to prevent children from drawing on the bedroom walls. So, your kids can draw as much as they want.
Kids love to play on the floor. So, you need a rug that is warm and easy to clean, for example, from sisal fibers. A large window with vents above it. Provide adequate electric lights. Consider using light fixtures that are not-risk for children. Also, the electric socket must be protected with a cover or should be kept out of reach of children.
Baby crib
The baby's crib feels cramped for a 6-month-old baby. The baby needs a special place to sleep. The regular box size is 50 x 100 cm; 60 x 120 cm and 70 x 140 cm. This box can be used as a child's bed until he is 3 – 5 years old
There is a kind of box called Paidi-Box. This nursery furniture is very practical, adjustable in height, wheeled, and can be turned into a tool for learning to walk.
After getting older, your child needs a real bed without wheels. For tween baby, it's a good idea to use a bunk bed to save spaces, and there is enough space to play. A sliding bed (Swedish model) is also a practical finish. Two or three beds with different heights can be sliding, making it look like just one piece of furniture. To make it easier to slide, the legs are wheeled.
Baby dresser
For one-year-old babies, a baby table is required. The tabletop should be 100 cm x 60 cm in size. 80 cm is the right height for working. Several drawers that can accommodate baby clothes. For small spaces, a combination of a baby table and a baby bath in one adjustable wooden frame can be used.
Baby walker
When babies start learning to walk, they need baby walkers. With this tool, your baby will be safe during walking exercises. That way, your baby will be more enthusiastic about exploring at will.
Baby chairs and baby tables
A box or stool, which can also be used to store their toys, is a great baby seat. Chairs are easy to fall over. Stools can save spaces because they are stackable. The table for toddlers is used for playing and learning. It is best if the tabletop is stable, made of hardwood, or covered with a soft synthetic material.
To save money when buying toddler chairs and tables, multipurpose furniture can be an option, because it can be used for seats or tables. With a little imagination, multipurpose furniture can be turned into a play area. By sitting on the toddler's chair, they can eat with their parents. By detach it, it can turn into a small table with a low chair.
Toy storage cabinet
Preferably, toddler's toys are placed in a shelf cabinet. Bulk boxes can be very practical. They can use it for many purposes. The boxes can be arranged into shelves.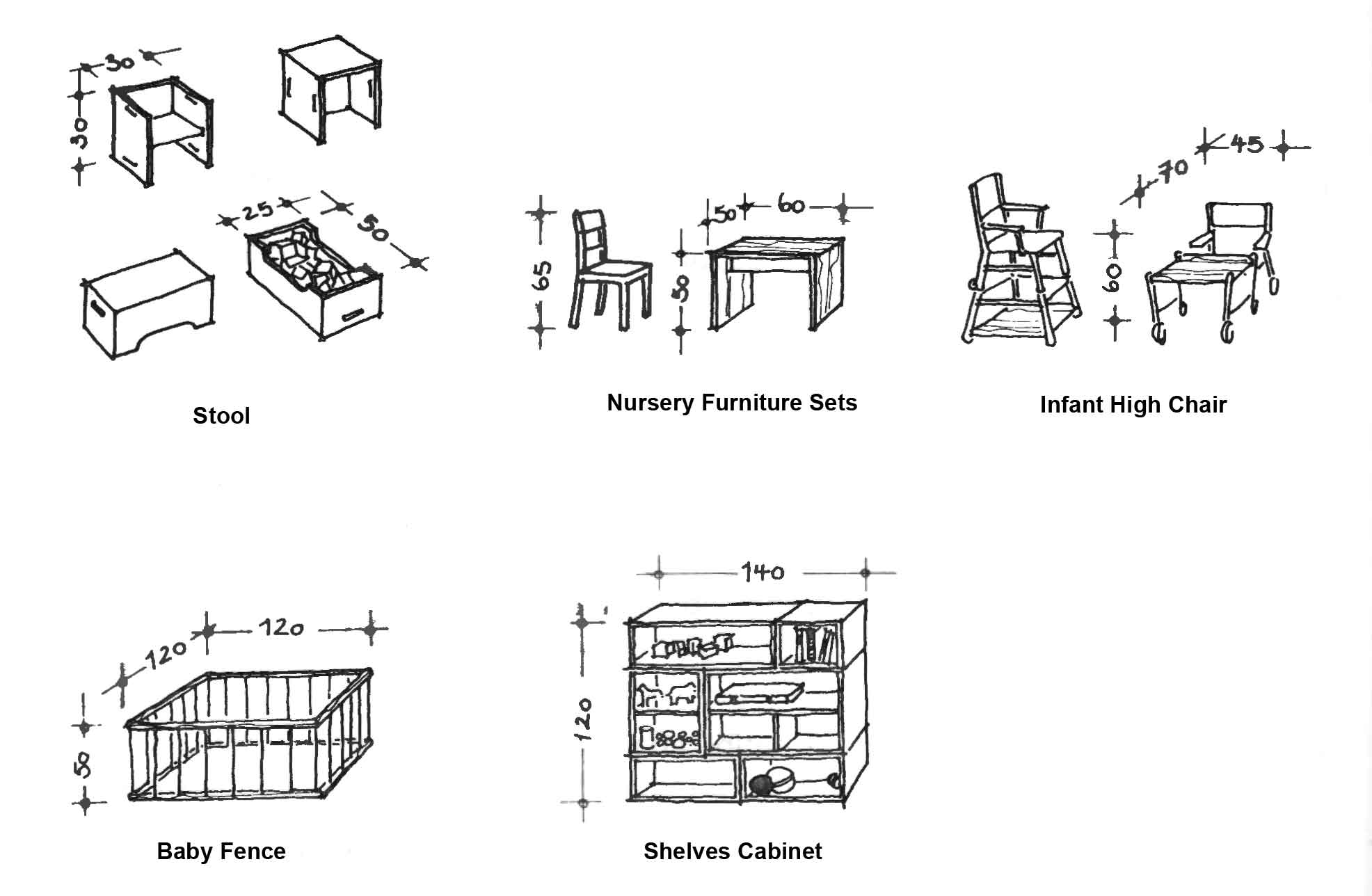 Shared Bedroom Layout Ideas for Toddler
The standard rule for the size of a nursery is 12m2. That size is still enough for two young children. For preschool, the problems will slightly hard because you have to make space for a study table and a wardrobe. Besides that, you have to allocate for the playroom as well. The picture below is an example of a room floor plan for young children (preschool). The study table is attached to the wardrobe which is placed near the window.
The remaining space near the window became a playroom for his brother, the floor covered with a sisal rug. A chalkboard on the wall for their drawing spot. The bed is set attached to the wall facing the window, while the young sibling's crib is on the wall near the door, so there is enough space available. The baby table separates the two beds.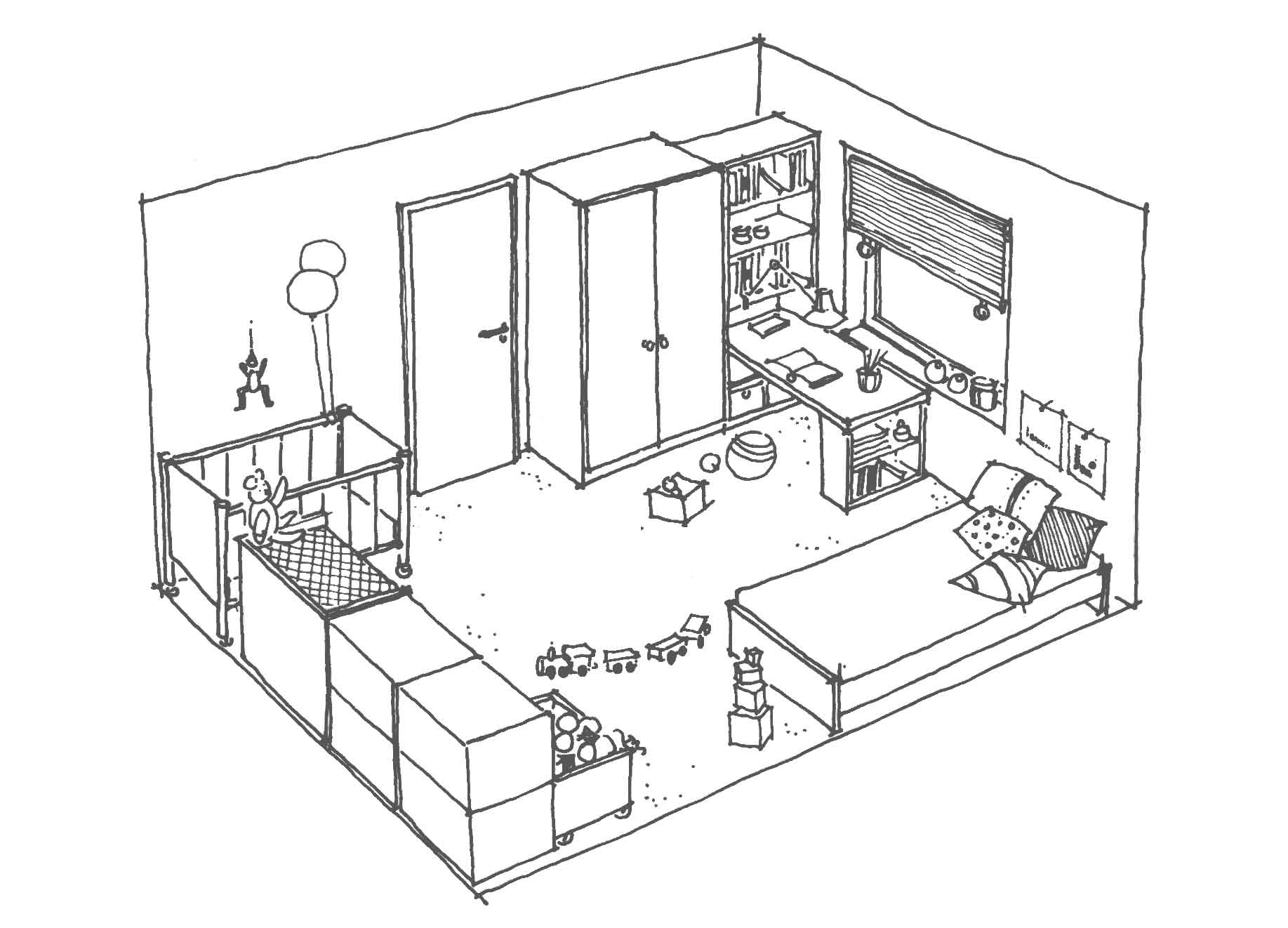 Space Saving Bedroom Ideas for Teen Twins
If the size of 12 m2 can be used for two young children, then the space-saving concept is fundamental to arrange the layout. Two beds, two study tables, a bookshelf, and a wardrobe should be fit in the bedroom. See the teen bedroom layout below. A bunk bed was placed at the corner.
The spaces can be saved and the arrangement does not feel cramped even though the installation is difficult.
The study table position is facing the window will save the spaces, while drawers and shelf cabinets can be placed underneath.
If necessary, on the left and right sides can hang shelves or boards. The seats are two work chairs. So, each child gets a nice workplace near the window. Two wardrobes, each 1 m wide, attach the wall at the back facing the window. To give a spacious impression, the entire floor is covered with boucle rugs. With calm wall colors and vibrant curtain decorations, you can create a friendly atmosphere both of play and workspace.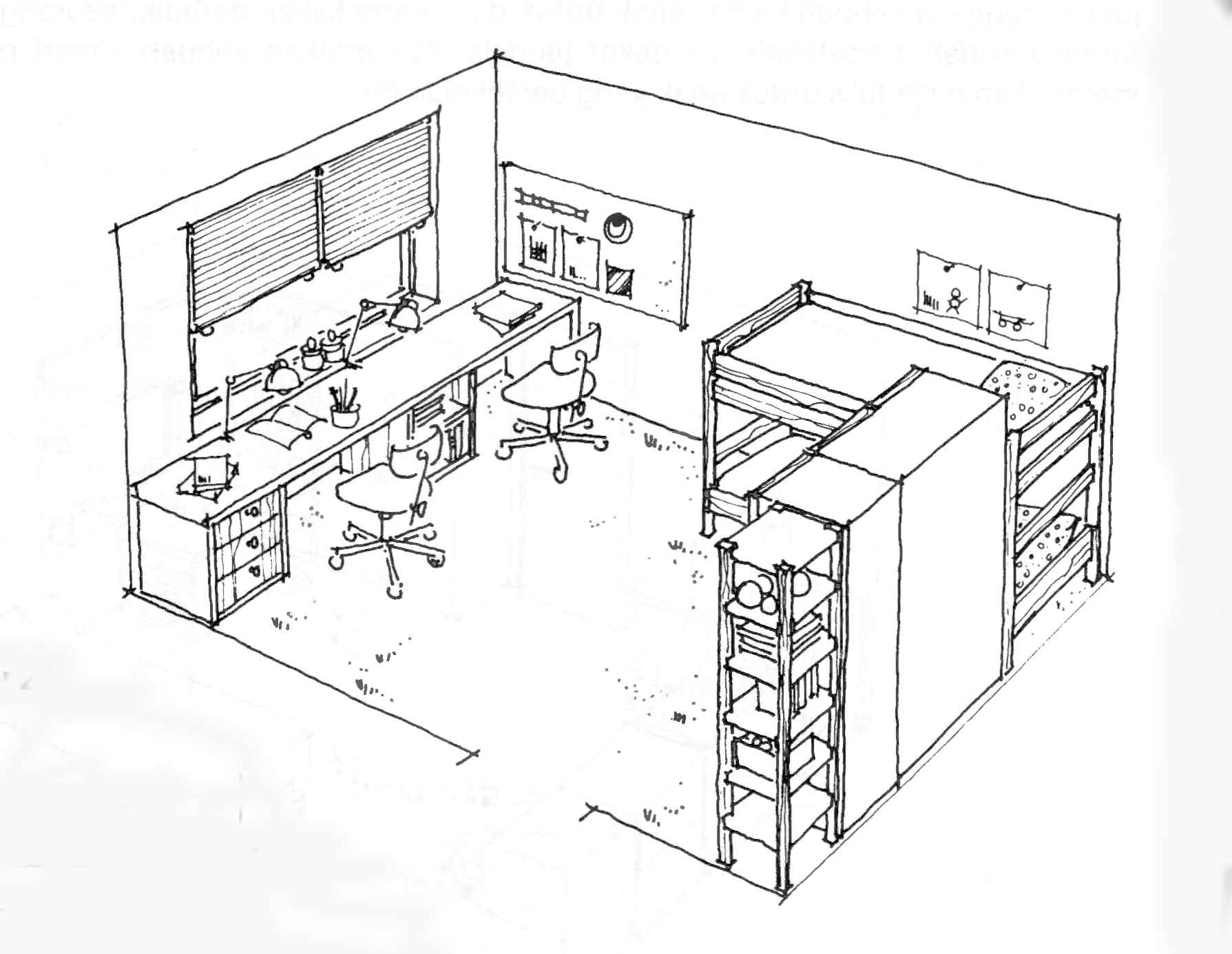 Here you are at royhomedesign.com, content above 3 Child's Bedroom Floor Plan Ideas With Dimensions published. Some people looking for specifics of tween small bedroom furniture and of course one of them is you, is not it?